Nikki Bella Plans Joint Gender Reveal with Twin Sister Brie but Daniel Bryan Is against It
Nikki and Brie Bella are ecstatic about being pregnant at the same time, but their planning has put Brie's husband in a tight spot. He and his wife had already planned to keep their baby's gender a secret. 
Twin sisters Brie and Nikki may be at different points in their lives, but they've synced up with pregnancy this once. Brie is already a mother to a three-year-old daughter, Birdie Joe. 
Meanwhile, Nikki will become a mom for the first time with her fiancé, Artem Chigvintsev, and she can't wait for a shared gender reveal party with her sister. Brie's husband, however, wants to stick to their initial plans. 
BRIE'S HUSBAND UPSET WITH NEW PLANS
In a preview clip for the show, "Total Bellas," the two couples sat around a table discussing plans for an exciting gender reveal party. Brie's husband, Daniel Bryan, is a bit confused. 
As the two sisters talk about having a Mexican-themed party in honor of their father who can't attend, Bryan gives his input. "We don't really want to know the gender," he points out. Nikki and Brie's due dates are mere weeks apart. 
BRYAN ADAMANT ABOUT GENDER SURPRISE
Brie then says that it would be a fun thing to do, but Bryan reiterates that the gender was supposed to be a surprise. His fiancée suggests that they discuss the matter. 
"Well, we've talked about it, and we've talked about doing a surprise," Bryan responded. He then looks to Chigvintsev and explains that a major problem he has is that Nikki has more influence on Brie than he does. 
When the girls deny it, he notes that it's happening right then: "You and I have spoken for hours about how we want a surprise, and it takes five minutes of Nicole saying 'We can hit pinatas together' ... Sold!"
NIKKI SHOCKED AT PROPOSAL
The drama follows the last episode of "Total Bellas," which featured Nikki and Chigvintsev's romantic proposal in France last November. Sister Brie and the twins' mom Kathy Colace helped prepare the event. 
The move came as a shock to Nikki, so much so that she said no right after Chigvintsev asked. When she realized he was serious, she immediately said yes. 
BRIE CONFUSED OVER SISTER'S PREGNANCY
While Brie seemed completely on board at the time, she was taken aback when Nikki later told her about the latter's pregnancy. When Nikki told her she was pregnant, Brie quickly replied, "No." 
The day before, the pair discussed how Nikki might be moving too fast with fiancé Artem Chigvintsev. When questioned, Nikki said the pregnancy was unplanned.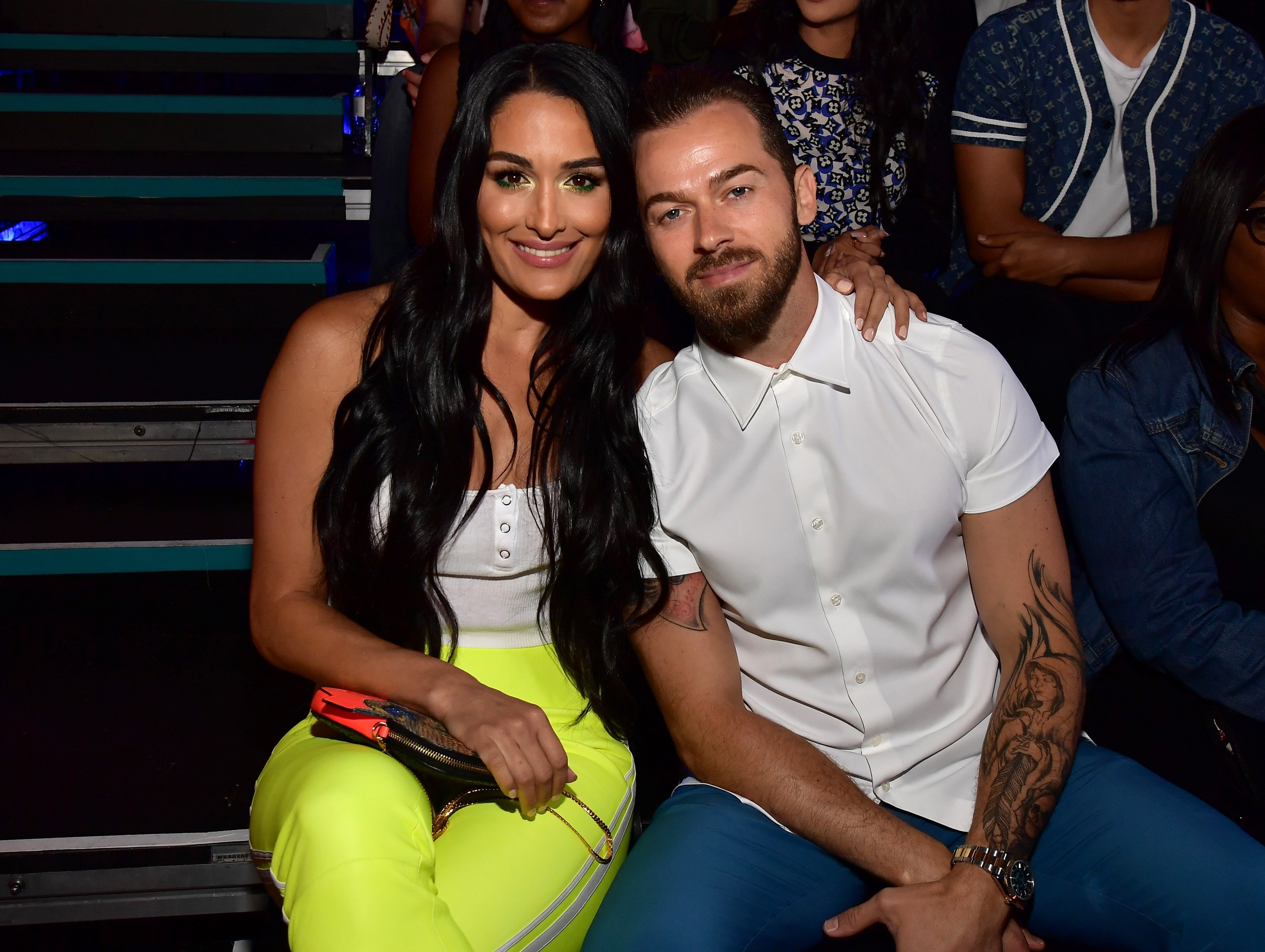 BRIE IS HESITANT AT THE BIG NEWS
In an interview session, Brie explains that she's very protective of her sister and feels like things are being rushed. She adds: "I don't want to take away from her having this child because it's such a beautiful thing." 
She continued: "But when someone tells you that they feel like things have been moving too fast and less than 24 hours they tell you they are carrying that person's baby — how does one handle that?"
Fans will learn how the twin sisters handle it in future episodes of "Total Bellas," which airs on Thursdays at 9/8 c on E!. The series, which follows the former WWE wrestlers, is on its fifth season.