Brie Bella Is Confused over Nikki Bella and Artem Chigvintsev's Baby News
As Nikki Bella continues to enjoy her pregnancy, fans were taken back to the moment the reality star shared the news with twin sister Brie whose immediate response was "I'm so confused." 
Nikki and Brie Bella are both expecting children, but for Nikki, her first child was unplanned. Sister Brie already has a daughter, Birdie Joe, with her husband, Daniel Bryan. 
While loyal fans have known about the big news since January, "Total Bellas" is only just releasing the episode in which Nikkie shares the news with her sister. The post is found below.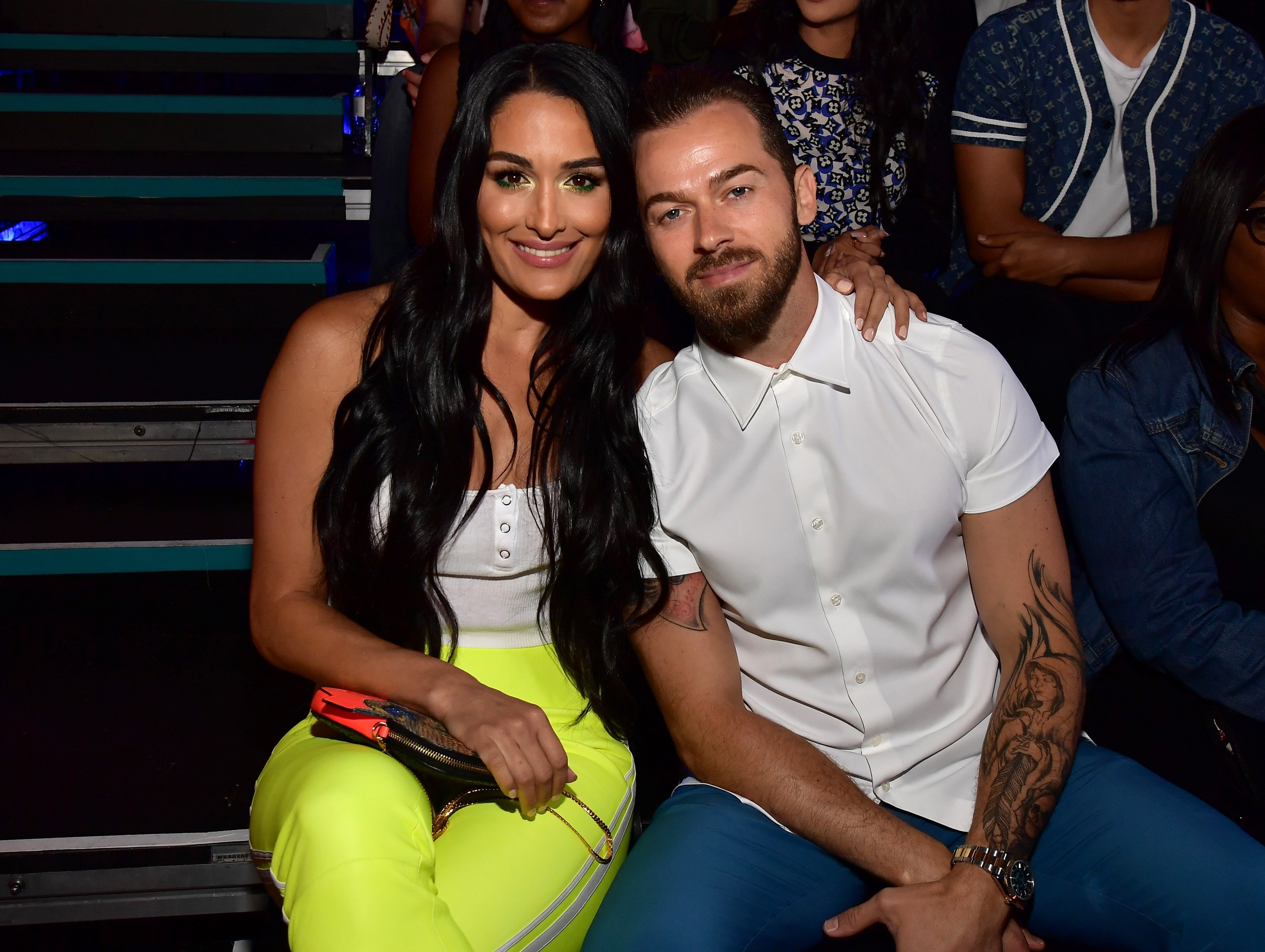 NIKKI TELLS HER TWIN SISTER SHE'S PREGNANT
In the preview clip for the upcoming episode, Nikki goes to her sister with a pregnancy test and a positive result. "I'm pregnant," she says bluntly. 
"No," responds Brie, who is absolutely flabbergasted considering that, just the day before, the pair were discussing how Nikki might be moving too fast with fiancé Artem Chigvintsev. 
Like her reaction to the engagement, Nikki said she was "in shock" at learning she's pregnant. Brie said she's shocked as well. She questions her sister, only to be told that the pregnancy was unplanned. 
BRIE IS HESITANT AT THE BIG NEWS
In an interview session, Brie explains that she's very protective of her sister and feels like things are being rushed. She adds: "I don't want to take away from her having this child because it's such a beautiful thing." 
She continued: "But when someone tells you that they feel like things have been moving too fast and less than 24 hours they tell you they are carrying that person's baby — how does one handle that?"
Fans will learn how the twin sisters handle it in more episodes of "Total Bellas," which airs on Thursdays at 9/8 c on E!. The series, which follows the former WWE wrestlers, is on its fifth season. 
TELLING HER MOM SHE MIGHT BE PREGNANT
Back in May, we saw as Nikki told her mother that she might be pregnant during an outing in which Nikki declined a drink of margarita because of how she was feeling and the early signs. 
Mom Kathy Colace was almost speechless at her daughter's words. However, she quickly came around and even asked Nikki to have a boy. The 36-year-old then expressed how unprepared she feels. 
NIKKI SHOWS OFF GROWING BABY BUMP
Nikki's come a long way since the episodes. These days, her bump is much bigger, and she enjoys spending time feeling her baby move and kick in her tummy. 
In a recent post, the reality star showed off her large belly and revealed that bedtime is her favorite because that's when the baby is most active. 
BRIE HELPS ARTEM WITH PROPOSAL
Earlier this month, fans also got to witness the November proposal between Nikki and Chigvintsev. The couple pledged to get married during a romantic trip to France. 
At the time, Brie and Colace were also present to assist Chingvintsev with the proposal, which took place on Nikki's birthday. The latter was clueless as to what was going on when her then-boyfriend gave a speech. 
The Russian-born professional dancer eventually got down on one knee and asked Nikki to marry him. Shocked, she said no at first before giving her real answer, which was yes. 
ARTEM REVEALS WHAT GENDER HE'D LIKE
In March, Chigvintsev candidly shared that he'd like the baby to be a girl in a podcast segment with Brie's husband, Bryan Danielson. The twins hosted the episode. 
The Latin dancer said the reason was that he'd spent his entire life dancing with girls so he'd be more comfortable with a daughter. The couple already knows the baby's gender and are keeping it a secret.