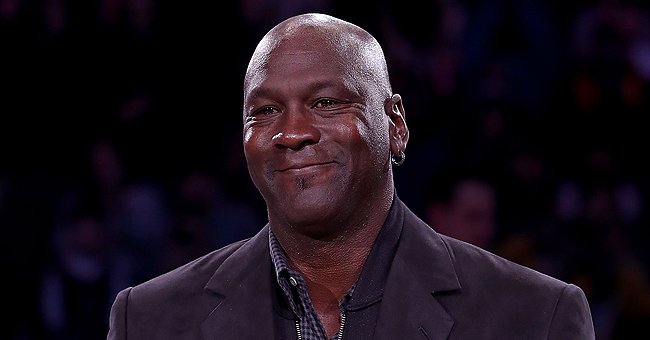 Getty Images
Inside Michael Jordan's Life as a Father of 5

Basketball player Micahel Jordan has not only had a successful career in the NBA, but he is also a proud father to five beautiful children.
Michael Jordan is undoubtedly one of the greatest basketball players of all time, with a remarkable list of achievements in the NBA.
Although his successful career is no mystery to his fans, not a lot is known about his personal life. Jordan has been married twice and is a proud father of five children. Here are a few things about his kids.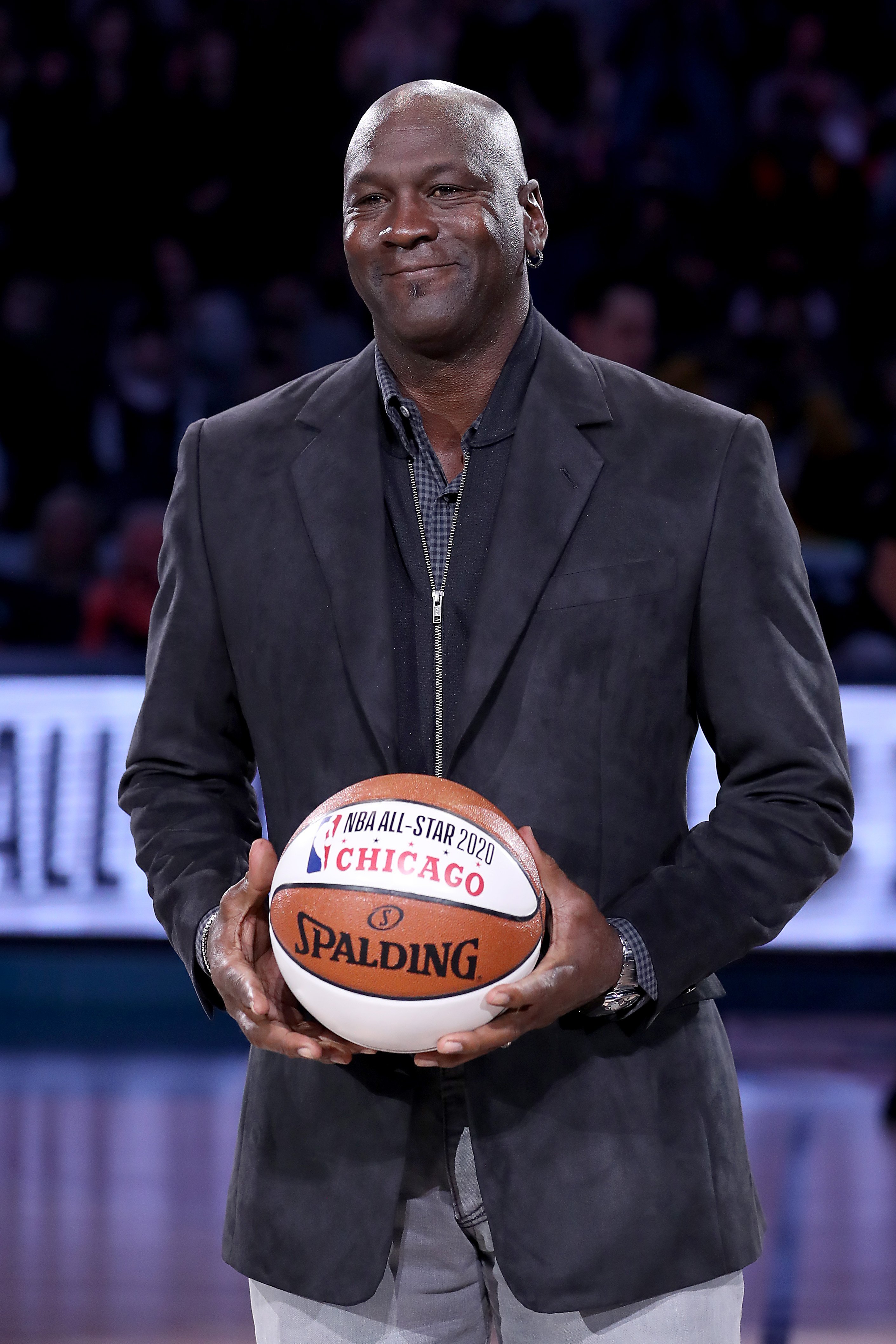 Michael Jordan takes part in a ceremony honoring the 2020 NBA All-Star game on February 17, 2019. | Photo: Getty Images
JEFFREY MICHAEL JORDAN
Jeffrey was born on November 18, 1988, to Michael Jordan and his ex-wife, Juanita Vanoy. Just like his father, Jeffrey has played basketball but not as a professional.
As a young player, Jeffrey went to the University of Illinois where he played for three seasons before transferring to the University of Central Florida in 2010.
Jordan and his son have a great bond, which is evident from Jeffrey's Instagram page, where he continually shares photos of his father.
In a 2017 post, Jordan was captured on a couch with little Jeffrey sitting in his father's laps. While posing for the picture, Jordan flashed a smile as Jeffrey adorably looked at the camera.
Earlier this year, Jeffrey shared an adorable family picture of Jordan holding him and his younger brother, Marcus. To celebrate his father's birthday in February, he posted a series of pictures where he posed with Jordan and Michael as they all donned tuxedos.
In commemoration of 2015's Mother's Day, Jeffrey posted an old family photo that featured his parents with him and his siblings. In 2019, Jeffrey tied the knot with his beau, Radina Aneva, and currently, he is reported to work with his father's brand, where he leads the brand's digital innovation.
Jordan welcomed his youngest children, Victoria and Ysabel, with his second wife, Yvette Prieto, on February 9, 2014.
MARCUS JAMES JORDAN
Jordan and Vanoy welcomed their second son, Marcus, on December 24, 1990. Like his father and older brother, Marcus also played basketball while growing up.
During his studies at the University of Central Florida, Marcus played basketball and even stirred up a little controversy for the school.
At the time, the school had a contract with Adidas, but rather than wearing white Adidas sneakers, Marcus showed up at the course one day, wearing Nike Air Jordans.
Marcus shares a great bond with his family, and in May 2016, he shared a beautiful family photo with his followers on Instagram.
Earlier in May, Marcus reportedly opened up about what it was like growing up as Michael Jordans' son, unlike other kids, he grew up playing PlayStation on a private jet. Presently, Marcus runs his own company, "Trophy Room," where he sells Jordan-based fashion outfits.
JASMINE MICKAEL JORDAN
Born on December 7, 1992, Jasmine is the only daughter and youngest child of Jordan and Vanoy. Although Jasmine had no interest in basketball while growing up, she was fully aware of her father's impact in the sports community.
During an interview with Oprah Magazine, in May, Jasmine described her father as an incredible father who is caring and very gentle with his kids.
Jasmine studied sports management at Syracuse University, where she met her beau, Rakeem Christmas, with whom she welcomed a son last year. Like her older brother, Jasmine works with the Jordan Brand, where she manages the athlete's sports apparel for each season.
VICTORIA AND YSABEL JORDAN
Jordan welcomed his youngest children, Victoria and Ysabel, with his second wife, Yvette Prieto, on February 9, 2014. The couple met in 2013, and shortly after, they reportedly had a wedding estimated at $10 million.
Less than a year after their wedding, Jordan and Prieto welcomed their children. As a way of protecting them, the twins have been kept away from the public and lead a very private life, unlike their older half-siblings.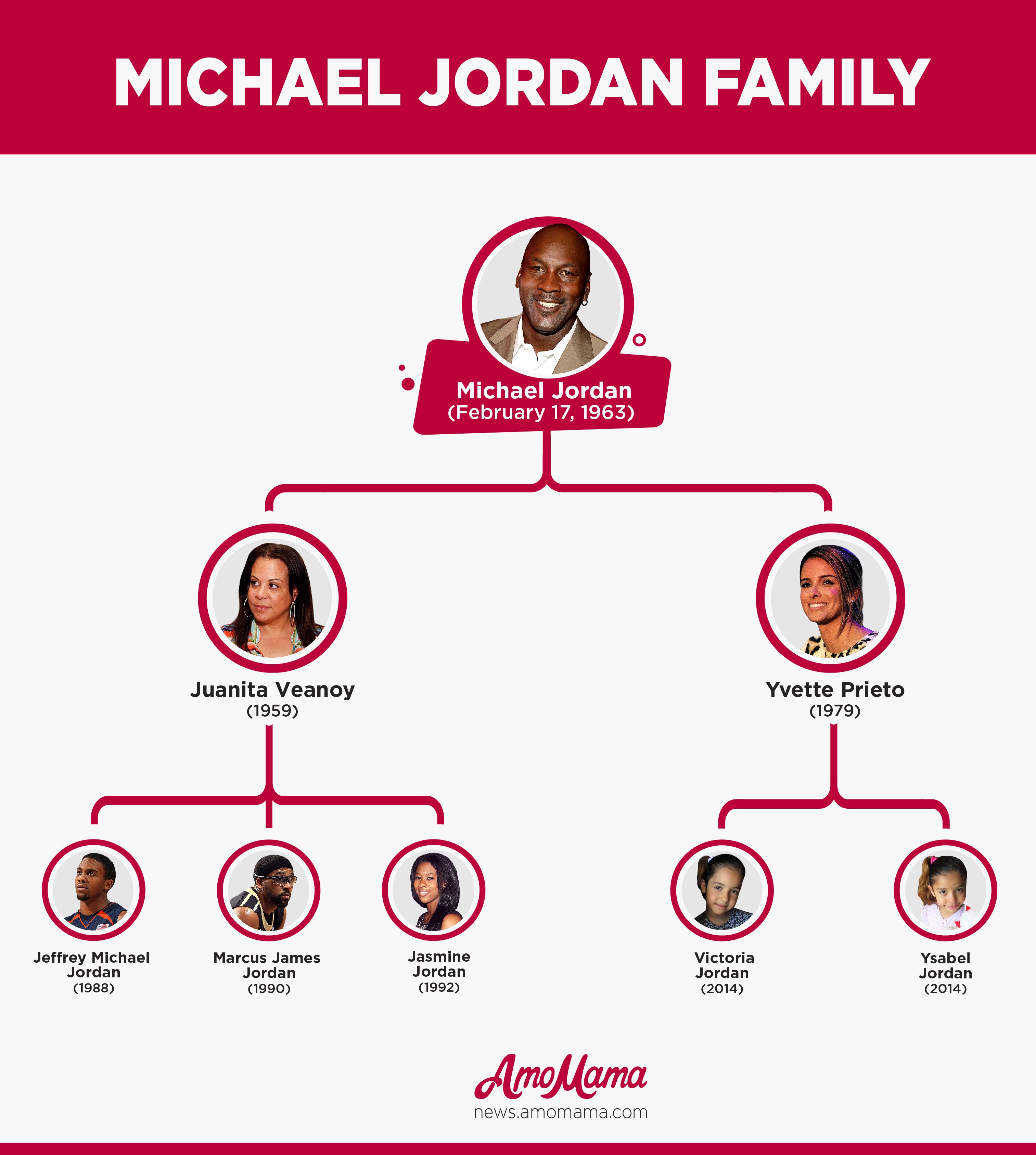 Michael Jordan's Family Tree / amomama.com
Please fill in your e-mail so we can share with you our top stories!