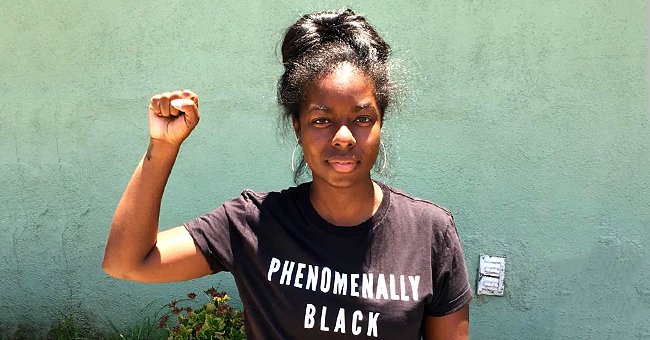 Instagram/camilleswinbush
Camille Winbush of 'The Bernie Mac Show' Looks Ageless Rocking 'Phenomenally Black' Shirt in a Snap

Camille Winbush proudly wore a "Phenomenally Black" t-shirt in support of racial protests after admitting her everyday fears as a Black woman.
Camille Winbush spoke out against racism wearing a powerfully worded t-shirt in a new post on her Instagram.
The actress famous for her role as Vanessa on "The Bernie Mac Show" played the part of a Black supporter in her latest venture in social media.
Camille Winbush at the "There's No Place Like Home" 20th AnniverSoiree in November 2017. | Photo: Getty Images
PHENOMENAL POST
Dressed in jeans and a plain black t-shirt with the words "Phenomenally Black" spread across it, Winbush raised her closed fist in the air in protest.
According to the 30-year-old celebrity in her caption, "we still have a lot of work to do, and we can't let up," referring to the fight against anti-black racism and police violence.
Winbush further urged for people to "continue fighting for our Phenomenally Black community until there's full accountability."
She also revealed that the proceeds of the T-shirt she was wearing were for the benefit of Black Futures Lab, an initiative working towards building Black political power.
COMING OUT OF THE DARK
Since May 27 when she posted a black screen on her IG, Winbush has been very outspoken about the injustices against the Black race following the tragic death of George Floyd.
Admitting she's not one to speak up about world issues, she said she was triggered to do so due to the many unjustified incidents and deaths among the Black community.
On June 6, Winbush devoted a birthday post for Breanna Taylor, who, like Floyd, was unjustly killed a few months back.
Winbush confessed, she too has become wary and on guard nowadays due to fear of getting into a situation that would threaten her life.
"I'm always on high alert and I had to admit to myself why. I want to believe that I would never be in a hostile situation. But the reality is, I can no longer say that with confidence."
REMEMBERING BREANNA TAYLOR
On June 6, Winbush devoted a birthday post for Breanna Taylor, who, like Floyd, was unjustly killed a few months back. On the night of March 13, Taylor, 26, and her boyfriend Kenneth Walker were sleeping when authorities barged into their home.
Thinking the intruders were burglars because they were not in uniform and didn't introduce themselves properly, Walker fired a shot at the cops. The next thing they knew, the police retaliated with a barrage of gunshots that ended Taylor's life.
In her post, Winbush regretted that Taylor has become part of the long list of those unjustly killed by authorities. "We fight for you too. We will not forget you. We honor you," she added.
Winbush began her acting career as a child star but she grew up with a normal childhood thanks to her parents who made sure school was still her top priority. A gymnast, singer, and accomplished pianist too, Winbush believes it's important to "always have a back-up plan" especially with the uncertainty of show business.
Please fill in your e-mail so we can share with you our top stories!