Kym Herjavec's Twins Haven Mae and Hudson Robert Look beyond Adorable in a New Video
Kym Johnson Herjavec shared the cutest clip of her twin toddlers preparing for a fun ride with two of their favorite Disney characters. Their dad appeared to be the designated driver. 
Over the weekend, "Dancing with the Stars" pro Kym Herjavec graced her fans with the most adorable video of her twin kids about to take a drive. Kym shares Haven Mea and Hudson, both two, with husband Robert. 
The "Shark Tank" star was busy finishing up on the large, box-like vehicle that the couple has prepared for the two tots. The short video is found below. 
From behind the camera, we hear as Kym talks to her kids while she pans around to show the scene of the three-wheeled cargo bike. "Are you going for a ride?" the dancer asks, to which her daughter responds, "Yea!" 
Kym then mentions the twins' stuffed companions — two large Mickey and Minnie dolls place on the seat in front of them. Hudson wears a blue helmet for protection while Haven has a blue one. 
In the clip, a young Haven is a bit more vocal than her brother, repeating the names Mickey and Minnie in cute, mumbling toddler fashion, then saying something else we can't make out. 
When her mom tells her to have fun, the sweet little girl repeats, "Have fun, mommy!" Fans went crazy in the comments as a result of the high level of cuteness. 
Kym captioned the post, "Taking our new wheels for a spin." She and Robert welcomed the twins back in April 2018. Earlier this month, the proud dad shared photos from a tailgate party with his little girl. 
In a heartwarming shot, Robert showed off some bonding time featuring Haven and himself sitting at the back of his truck enjoying some drinks and smiling together. 
"Who said you need sports to tailgate?" he asked in the caption, referring to the lack of sporting events due to the coronavirus pandemic. So far, Kym and Robert are loving parenthood. 
The pair fell in love during a rehearsal segment of "Dancing with the Stars" in 2015. Although they were eliminated eight weeks into the show, the couple continued dating. 
They would tie the knot the year after. In subsequent months, the pair remained enthralled with each other before announcing they were expecting twins in late 2017.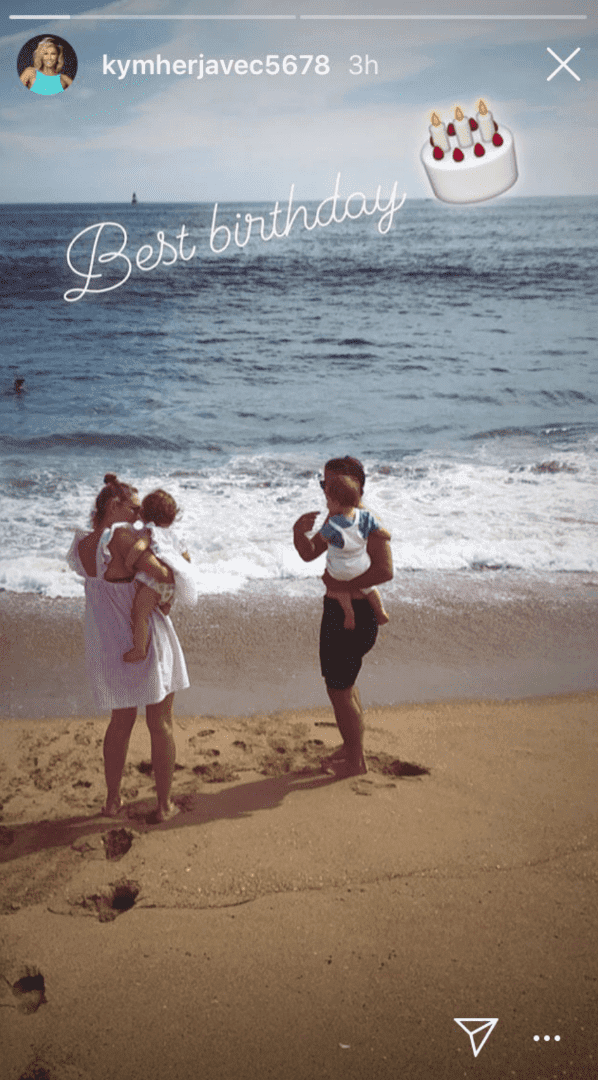 Last August, Kym celebrated her birthday with her family at the beach. The Australian dancer shared an old-school themed photo and described the moment as the "best birthday" in her IG stories. 
As for the twins, they've been treated on their birthday as well. Like last year, this year they enjoyed some giant gold balloons and a customized cake with both their names on it.