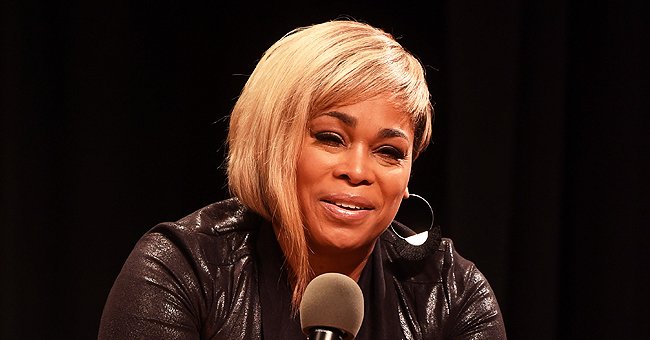 Getty Images
Fan Says T-Boz's Daughter Looks like Her Dad Mack 10 as She Poses with Braids in a Photo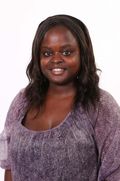 T-Boz and rapper, Mack 10's, only daughter looked gorgeous while showing off her braided hair in a selfie. A fan said that she looked like her father in the photo.
Chase Rolison is the 19-year-old daughter of T-Boz and rapper, Mack 10. She grew up at the height of her mothers' success as one-third of the 1990s hit band, TLC.
In previous interviews, T-Boz revealed that she doted on Chase so much that she would spoil her with designer clothes at only a few months old. As she got older, her daughter would meet with stars like Justin Timberlake, Drake, and Miley Cyrus.
Unlike her parents in the music industry, Rolison has chosen a different path. Her love for makeup growing up has turned into a collection called "Anela Beauty."
Recently, she posed in the sun for a beautiful selfie and showed off a new highlighter from her beauty line. Rolison admitted that she was obsessed with the product.
One fan praised her entrepreneurial spirit and cheered her on saying, "young boss lady!!!! Beautiful!!" As she posed with her hair in thick braids, some of her fans pointed out how much she resembled her famous parents.
One person commented, "she is beautiful yall did that mac 10 in T-Boz." One fan thought she looked like T-Boz, while another person argued that she looked more like her father.

A fan commented on a photo of Chase Rolison with braided hair wearing makeup by Anela Beauty | Source: Instagram.com/chaserolison
Other fans commented on her beauty. One person
said
, "OKAY, come through, pouty lips! You look fabulous, Mama!" Another person admired the makeup she had used and
admitted
, "looks good on you."
Her mother's bandmate and friend, Chilli gushed over her in a sweet exchange they shared in the comment section, as they expressed their adoration for each other.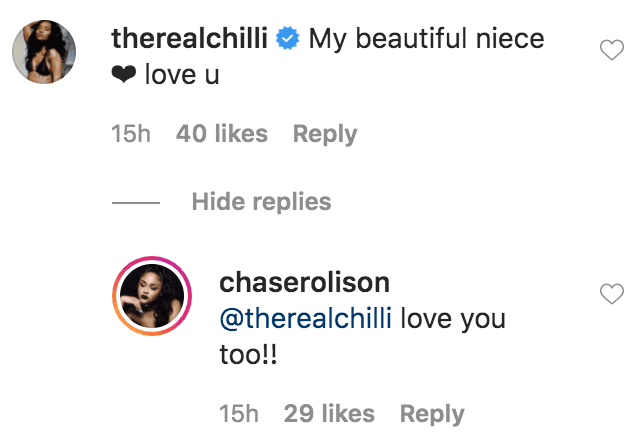 Chilli from TLC commented on a photo of Chase Rolison with braided hair wearing makeup by Anela Beauty | Source: Instagram.com/chaserolison
T-Boz has been a proud mother in supporting her daughter's makeup line. In 2017, she opened up to PEOPLE about expanding her family after adopting her two-year-old son named Chance.
As she explained the bond she has with her son, T-Boz revealed, "I feel the same way I did when I gave birth. It's no different."
In a book she co-wrote with Emily Zemler, titled "A Sick Life," it chronicled her life after being diagnosed with sickle-cell disease and a brain tumor.
The book also detailed her journey to motherhood through adoption with her second child. T-Boz revealed that sickle-cell disease prevented her from being able to have more children.
She shared the emotional moment her first attempt at adoption failed until another try when she finally welcomed Chance in 2015.
Please fill in your e-mail so we can share with you our top stories!