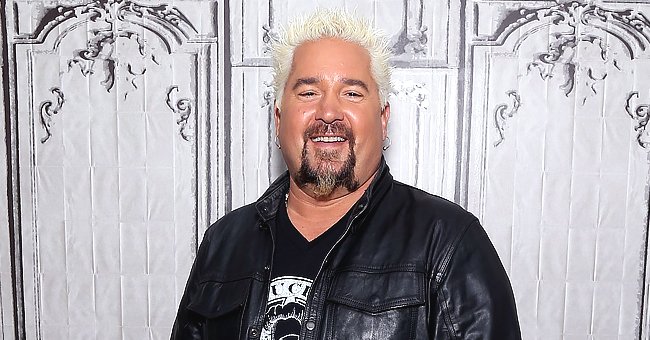 Getty Images
Guy Fieri and Wife Lori's Beautiful Love Story — Inside Their Marriage of over 2 Decades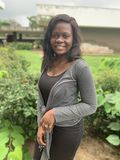 Guy and Lori Fieri have been married for over 25 years, despite a fiery start to their relationship. The renowned chef says he "just knew" when he first saw her.
Many couples, when asked how they met, recall adorable and amiable "love at first sight" stories. For the famous restaurateur and his wife, however, that's not exactly how it went down when they first crossed paths in 1995.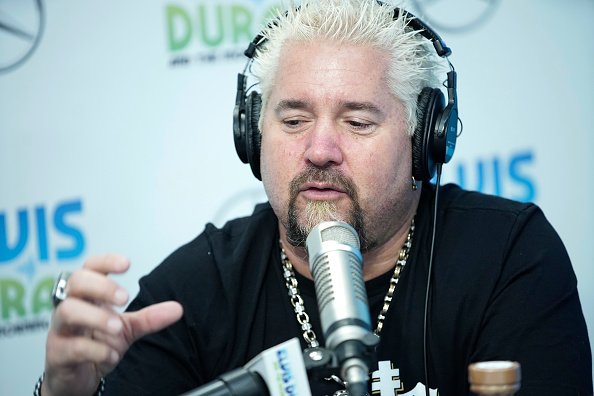 Guy Fieri at Z100 Studio on February 26, 2020 in New York City. | Photo: Getty Images
Guy and Lori first met in Long Beach, California, where the chef was running a restaurant and had an altercation with Lori's friend who had been let go from the restaurant and was not supposed to be on the premises.
Lori, originally from Rhode Island, stopped by, on her cross-country move to San Diego, in Long Beach to visit her friend. Guy recalls Lori not taking too kindly to his request that her friend leaves the restaurant and leaped to her defense, insisting he could not make them leave.
The chef then conceded to her assertion and pleaded that they keep a low profile while at the restaurant, but he was already stunned by the woman he had just met.
Fieri fondly remembers their meeting, saying: "I was talking to her friend and saying 'Hey, listen, wait a few weeks before you come in,' and standing behind her is this blue-eyed, blonde girl giving me this mean mug." He then added that despite the nature of their meeting, he had eyes for Lori from the moment he saw her.
Lori never did make it to San Diego, and the pair have been together ever since. They now have two sons; Hunter, 22, and Ryder, 12, who just graduated from eight grade.
A proud Fieri recently shared a photo of his family, with Ryder in his graduation gown, congratulating his "son, student, athlete, and now a graduate." Guy attributes much of his career success to his wife's willingness to support him and work on his crazy ideas and projects.
Together, Guy and Lori have launched 19 restaurants on Carnival's cruise ships.
The family of four was once invited on a ship cruise "Carnival," as they proposed that Fieri open a restaurant on one of their ships, an idea the chef did not fancy at all as he wasn't very fond of such settings.
The TV Show star then had a conversation with his father, who encouraged him to try the new experience. Guy explained:
"My dad asked, 'Have you ever been on one (a cruise ship)? Then quit telling people you don't like it!'"
Fieri later informed his wife that he was going to give the restaurant a try. Lori, like her husband's business partners, believed it was "a crazy idea," but she supported him all the same.
The cruise restaurant wound up being a hit and marked the start of a long partnership, which has seen the Fieri's launch 19 restaurants on Carnival's cruise ships.
Apart from running restaurants, Fieri has also ventured into showbiz. He created the Guy Fieri Roadshow in 2009, which featured a DJ, drinks, and cooking demonstrations.
Guy also became a show host in 2010, hosting shows, including "Minutes to Win It," "Guy's Grocery Games." He has also written numerous books.
Please fill in your e-mail so we can share with you our top stories!