Kimora Lee Simmons' Daughter Aoki Wears Mom's Black and White Top in New Pictures
Kimora Lee Simmons youngest daughter, Aoki Lee Simmons, joked about a daring look that showed off her midsection while wearing her mother's black and halter top.
Kimora Lee Simmons started her fashion empire with "Baby Phat" in the early 2000s. She had her daughters, Ming Lee and Aoki Lee join her as designers and also models for some of her collections.
As toddlers, they always joined the former model on the runway for her star-studded fashion shows. When they got older Ming Lee, and Aoki Lee followed in their mother's flair for modelling and fashion.
Recently, Aoki Lee tried out a daring look from her mother's wardrobe as she showed off her midsection in a black and white halter top. She also had on a black cropped sweater that matched her shorts.
While posing for a mirror selfie, she joked about how the look is not a favourite for many parents. She also admitted her mother was probably going to ask her where the rest of her top was.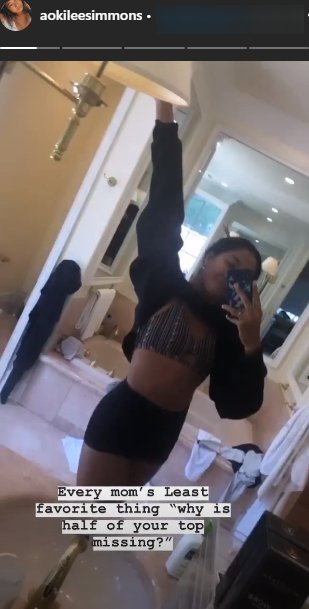 On her Instagram story, Aoki Lee shared another up-close photo of the striped top before revealing that she was preparing for her routine yoga session.
As she stood in front of her bedroom taking several selfies, she showed off her stylish look. The teenager also shared a snap of her laptop resting on a chair with a video image that featured a yoga instructor.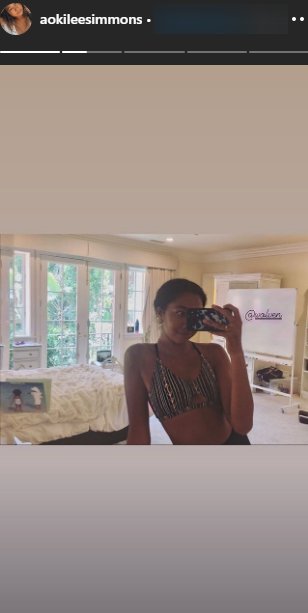 Yoga is a passion she shares with her father, Russell Simmons. However, Aoki Lee recently revealed that the 62-year-old is better at yoga than she is; she
explained:
"[Russell Simmons] 100 times more flexible than me but I'm coming for the family yogi crown."
In 2019, Aoki Lee shared the exciting news that she was accepted into Harvard University at only 16-years-old. In a moving video, she shared the moment she found out about her admission. 
As she fought back the tears, Kimora excitedly cheered her on and zoomed to the laptop her daughter was staring at.
Despite all her successes, Aoki Lee opened up a year earlier about her insecurities. According to E!, she admitted to struggling with the comparisons she gets with about Kimora and Ming Lee.
In an emotional post on Instagram, she admitted to only sharing pictures that didn't show too much of her face. The teenager also said that she dreaded standing next to her sister in photos. 
After her message, she thanked her followers for all their positive support in their response to her confession. The experience has since made her more confident in the content she posts.