Getty Images
Omar Epps' Wife Keisha Looks Gorgeous in a Black Floral Dress and Matching Hat in Recent Snaps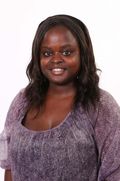 Omar Epps' wife, Keisha Epps, looked trendy in a floral jumpsuit and black hat. Fans loved the look and praised the singer for her ageless beauty.
Keisha Epps posted an inspiring message over the weekend as she hoped to uplift people going through their own personal battles amid the COVID-19 pandemic.
In her caption, the singer admitted that some days could be difficult for people. However, she encouraged her followers to stay resilient, loving, and creative.
Keisha urged people to pick themselves up, even in their darkest hour, and embrace the beauty and love and exists around them. As she assured people that things would be alright, she added:
"My LOVE goes out to all of us & especially those who were already dealing with losses & grief. This is a lot. This is also a time of restoration."
Along with the message that expressed her positive outlook, Keisha shared several selfies of herself looking gorgeous in a trendy outfit.
She was dressed in a floral printed jumpsuit and matching black hat. She kept her jewelry to a minimum with only a chunky silver bracelet.
One fan felt so inspired by her words and admitted, "needed that!!!! Word! You said a lot. Love You!" Another person also agreed and said, "love the caption! Well said."
Many of Keisha's fans couldn't help pointing out how beautiful she looked. A commenter gushed, "so pretty." One person also pointed out how young she looked in her photos

A fan commented on Keisha Epps' selfies as she posed on the grass in a jumpsuit and black hat | Source: Instagram.com/lovekeishepps
Keisha and her husband, Omar Epps, have been
married for 14 years
. Recently, she took the time to share the reasons why
she fell in love with him
when she found an old magazine cover.
She revealed that she was attracted to the way he was proud of being black; she called Omar's confidence "powerful." The mother of two also added that it is a trait she still loves today.
Omar rose to fame after starring alongside Sanaa Lathan in "Love & Basketball." In 2015, the actors reunited as they celebrated the film's 15th anniversary.
According to E!, despite hopes among moviegoers for a sequel, Sanaa shot down the idea and explained that she didn't think the director, Gina Prince-Bythewood, would want a sequel and preferred to leave the story as it ended.
Please fill in your e-mail so we can share with you our top stories!