NASCAR Star Martin Truex Jr's Girlfriend Sherry Pollex — 7 Facts about the Cancer Survivor
Martin Truex Jr. has been prominent in the Nascar world for over a decade. All that time, his girlfriend, Sherry Pollex, has been by his side, supporting him while fighting her own battles. 
Behind the fast car of Martin Truex Jr. is girlfriend Sherry Pollex. His best friend and biggest supporter, Pollex has been inTruex's public circle since 2005 when he won his second Xfinity Series title. 
The Michigan native's roots are in racing, with her father being the owner of PPC Racing. She showed her love of the sport by acquiring a Sports Marketing degree from Florida State University. 
POLLEX'S EARLY CAREER AND ACTIVISM
She went on to work for PPC Racing. Pollex and Truex first met when Pollex was part of Nascar's Public Relations Department. They connected, and before long, the pair were taking things off the track. 
In 2007, they started the Martin Truex Jr. Foundation, which donates money to young people with cancer. Their annual Catwalk for a Cause and golf tournament events gives financial aid to a New Jersey cancer hospital. 
GETTING TRUEX INTO FASHION
Pollex has also branched off into fashion, with many of her creations getting showcased at the fashion event mentioned above. She reportedly runs a boutique in North Carolina, Lavendar. 
Her keen eyes for fashion have slightly rubbed off on Truex, who now opts for more designer outfits than his jeans and t-shirt go-to look. He's a work in progress.
HER BATTLE WITH CANCER 
Pollex has a lot going for her thanks to hard work and determination, but life has also thrown her a few curveballs. In the mid-2010s, she was suffering from stage 3 ovarian cancer. 
In 2017, Pollex underwent a second round of intense chemotherapy to remove a sizeable tumor in her spleen. The first round made her miss Truex's Monster Energy Cup race win. 
STILL HITTING THE TRACK
However, Pollex was present when her boyfriend and his team gained victory in Chicago. "I think the race track is a good place to go to kind of forget about all your troubles," Pollex said at the time. 
Pollex further explained that, even on the track, people continually show her support and give her comfort. They appreciate her decision to go public about her health struggles. 
She said: "I think some really feel like they are going through a battle with me. So many people around the world are touched by cancer..." Pollex feels like her current path is the one God placed her on. 
YOGA AND WELLNESS FOR CANCER
Her path also includes a wellness program called Break Free, which she promotes on her Instagram page. It focuses on improving the mental, physical, and spiritual health of others with cancer backgrounds. 
Pollex's social media is also littered with yoga clips and business moves for the Martin Truex Jr. association. She's definitely much more than a Nascar wife. 
CHASE ELLIOTT'S GIRLFRIEND
Another driver whose girlfriend has stayed by his side is Chase Elliott. Elliott, 24, was this close to his first NASCAR Cup Series recently. 
Unfortunately, a pit stop just before the final lap caused him to give up his 1st place spot, eventually settling for second on the final run. Luckily, Elliott has the support of longtime girlfriend, Green. 
Raised in Charlotte, North Carolina, Kaylie attended the University of South Carolina. There, she reportedly studied public relations and journalism. She also took classes in sport management.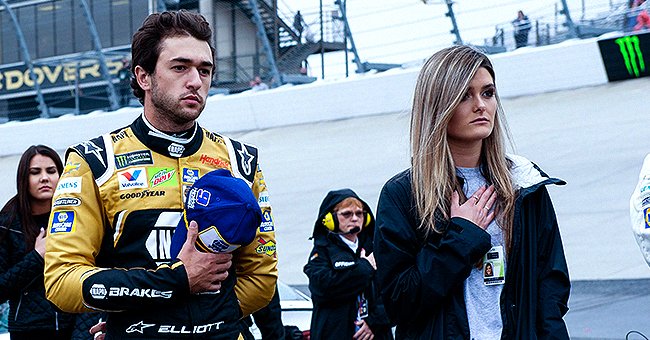 GREEN'S CAREER HISTORY 
She next went to the University of North Carolina and studied communication. Kaylie has interned in marketing positions for Blue Line Technologies Inc, and Children's Healthcare of Atlanta.
Green and Elliott have been together since at least 2017 when she was pole-sitter at the Daytona 500 rooting for the driver. In addition to working at the Lavendar Boutique, she's a steady support for the driver.