Gabrielle Union Gushes over Her Husband and Dad in a Sweet Father's Day Post
'Being Mary Jane' star, Gabrielle Union celebrated Father's Day with an adorable tribute to her husband and father as she called them her "favorite dads."
Gabrielle Union had two men to honor for Father's Day as she shared a touching message to her husband, Dwyane Wade, and her dad, Sylvester Union. She called them both her "favorite dads in the world."
Gabrielle praised them for always showing up for their families and their great leadership. She also hailed them for their philanthropy work in finding ways to help men better themselves. 
Gabrielle also joked that sports helped strengthen her bond with Dwayne and Sylvester. She said they learned to love the Nebraska football team, which she proudly supports.
Although she could not be with Sylvester for Father's Day, the actress enjoyed a pool party with her family. In a hilarious video, she showed her daughter, Kaavia James, dancing to Megan Thee Stallion and Beyoncé's song "Savage Remix."
Gabrielle and Dwyane welcomed their first child together via surrogate in 2018. The couple also raises the NBA star's children from a previous relationship.
In another sweet tribute for the father of four, a message was posted on Kaavia's Instagram page, which displayed an adorable photo of Dwayne carrying her in his arms as they walked on a beach.
Dwyane was treated to more than just a party after Gabrielle revealed a custom Bronco that has been delivered to their home. In his caption, Dwyane excitedly announced:
"Happy Father's Day to Mee! I mentioned years ago that when I moved to LA I would love a Bronco. Well, the wife was listening. Thank you."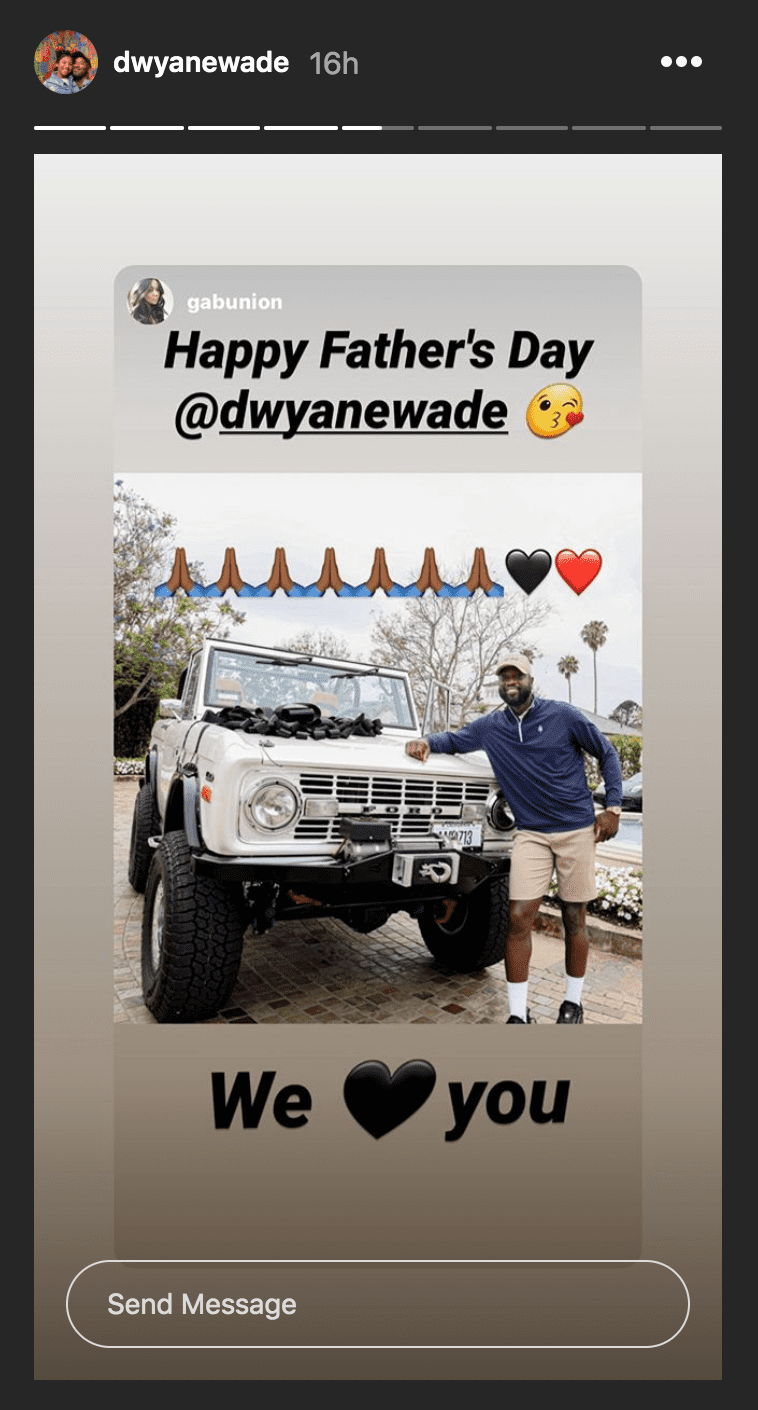 In an interview with PEOPLE, Dwyane said that the
success of his relationship
with Gabrielle is her independent and supportive nature, he
explained:
"She is her own boss and has her own career, her own bank account and all that She doesn't try to stop my growth or change who I am."
According to Daily Mail, Dwyane spoke out in defence of his wife in early June, amid her battle with NBC for firing her from "America's Got Talent."
He accused them of putting his family under surveillance during Gabrielle's negotiations for airing out her allegations against them. The couple both stated publically that the network has been trying to cover up the racism Gabrielle witnessed while working with them.