Metta World Peace's Legal Issues and Mental Health Struggles — Inside His Troubled Life
Retired NBA player Metta World Peace was a controversial figure on and off the court throughout his playing days. He was undoubtedly a talented player, but his legal issues, eccentric lifestyle, and mental health struggles have defined much of his life.
Former NBA player Metta World Peace made his NBA debut in 1999 while playing for the Chicago Bulls. The talented player quickly rose to become one of the most revered defenders in the league.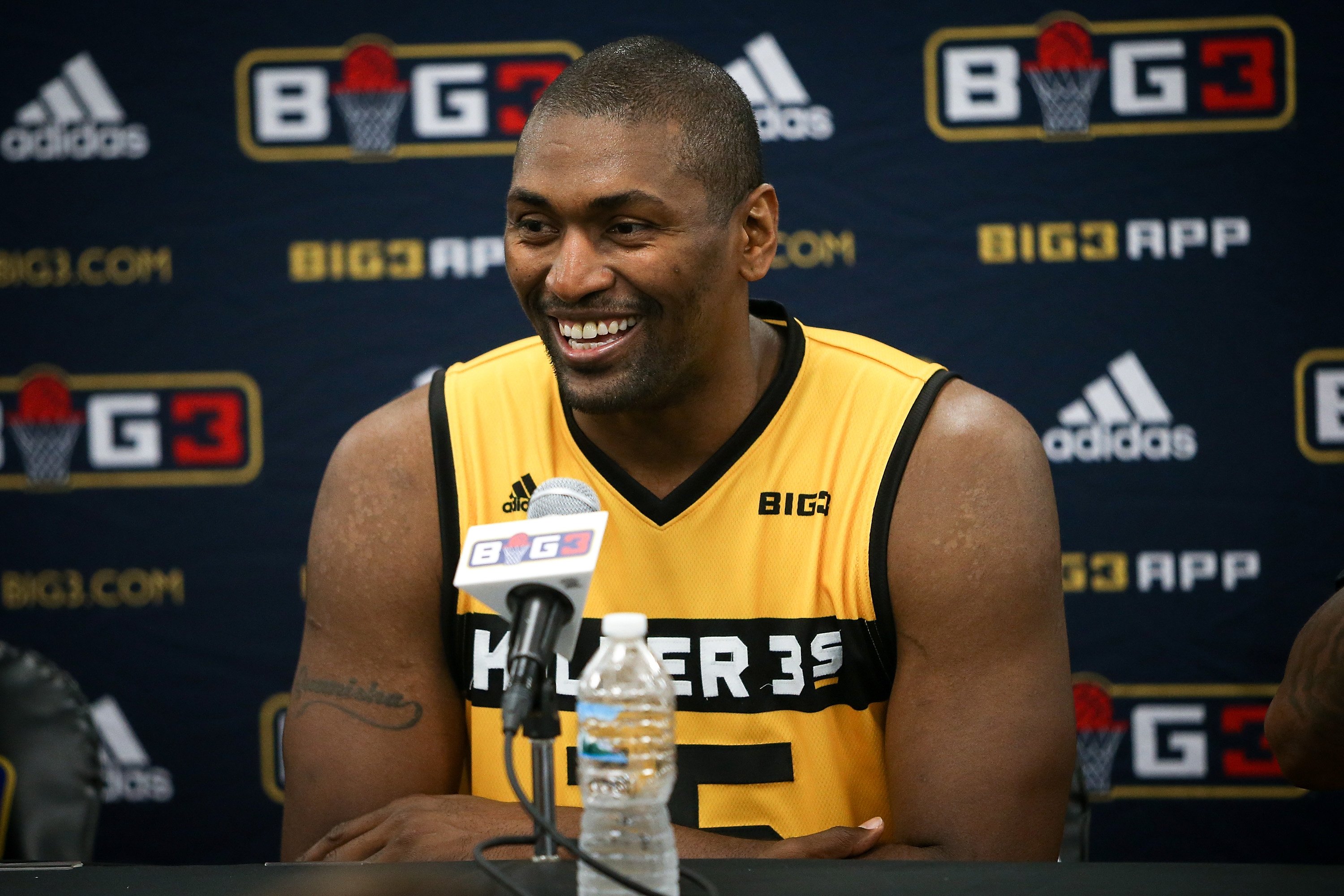 He officially announced himself as a force to be reckoned with when he was voted the NBA Defensive Player of the Year in 2004.
World Peace went on to play 17 seasons in the NBA and represented six different teams. Nevertheless, his career was blighted by several on-court misdemeanors, including the famous "Malice at the Palace" brawl, which landed him in some hot waters.
THE FAMOUS "MALICE AT THE PALACE" BRAWL 
Even though World Peace had gained notoriety through his early playing days as a volatile player, no one anticipated the raging anger he displayed during an NBA game in 2004. 
In November 2004, while playing for the Indiana Pacers, World Peace was the central figure in what remains one of the worst sports brawls in American sports history. 
The Indiana Pacers were playing the Detroit Pistons when a heated altercation between World Peace and Piston's center Ben Wallace quickly degenerated into a brawl involving fans and players of both teams after World Peace was pelted with a cup of diet coke.
Following the infamous brawl, which is widely known as "malice at the Palace," World Peace was slammed with an 86-game suspension by the NBA. The retired NBA star also saw his finances take a hit, losing about $5 million in salary and getting axed from all his endorsement deals.
In 2007, the embattled player found himself in trouble with the NBA when he was charged with domestic violence after a dispute with his ex-wife Kimsha Artest spiraled out of control. 
The controversial player was subsequently sentenced to 20 days in Jail with community service. Later that year, the NBA decided to suspend him for seven days.
In 2019, "Quiet Storm: The Ron Artest Story," which is a documentary that covers the iconic player's career and mental struggles, premiered on Showtime. World Peace, who initially declined the offer to make the documentary shared some nice comments after watching it. In his words:
"I'm really proud that I put my story out there. For me to do this again is crazy. I just wanted people to forget about the god damn brawl."
METTA WORLD PEACE'S MENTAL HEALTH STRUGGLE
Leading up to the history-making fracas, World Peace endured a longtime battle with depression and anxiety that stemmed from a not so peaceful childhood. In the Queensbridge project, World Peace was raised by his warring parents at the peak of the city's crack wars. 
At the age of 13, the former NBA All-star began therapy after his parents got divorced, and his treatment continued throughout his career. Unbeknownst to much of the NBA world, World Peace's first team, Chicago Bulls, even got the player help to curtail his rousing temper.
In 2010, after winning the NBA Championship with the La Lakers, the famous player came out publicly with his mental health struggles, when he thanked his psychologist Dr. Santhi Periasamy, who had flown from Houston to Los Angeles to help him prepare for the game.
During a recent interview on "Hoop Streams," World Peace revealed that it took him so long to come out about his mental health struggles because of the stigma attached to it and the unavailability of the right platform to share his story. 
World Peace admitted that his mental health struggles and constant suspension caused him several significant losses. In 2019, while speaking to Clay Skipper, the player revealed that his two major regrets are not being able to win more awards and also his infamous elbow incident with James Harden.
METTA WORLD PEACE'S PERSONAL LIFE
Apart from his on-court troubles, Metta World Peace mostly lived an eccentric life, which saw him change his name twice within the last decade.
Metta World Peace's real name is Ronald William Artest Jr., and he was widely known as Ron Artest before he officially changed his name on September 16, 2011. While speaking about his unique name, the dominant defensive player revealed he got help from a mystery in coining the new name. He further explained:
"Metta is going to be the first name, and it means like friendship, love and kindness. World Peace is going to be the last name, so everybody can get ready to buy their World Peace jerseys."
In May, World Peace changed his name for the second time in less than a decade to Metta Sandiford-Artest. The 40-year-old former NBA star explained that the recent tweak in his name was a combination of his wife's name Maya Sandiford, and his birth name Ron Artest.
Metta World Peace's wife Maya Ford is a model, and the cute couple reportedly began dating in 2012, after his initial change of name. 
Before World Peace met Ford, he was married to Kimsha Artest for six years. The estranged couple share three children, Sadie, Ron III, and Diamond. The talented player also has a son, Jeron, with his former high school sweetheart Jennifer Palma.
Metta World Peace's son, Jeron, is following in his father's footsteps and is currently making a name for himself while playing high school basketball.  
After many controversy-laden years, World Peace has finally found the right balance in his life, and to cap it off, the proud father recently became a grandfather after his eldest child, daughter Sadie, welcomed her first child. 
Today, World Peace is enjoying the dividends of a hard-fought rebirth and runs his own organization, "The Artest Management Group," which offers several services, including tax preparation for athletes.