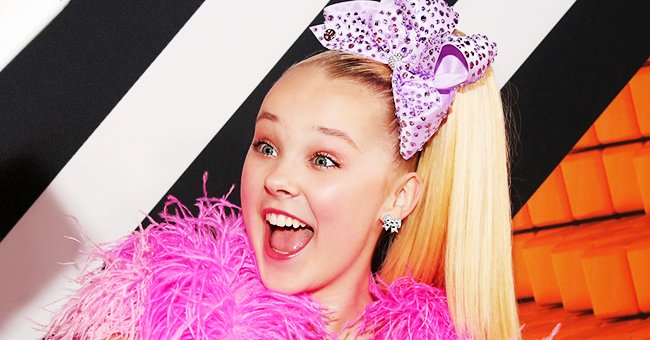 Getty Images
JoJo Siwa Debuts Brunette Hair Color in an Entertaining New Video on Instagram
Jojo Siwa is switching up her signature look. In a funny video on Instagram, she debuted her brunette locks to fans. It's the first hair color change for the young girl.
On Friday, Jojo Siwa took to social media platforms Instagram and TikTok to share her new hair color with the world. The dancer is known for having a blonde ponytail typically accessorized with a large pink bow.
"Wait for it...." she captioned the Instagram clip, which saw her decked out in her normal flashy wardrobe and her classic hairstyle. The video is found below.
An audio voiceover is heard saying, "Girl, don't do it, it's not worth it. Siwa then lip syncs, "I'm not gon' do it, girl. I'm just thinking about it. I'm not gon' do it."
The shot then cuts, and Siwa walks in with the same wardrobe, but this time she's sporting a brunette look, and her hair is falling off her shoulders. "I did it," she mouths before walking away.
On TikTok, the former "Dance Moms" star rocked out to Miley Cyrus' hit song, "Can't Be Tamed." Again, Siwa first comes out with her signature blonde look during the chorus.
After a spin, her brunette locks make their debut on the popular social media app. In a follow-up post, Siwa is joined by a friend who also has dark hair. They do a short skit pretending to be twins.
On the same day she showed off her new look, Siwa addressed backlash following the premiere of her new music video for the song, "Nonstop." Some fans accused her of showcasing blackface in the video.
There is a 12-year-old dressed up as a monkey who some viewers felt sported the offensive look. Siwa, however, tweeted out that she had nothing to apologize for.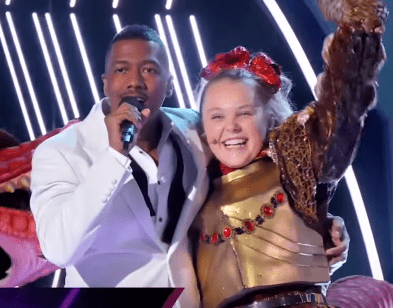 JoJo Siwa revealed to be the T-Rex on "The Masked Singer" on March 25, 2020. | Source: YouTube/ The Masked Singer.
She explained that all of the dancers were dressed up as animals. "There were zebras, tigers, dogs, clowns, mermaids, everything," she wrote. Some people have taken up for her while others are still waiting for an apology.
In addition to making music, Siwa was also a competitor on "The Masked Singer" this year. The 17-year-old showed herself as the T-Rex when she made it to the final four of the season.
All the judges were able to discern who it was before the big reveal. Siwa had paused her "D.R.E.A.M The Tour" tour to compete in the reality show. Fans were thrilled that she'd made it so far.
Please fill in your e-mail so we can share with you our top stories!