Katharine McPhee Jokes about Why She Chose to Marry Husband David Foster and It Has Something to Do with Music
Katharine McPhee loves to make light of her marriage to much-older husband, David Foster. In this instance, the singer joked that it was the music that got her. 
On Sunday, Katharine McPhee took to Twitter to retweet a post from fellow artist Charlie Puth. Over the tweet, she commented, "The real reason I married David."
Puth's tweet referenced the famous song that Foster wrote and produced for the acclaimed 1992 film, "The Bodyguard." The musician is 71 and his wife 36.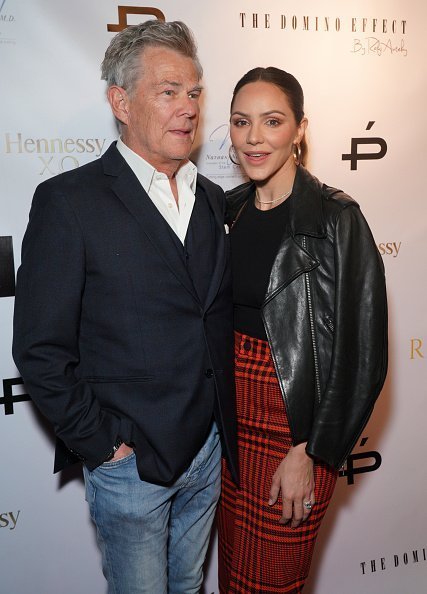 Puth's tweet — and the reason McPhee married him — was: "The second chord (E minor something) in the intro of I Have Nothing by Whitney Houston will always give me chills." 
Meanwhile, McPhee is best known for her role in the musical drama series, "Smash," and for her song, "The Girlfriend." She first met David Foster 14 years ago while competing on "American Idol." 
The real reason I married David: https://t.co/8gKl6p3lDX

— Kat McPhee (@katharinemcphee) June 28, 2020
In 2017, the pair began dating. They got engaged just over a year later and in June 2019, officially tied the knot in London. They celebrated their first wedding anniversary this month. 
McPhee took to Instagram to share a throwback photo from the ceremony. "A year ago today, I married the love of my life," she wrote in part. She joked that it was a happy anniversary to her dress as well. 
In turn, Foster also shared a celebratory post on his anniversary. The musician has been married four times before. He was first wed to B.J.Cook, then Rebecca Dyer, Linda Thompson, and Yolanda Hadid.
McPhee was previously married to Nick Cokas from 2008 to 2016. According to Vogue, the singer was donned in a custom Zac Posen wedding dress for her second wedding.
Foster wore a Stefano Ricci tuxedo, and chose the wedding song, "The Colour of my Love," which he produced, for the big event. Around 150 guests attended. 
Among them were Foster's five daughters, Allison, Amy, Sara, Erin, and Jordan. The youngest, Jordan, assisted McPhee with fittings and other styling issues for the wedding. 
Back in January, McPhee again joked about her marriage to the record producer following the Grammy Awards. She compared her winnings to that of Billie Eilish, who managed to snatch five Gramophones. 
McPhee boasted that by marrying Foster, she automatically won 16 Grammys. The producer broke a record with his winnings over a five-decades-long career.
Eilish, however, is off to a great start. She stole the crown from Taylor Swift and became the youngest solo artist to win album of the year. McPhee has not won any Grammys of her own thus far.