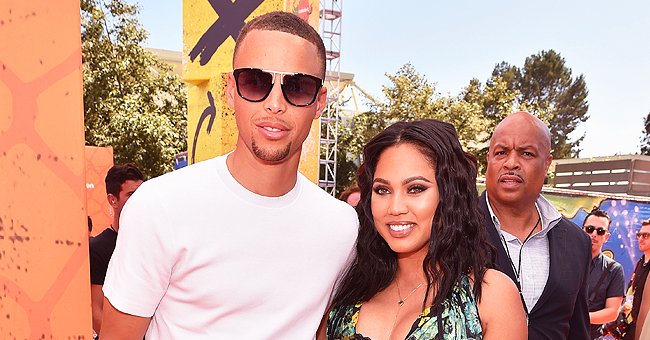 Getty Images
Ayesha and Steph Curry Look So In-Love in a Selfie They Took during Their Recent Family Hike
Stephen Curry and his wife Ayesha Curry enjoyed spending quality time with their children as they took adorable photos during a family walk in the mountains.
Ayesha Curry has been soaking up all the quality she has been able to get with her husband, Steph Curry since the NBA had temporarily suspended the season amid the COVID-19 pandemic.
The couple has been working out together, camping out in their backyard and cooking meals with their children. Ayesha has also been preparing her famous recipes during what she called her Sunday cheat day.
The Curry's recently added hiking to their range out outdoors activities after taking their three children, Riley, Ryan and Canon for a family walk.
Ayesha shared a few photos from their walk. The first photo showed her and Steph cuddled up as they posed for an adorable selfie while enjoying the picturesque views of the rocks below them.
In a second photo, Ayesha looked comfortable in a pair of black biker shorts and a white tank top while pushing a stroller through the gravel.
Steph joined his wife in reflecting on the beautiful moment they shared and posted a few of his own photos.
The final photo showed the couple switching up their parenting duties as Steph took the lead with all three children walking hand in hand with Ryan and Canon on either side of him and Riley holding onto her little brother.
"Look at Curry man, so inspirational," wrote one fan in response to the sweet moments the NBA star shared with his family. Another person added, "creating memories."
"Beautiful family," commented a user. Another fan admired the Currys' and admitted, "your family is so cool, I hope I get to have a family like yours." Kim Kardashian also showed her love for the photo with a heart emoji.

Kim Kardashian commented on photos of Ayesha Curry, Stephen Curry and their children Riley Curry, Ryan Curry and Cannon enjoying a walk in the mountains | Source: Instagram.comayeshacurry
Steph joined his wife in reflecting on the beautiful moment they shared and posted a few of his own photos from their walk in the mountains.
In his caption, the proud dad reflected on the blessings in his life and showed off his three children displaying hilarious facial expressions for the camera.
Steph and Ayesha's family walk came only days after celebrating Canon's second birthday. The night before his special day, Ayesha shared a heart-warming photo massaging her toddler's feet.
She gushed over the moment being the last time that he would have kisses and foot massages as a one-year-old.
Please fill in your e-mail so we can share with you our top stories!