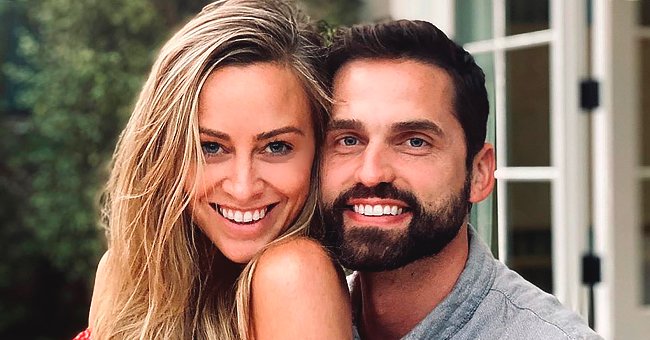 instagram.com/jessicabatten_
Inside 'Love Is Blind' Star Jessica Batten's Budding Relationship – Meet Doctor Ben
Jessica Batten is letting fans in on the new love in her life after the pair hid out during quarantine for a few months. Dr. Benjamin McGrath hugged the reality star in their latest photo.
On Saturday, Netflix's "Love Is Blind" star Jessica Batten revealed that there is a new man in her life after saying no at the altar on the first season of the popular reality series.
Batten, 35, introduced Benjamin McGrath on the Independence holiday over the weekend. She shared two adorable photos of the couple. The post is found below.
BATTEN AND NEW BEAU GET COZY
In the first snap, Batten appeared to be sitting on McGrath's lap in front of a house. Both of them wore bright smiles as they looked at the camera. Batten had on a red off-shoulder top and McGrath a gray button-down.
The second photo featured the couple on a boat over the ocean. They both wore sunglasses. McGrath wrapped his arms around his girlfriend as they again smiled for the shot.
"Happy Fourth! us us. Freedom isn't free. I'm thankful to be able to follow my heart and choose my own happiness," wrote Batten in the caption. She looks forward to sharing more of her new relationship.
According to ET, McGrath is a foot and ankle surgeon who hails from California. In her IG stories, Batten revealed that the two met while riding bikes at the beach. It's now their favorite shared pastime.
OTHER INFORMATION ABOUT MCGRATH
In the comments, Batten further shared that the pair have been dating for four months. "Love Is Blind" co-star, Kelly Chase, met McGrath just last weekend. "So so happy for you!!!" she said.
Batten responded to a fan who asked about McGrath's age. He is 34 years old. McGrath himself reportedly commented with hashtag "Team Jess," to which Batten responded, "& the best teammate."
ET also learned that McGrath is a parent of two from a previous relationship. He takes care of his children as a single dad and often features them on his Instagram.
News of Batten's new relationship follows renewed drama surrounding "Love Is Blind" co-star Mark Cuevas. Batten was always hesitant about Cuevas due to their 10-year age difference at the time.
CUEVAS DENIES CHEATING ALLEGATIONS
In late June, rumors emerged that Cuevas was constantly cheating on Batten while filming. In a statement, Cuevas allegedly said that the two were never "in an exclusive relationship."
According to Today, a fan jumped on Instagram and claimed that they saw Cuevas cheating firsthand. Batten replied by saying she only knew of one incident.
Cuevas always seemed to viewers to be more into Batten than the latter was into him. The pair's tumultuous relationship was further complicated by Batten's interest in co-star Matthew Barnett who marred Amber Pike.
WHAT TO LOOK FORWARD TO ON NETFLIX
This month, Netflix will not be releasing another installment of "Love is Blind," but there's something for everyone to enjoy. The streaming service is bringing back classics to the front line.
There will also be originals from the popular media platform. Netflix lovers can expect to see goodies like the second season of "The Umbrella Academy," "Cable Girls," and "The Kissing Booth" sequel.
They'll also debut an original reboot of "The Babysitters Club," as well as a revival of the longtime classic, "Unsolved Mysteries." On July 1, the Netflix original "Say I Do" will premiere.
Please fill in your e-mail so we can share with you our top stories!