Tia & Tamera Mowry's Brother Tahj Poses in a Blue Coat & Fans Gush about His Handsome Look
Tahj Mowry was recently pictured donning a blue coat, and social media users could barely hide their excitement over the actor's handsome face.
Tahj Mowry had the internet in a frenzy after a new photo of him was released on social media, and from all indications, fans just couldn't get enough of his good looks.
In a recent Instagram post, Tahj was pictured wearing a grey sweatshirt, which he paired with matching sweatpants and sneakers.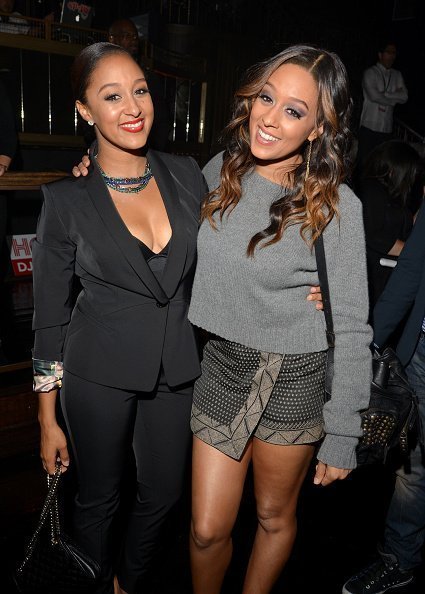 Tahj topped off the look with a blue jacket that gave him a chic casual look. With his hands in his pocket, the actor stylishly posed for the photo as he leaned against a railing.
Commenting on the post, actor Jerome Wiggins praised Tahj's look by writing, "Look at my cousin out here being a supermodel!! ??" and it appeared that fans and followers agreed with him about how good Tahj looked. One user wrote:
"Now look….you can't be looking like that, putting a sista in shock!"
Another user added, "Ugh, crushing since 1997," while a third follower gushed, "Sir, you are too handsome" with several others also leaving lovely comments about the photo.
Tahj is a younger sibling to famous twin actresses, Tia and Tamera Mowry. In addition to being associated with his sisters, Tahj has made a name for himself as an actor.
According to him, acting on the show had been a fun experience altogether.
In the late '90s, Tahj starred as a child actor in the popular Disney sitcom, "The Smart Guy," where he played the role of the lead character, T.J. Henderson.
However, following the end of the show in 1999, Tahj has maintained a low profile and while speaking to "VICE," he said:
"I like to give people a chance to miss me and wonder where I'm at. I keep a level of mystery attached."
Now a 34-year-old man, Tahj, recently revealed that a reboot of "Smart Guy" is in works. Although details about the show remain unknown, it is quite sure that he would be reprising his role as T.J.
While speaking, Tahj also explained how he was looking forward to portraying the adult life of T.J Henderson.
According to him, the show would highlight the present phase of T.J's life, such that even those who didn't follow the original show would still find it enjoyable.  
While describing what viewers should expect from the reboot, Tahj added, "Smart Guy will still have the family quality, but it will be more in the realm of a Community or Grown-Ish type show. It won't be too edgy."
Before his appearance on "Smart Guy," Tahj had also acted on "Full House," where he played the role of Michelle Tanner's best friend, and according to him, acting on the show had been a fun experience altogether.