Sterling K. Brown Is a Doting Dad of Two Sons — Glimpse into the 'This Is Us' Star's Fatherhood
Sterling K. Brown, the actor best known as Randall Pearson in "This Is Us," loves being around the two sons that he shares with his wife of over a decade, Ryan Michelle Bathe.
Born in April 1976, Brown has been involved in the entertainment industry since the early 2000s when he landed parts in "Hack," "Tarzan," "Third Watch," and "Army Wives."
[Brown] even said that parents should fight in front of their children.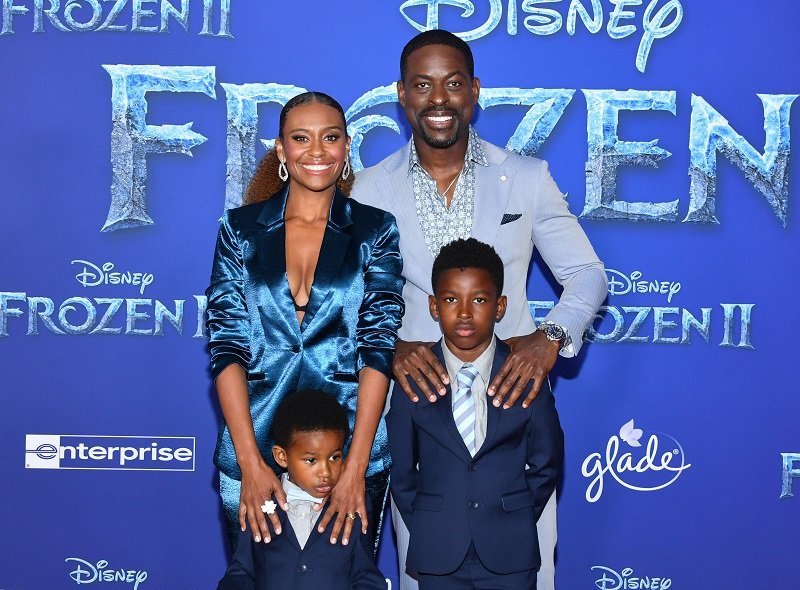 STERLING K. BROWN IN "THIS IS US"
While most of his performances have been outstanding, Brown is best known as Randall Pearson, the father of three daughters in "This Is Us."
Sterling K. Brown has been working on the previously mentioned show since 2016, and so far, he has won a Critics' Choice TV Award, a Golden Globe, an Emmy, and two SAGAs.
Brown, just like his on-screen character, is a proud father. However, he and his wife of 13 years, Ryan Michelle Bathe, have two sons, Andrew and Amaré.
During an interview with Parents, the actor confessed that parenting in the show was a lot easier than in real life, mainly because he can return his on-screen children to their real parents when they finish shooting.
PARENTING HAS INFLUENCED BROWN'S CAREER
He also admitted that other people's children always behave in the best possible way, something that most parents know it's not always the case with their biological kids.
Sterling K. Brown, who also worked in "Black Panther," pointed out that everything becomes "deeper" after you have a child. In his case, it has even influenced his performances.
The actor confessed that he knew that his children would take a look at his work when they reach a certain age, and he hopes that they feel pleased with what they see.
All these years, Brown has been nothing short of a role model thanks to "This Is Us" and the decisions that his character makes regularly.
BROWN'S CAREER HAS ALSO INFLUENCED HIS PARENTING STYLE
However, he credited the "power of a story well told" as it can do everything from educating and entertaining to edifying and inspiring others.
For Brown, the relationship between parenting and acting has been a two-way street because his career has, too, influenced his parenting style.
He explained that he knows how important it is to create a safe environment for kids to explore their creativity and imagination. The actor added:
"It gives them an outlet to create and a sense of validation that their unique perspective of the world is important."
STERLING K. BROWN AND HIS DAD'S SHORT RELATIONSHIP
During an interview with "Today," Sterling K. Brown opened up on his relationship with his father and why he believes that father-and-son dynamics resonate with him. He revealed that when he was only ten years old, his dad passed away. He was 45 years old.
Brown also pointed out that his father filled him with love, and that even though they didn't spend too many years together, it was everything that he could have hoped for. The actor confessed that he wanted to make sure that his two sons get more than ten good years.
Talking to Vox, he admitted that his and Bathe's goal as parents is to show their children the good, the bad, and the ugly parts of their marriage.
He even said that parents should fight in front of their children because arguing is part of a relationship. Brown pointed out, though, that children should see the reconciliation part of the arguments, as well. Otherwise, they will think that the relationship is all about fighting. 
RYAN MICHELLE BATHE'S CAREER
By doing so, Andrew and Amaré will not idealize his and Bathe's marriage. Instead, they will see two people in constant communication and trying to be better as individuals and as a collective.
Speaking of Sterling K. Brown's wife, she is also a talented actress who has worked in different TV shows like "Empire," "How I Met Your Mother," and "Trauma."
Bathe and Brown have worked together in plenty of plays and projects, but the most famous one is, of course, "This Is Us." She had the recurring role of Yvette, a friend of the Pearson family.
At the moment, Ryan Michelle Bathe can be seen in the TV series "All Rise" and the film "Sylvie." Sterling K. Brown, on the other hand, is still working in "This Is Us" and the animated show "Kipo and the Age of Wonderbeasts."