Getty Images
Boris Kodjoe Swoons over Glowing Wife Nicole Ari Parker Who Posed in a Printed Bodysuit by the Pool

Actor Boris Kodjoe could be regarded as the proudest husband in the world after he gushed over his beautiful wife, Nicole Ari Parker, in an Instagram post.
Boris Kodjoe and Nicole Ari Parker are one cute couple that is happy to have found each other and continue to awe their fans and peers alike with every one of their actions.
The couple was at their best again after Kodjoe exemplified the love between them in a recent post he made on Instagram, where he gushed over his wife's incredible beauty.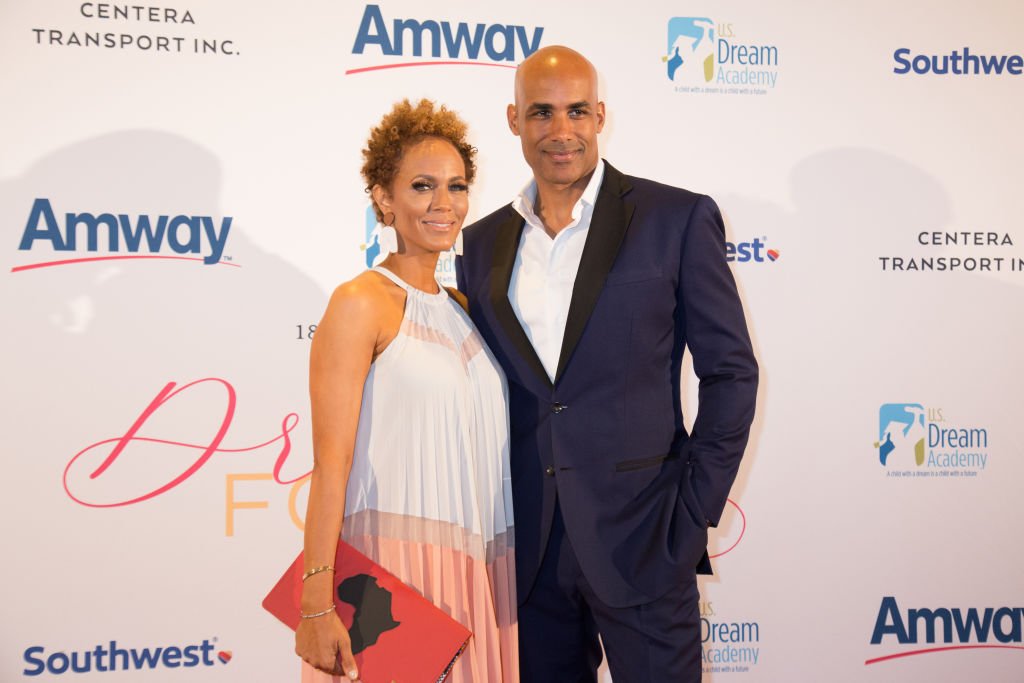 Nicole Ari Parker and Boris Kodjoe attend the 18th Annual Power Of A Dream Gala on May 08, 2019 | Photo: Getty Images
In the post, the actor shared a picture of Parker in a green plant-printed bodysuit, lying on a beach chair. She completed her look with dark shades and also wore a pink bandana.
In the caption to the post, Kodjoe tagged his beautiful wife as his "Woman Crush Wednesday, "and explained what led him to take her photo, writing:
"I had one job: Take a shot of the @GYMWRAP But then she came to the pool all greased up."
Parker also shared one of the pictures her loving husband took of her on her Instagram page, showing a closer view of her face and mentioning him in the caption.
Kodjoe and Parker married in 2005. The sexy couple has wowed many with their incredible love story and revealed some fun details about their union to Essence magazine.
...the couple revealed that they were initially hesitant to start a relationship...
One of the funny aspects of their relationship is that Parker wears her husband's pajamas, which, according to her, worked every time in conjunction with her looking sexy and sweet to him.
For the couple's first date, they went to the Arthur Ashe Foundation Gala in New York City and afterward had some private time, which Kodjoe joked about saying:
"We went to the gala, and then after that would be adult content that I can't share with you."
In another reported interview, Parker spoke about the moment she first met Kodjoe when he walked into the set of "Soul Food" where he played her lover.
She said she thought of him as the hot guy that would play her boyfriend in the show's first couple of episodes.
Parker added that with time, and for some reason, they connected, found it easy to have conversations, and became comfortable with being around each other.
In another chat with the New York Post, the couple revealed that they were initially hesitant to start a relationship because they did not want to fall into the cliché of actors falling in love.
However, they were begged by the "Soul Food" crew to get together. Now 15 years into their union and still going strong, many people, including celebrities, look up to the couple for marital secrets. One such personality is rapper T.I.
During an episode of the rapper's podcast, he and his wife, Tiny, asked Kodjoe and Parker how they have been able to manage their marriage devoid of scandals.
Kodjoe replied by saying they respected each other and that he would not want to embarrass his wife or their children by doing things that could cause scandals.
T.I, who has been involved in so many cheating scandals during his 10-year marriage to Tiny, described Kodjoe as perfect, saying he could not relate with his ways, leading to the rapper getting dragged on Twitter.
Please fill in your e-mail so we can share with you our top stories!