Javicia Leslie Becomes TV's First Black Batwoman — What to Know about the Talented Actress
Javicia Leslie made history as the first black and LGBTQ actress to play Batwoman on television. Here's a look at her life and career. 
Warner Brothers recently announced that Javicia Leslie would be playing Batwoman on the CW network, taking the place of Ruby Rose.
Leslie, who is most recognized for her breakout role in the CBS series "God Friended Me," brought pride to the black and LGBTQ community with the announcement.
Say hello to the new Batwoman! @CWBatwoman pic.twitter.com/7F8Wfshs6X

— Warner Bros. TV (@warnerbrostv) July 8, 2020
"I am extremely proud to be the first Black actress to play the iconic role of Batwoman on television, and as a bisexual woman, I am honored to join this groundbreaking show, which has been such a trailblazer for the LGBTQ+ community," she said.
To stay fit and in character, the actress keeps a fit and healthy lifestyle, which includes practicing Muay Thai, Weapons, Boxing, Swimming, Dance, and Track.
PERSONAL LIFE
Leslie was born to military parents in Germany but moved to America after her parents separated. She went from California to Maryland, growing up in Upper Marlboro.
She was already a performer at a young age, joining plays and recitals whenever the opportunity presented itself.
Despite studying business management at Hampton University, Leslie still had a love for being on stage. During her sophomore year, she participated in and won Miss Black and Gold Extravaganza.
With her platform, she focused on empowering kids suffering from lupus. Her advocacy later turned into an annual charity drive effort to help The Chandler Foundation.
ACTING CAREER
Although she had a few commercial stints in Maryland, Leslie knew she wanted to pursue something more significant. So, in 2012, she moved to Los Angeles. 
Now that she is about to take on a new role and make history representing her communities, Leslie knows faith will guide her.
Leslie admitted that her first few years in the industry were difficult. They involved her making sacrifices and living a much simpler life.
She started on web shows before doing commercials -- including McDonald's and Burger King -- and eventually landing a guest role-turned-recurring role on "MacGyver."
She later got a lead character on "Family Business" and then on "God Friended Me," where she took on the role of Ali.
Leslie was able to connect with Ali because of the similarity in her relationship with her on-screen brother and real-life brother. In both cases, she acted the more matured part.
"I was also raised by a single parent, and the fact that their [Ali and her brother] dad is going this all on his own is to me, so powerful, especially if you talk about the black community where many were raised by a single mom," she shared.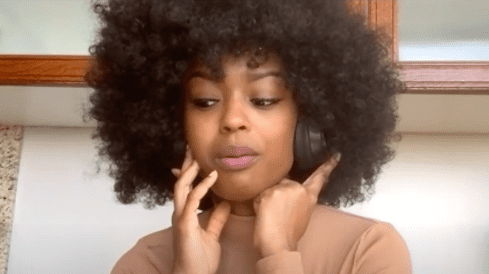 Despite the show's title, Leslie feels that the show isn't religious, but focuses more on "human connectivity." Sadly "God Friended Me" was canceled earlier this year.
WISE WORDS FROM LESLIE
The actress herself is a firm believer in faith and found her faith through experience. On her own, she decided to go to church and did so every Sunday afterward.
"My faith is who I am. It's in every part of my life. It's the purpose that I walk in," she said. She also believes that mistakes are essential for growth in life.
Also, despite not getting whatever she prays for in life, she knows she was heard. "It's not about whether you get [what you've prayed for], it's about the communication with Him," she shared. "The more I communicated, the more I felt my prayers were strengthened."
Now that she is about to take on a new role and make history representing her communities, Leslie knows faith will guide her.
RUBY ROSE'S EXIT
Leslie will be taking on the character of Ryan Wilder, who will replace actress Ruby Rose as Batwoman. Rose's decision to leave the coveted role came a year after she suffered an accident that needed immediate surgery. However, she claimed the two events were not related.
According to sources, Rose did not like the long hours needed on set, which eventually led to conflict behind the scenes.