Nina Agdal Is a Gorgeous Model Adam Levine Dated during Breakup with Behati Prinsloo
During a breakup with then-girlfriend, Behati Prinsloo, Adam Levine found comfort in the arms of Victoria's Secret model, Nina Agdal.
Back in 2012, Maroon 5 frontman Adam Levine dated model Nina Agdal, after breaking up with Namibian model Behati Prinsloo.
The Danish model, then 21, lived a brief romance with Levine, then 33, but the relationship did not end in the best way for Agdal.
Agdal met Hollywood heartthrob Leonardo DiCaprio in early 2016, and the two embarked on a torrid romance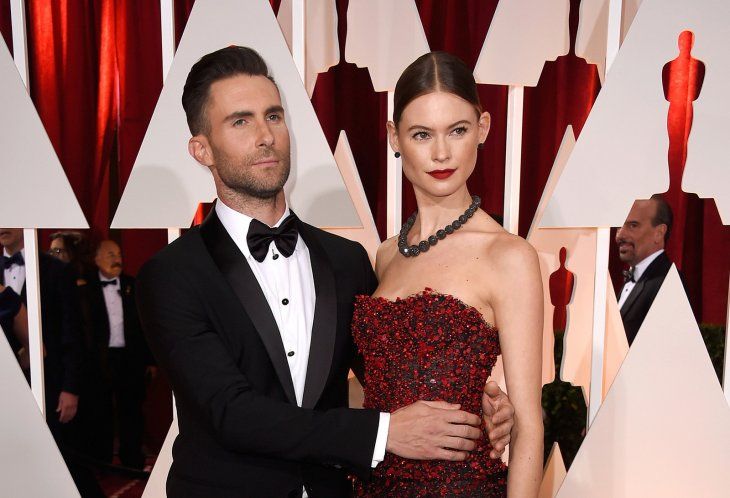 THE TRANSITION GIRL
Levine, who seems to have a penchant for Victoria's Secret models, had dated Anne Vyalitsyna for two years, before falling for Prinsloo. And of course, Prinsloo also modeled for Victoria's Secret.
But in 2012, Prinsloo and Levine had a falling out, and the Maroon 5 singer sought comfort in the arms of the stunning Sports Illustrated  Swimsuit Issue cover girl, Nina Agdal, who also (you've guessed it!) modeled for Victoria's Secret.
SHORT AND NOT SO SWEET
Then Levine mended fences with Prinsloo, and got down on one knee and proposed. Levine broke the news to Agdal via a text message. At the time she was said to be heartbroken, but the model revealed:
"I am 21 years old, and I don't think anyone who is 21 knows what love is about yet. I think love just happens. It happened to them and I'm happy for them."
MOVING ON
Agdal certainly doesn't seem to have been pining for Levine, and shortly after their split, she started dating Max George, from the boy band, The Wanted.
Agdal, whose stunning curves made her one of Sports Illustrated most coveted cover girls, also began advocating for body acceptance. She said:
"It hurts no matter who you are and how skinny you are or how big you are. If somebody tells you to lose weight, it is like a punch in the face."
ROMANCING LEONARDO DICAPRIO
Agdal met Hollywood heartthrob Leonardo DiCaprio in early 2016, and the two embarked on a torrid romance, that provided the press with plenty of PDA snaps as they jetted around the world.
It looked like things were getting serious, but by the spring of 2017, the relationship seemed to lose momentum.
A NEW LOVE
But the resilient Agdal bounced back from the split, and a few months later, she met Jack Brinkley-Cook, the son of fellow Sports Illustrated Swimsuit Issues cover girl and 70s top model, Christie Brinkley.
Agdal and Brinkley-Cook have just celebrated their third anniversary. Agdal said:
"No relationship is perfect, but I think we just have a really sincere love for each other, and we support each other, we respect each other."
The couple, who met at a Surf Lodge in New York, is currently in quarantine together in the Hamptons, and it looks as if this time Agdal has met her soulmate. She wrote on an Instagram post celebrating their third anniversary:
"3 years later. Still on a beach. Still drinking wine. Still cracking jokes no one else would find funny ❤️"
ADAM LEVINE MARRIED AND HAPPY
As for Levine, he married Prinsloo in Los Cabos, Mexico in 2014, and in September 2016, the couple welcomed their first child, Dusty Rose.
Then in February 2018, their second child, another daughter, Gio Grace, was born. The Maroon 5 frontman confessed he wants more children. He said:
"We want, like, a lot. At least [five]." It'll be just like Maroon 5, guys."
The singer, who was severely criticized for his performance at the 2019 Super Bowl Halftime Show in Atlanta, which was described as "lackluster," and "uninspired" by the audiences and critics.
Meanwhile, 2019 was a momentous year for Levine, who left the talent show "The Voice" after 16 seasons to spend more time with his family.
The couple originally contacted each other through e-mail when Levine was looking for a model to star in a music video. They started dating but ended up breaking up a few months later -- which was when Levine started seeing Agdal. Prinsloo admitted:
"We broke up for two months, realized that it was the worst decision, then got back together, got engaged and got married. It was a wild ride!"
Adam Levine and Behati Prinsloo will be celebrating their sixth wedding anniversary on July 19, 2020, and are as in love as ever.