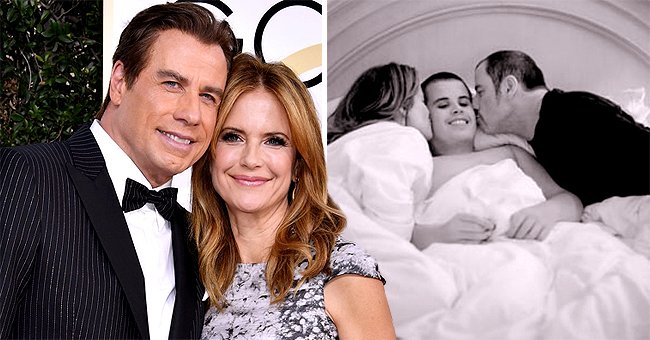 GettyImages // instagram.com/therealkellypreston
How Kelly Preston and John Travolta Healed after Son Jett Died at 16
John Travolta and his late wife, Kelly Preston, lost their first child, Jett, in 2009. Here is a look into how the couple got through their tragic loss.
Actress Kelly Preston died on Sunday at the age of 57, and her death comes 11 years after the sudden death of her son, Jett.
Jett, who was Preston's first child with her husband, actor John Travolta, passed away in 2009 after suffering a seizure and hitting his head in a bathtub. He was 16.
John Travolta with late son Jett, wife Kelly Preson, and daughter Ella in undated family portrait | Photo: Getty Images
Although the celebrity couple grieved the loss of their son in private, they occasionally opened up about him and often marked his birthday with sweet posts on social media. In April, Travolta and Preston honored their son and paid tributes to him on what would have been his 28th birthday.
Last year, Preston shared a rare family photo of herself, and Travolta laying next to Jett while they each planted kisses on his cheeks. Captioning the picture, she sweetly wrote:
"To my sweet love, Jett… you are in our hearts forever."
Preston concluded the caption by sending out love to children living with autism in honor of Jett, who was also autistic.
In 2012, Preston reportedly opened up about Jett's experience with autism and explained that he suffered seizures and had Kawasaki Syndrome when he was younger.
Preston's recent death marked the third personal tragedy that Travolta, 66, has experienced in his lifetime.
Kawasaki Syndrome is a severe febrile illness that causes inflammation in blood vessels throughout the body, and it is most common in infants and young children.
After Jett's passing, Preston and Travolta welcomed another son, Benjamin, in 2010. While speaking about the addition, Travolta reportedly admitted that Ben's arrival helped keep their family together.
Jett's death was indeed a heartbreaking experience for his parents, and while describing the pain, Travolta once admitted that his son's death was the worst thing that ever happened to him.
Travolta also reportedly explained how the Church of Scientology helped him and Preston find healing after Jett's passing.
Scientologists believe that when a person dies, the person is not gone, but instead, they "go on" to live in another lifetime. This idea is similar to reincarnation.
Preston's recent death marked the third personal tragedy that Travolta, 66, has experienced in his lifetime. In 1977, the actor's first love, Diana Hyland, tragically died of the same disease that killed Preston — breast cancer.
Losing all of those he holds dear is a pain that cannot be explained, but hopefully, Travolta will hold on to beautiful memories and carry them forever in his heart.
Please fill in your e-mail so we can share with you our top stories!