See 'I Am Your Woman' Singer Syleena Johnson Flaunt Her Physique in a Gorgeous White Dress
R&B star Syleena Johnson showed off her stunning figure while flaunting a white dress that she wore during an evening chat with her celebrity friends on 'Fox Soul.'
Syleena Johnson recently caught up with her celebrity friends, Vivica A. Fox, LisaRaye McCoy, and Claudia Jordan, for their show on "Fox Soul."
As they discussed everything from relationships, careers, to trendy news, the women opted for an all-white attire theme for their latest episode.
After the virtual chat with her friends, Syleena stood in her living and showed off her gorgeous dress. She admitted, "had so much fun at the all-white party tonite with my queens."
The Grammy-nominated singer flaunted her slim figure in a white halter neck maxi dress. As she posed with face tilted up and her hair back, Syleena showed her beautiful chandelier earrings.
Many of Syleena's fans loved her outfit for the night. One person commented, "love the dress, beautiful!" Another person added, "you look amazing."
Other users flooded her comment section with fire emojis. Along with their fire emojis, one fan wrote, "yesssss u better Sell it Syleena!" Her co-star, Claudia, complimented Syleena's look, and the two women shared a pleasant exchange.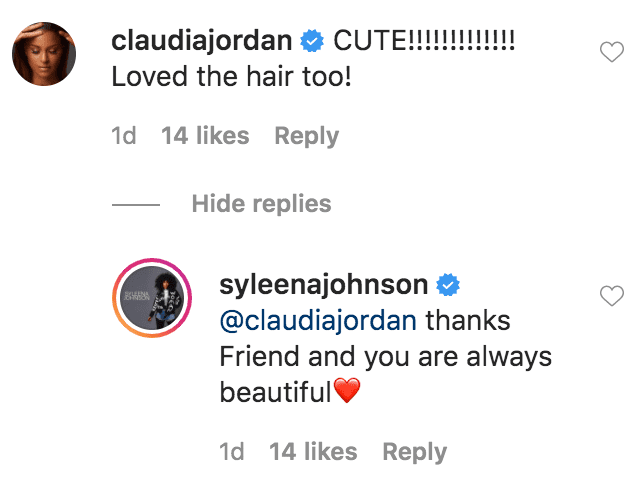 In February, Syleena released her 10th studio album titled, "Woman." According to
Ebony
, the songs aim to celebrate all the facets that make up a woman from her strength, to her pain, to her successes.
As she explained the inspiration behind the album, Syleena argued, "we are in the year of the woman, and to be honest, we should have been in the years of the woman for far longer."
Syleena revealed that her experience as a talk show host on "Sister Circle" helped add inspiration to her latest album. She explained:
"Being a talk show host has brought that energy out of me. We talk about real issues that affect our community."
Syleena also shared her personal struggles as a woman when she appeared on the second season of "Marriage Boot Camp" in 2015.
According to Essence, Syleena, and her husband, Kiwane Garris admitted that after seven years of marriage, they needed therapy. The couple said the show provided them with tools that helped benefit their marriage.