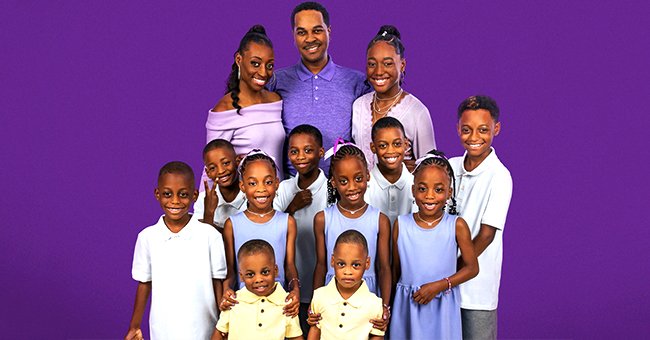 Twitter/Jezebel
TLC Announces New Reality TV Show 'Doubling Down with the Derricos' Featuring a Family of 16
TLC's newest addition to its long list of unique and large families reality shows, "Doubling Down with the Derricos" is set to premiere on August 11.
The network shared the trailer for the new TV show titled "Doubling Down with the Derricos" on its Instagram page to the delight of its audience.
The reality series, which will air its first episode next month, features Karen and Deon, who have 14 children, with four back-to-back multiples.
[Karen and Deon] come from a lineage with a long history of multiple births, and they seem to have both inherited the gene pool.
The trailer on the TLC page has left fans with mixed feelings. While some are in awe of how the Derrico matriarch has managed to stay in shape, others are puzzled on why they chose to have so many kids.
However, what both factions agree on is that they can't wait to watch it. People Magazine reports that the network has been developing and producing the series for over a year.
It begins with the Las Vegas couple awaiting the arrival of their latest multiple birth, triplets. The outlet notes that the newborns will be joining their 11 older siblings who fall within the ages of 2 and 14.
TLC president and general manager Howard Lee explained the decision for the show in a statement shared on People magazine. In his words:
"TLC has always been the home for extraordinary families, and with multiple multiples the Derricos take extraordinary to a whole new level!"
According to Madamnoire, both parents come from a lineage with a long history of multiple births, and they seem to have both inherited the gene pool.
Karen has been pregnant six times, and all of them were conceived naturally. Today shares an article detailing their journey as parents since their first ultrasound during Karen's 4th pregnancy.
The pair who both love and want a large family were shocked to learn they were expecting quintuplets. They went on to have two other multiples after that. Karen feels that her ability to grow her family with seemingly easy pregnancies is a gift.
On the possibility of expanding their family, Deon is not sure it will be happening any time soon, but he is not opposed to the idea. He says, "We probably need to go on strike. Maybe not shut the factory down, but go on a strike for four to five years!"
Please fill in your e-mail so we can share with you our top stories!