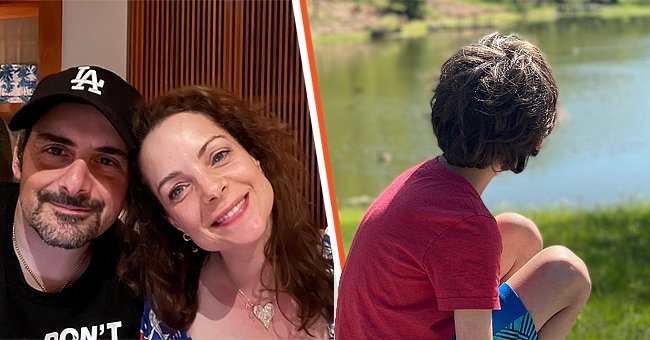 Instagram.com/bradpaisley | Instagram.com/kimberlywilliamspaisley
Brad Paisley & Kimberly Williams Are Proud Parents of 2 Boys Who They Try to Keep 'Normal,' Humble and Kind
Brad Paisley experienced a few heartbreaks before meeting his wife, actress Kimberly Williams. Although their relationship escalated quickly to marriage, their union lasted nearly two decades without a scandal while raising their two boys well. Here's a look at their story and parenting style.
Brad Paisley and Kimberly Williams are proud parents to two wonderful boys, whom they raised under their own terms. Since starting a family, the pair has shown the world what it's like to be a power couple with a strong foundation.
Their love story is also one that has inspired many, beginning with the country star first laying eyes on Kimberly on television.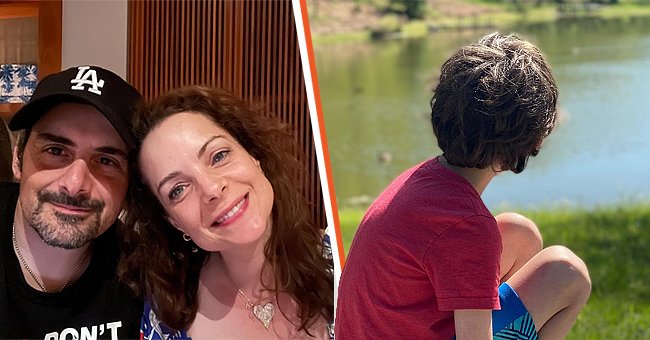 Brad Paisley and Kimberly Williams smile for a photo together. | Source: Instagram.com/bradpaisley & Instagram.com/kimberlywilliamspaisley
WATCHING KIMBERLY ON SCREEN
Before Kimberly entered his life, Brad went through a few broken hearts and phases of uncertainty. He first caught a glimpse of the actress at nineteen while watching her debut film "Father of the Bride." After enduring a breakup, he watched her again in the movie's sequel four years later.
His interest began with the administration of her positive qualities. However, it wasn't until five years later that their paths crossed. The singer-songwriter was starting to make a name for himself when he wanted to cast her in his music video. The song was about his ex-girlfriend and the film "Father of the Bride."
Kim accepted his offer, which led to their first meeting. Although filming ended, the pair kept in touch and eventually developed romantic feelings for each other. Within a few months, they became a couple.
STARTING A FAMILY
It didn't take long before Brad proposed to Kim at the same spot they professed their love for each other at Venice Beach Pier. On March 15, 2003, they tied the knot at Stauffer Chapel on Pepperdine University, Malibu, California.
Admittedly, the year in lockdown allowed the couple to know each other even more and fall in love anew.
They lived a few years enjoying each other's company before expanding their family. On February 22, 2007, they welcomed their firstborn, William Huckleberry Paisley. Two years later, they had another boy, Jasper Warren, born on April 17, 2009.
BECOMING PARENTS
As a baby, Huck's parents described him as a happy child. "He's all boy," Brad said. "There's nothing delicate about him. He's a total guy and loves the remote control, so we'd stick the remote down, and he'd make his way to it."
Aside from the joy he brought into his parents' lives, Huck also helped the "Whiskey Lullaby" artist overcome the anxiety of being a first-time father. He taught Brad the importance of spending quality time with family and enjoying the little things. Brad said:
"Before Huck arrived, I thought, 'I'm a free spirit – how am I going to give that up?' I confided in my preacher, who told me, 'You won't even remember what you gave up – it will be that inconsequential.' He's right."
RAISING HUCK AND JASPER
Although their parents are used to the flashing cameras, Huck and Jasper were raised away from the spotlight, in part because their parents wanted them to live a normal life. However, the couple sometimes shares what their children are like at home.
According to the doting dad, Huck is much like himself, while Jasper's personality is quite the opposite. Because of their differences, the brothers create a balance within their family and complement each other well.
Huck and Jasper were raised to be kind and humble, especially with their blessings. In addition to encouraging the kids to adopt good behaviors, Brad and Kimberly allow them limited screen time. In the age of technology, the couple wants their kids to be immersed in the real world.
Watching television is mainly done on weekends, while they keep busy with other essential things on school days. The couple also tries not to spoil the children and teach them that "everything should be earned and have a purpose."
Despite his seemingly firm parenting approach, Brad allows his children room to express themselves and offers assurance that he values their opinions. He admitted to relying on the boys as the first sources of public reaction to his music.
Before releasing a new song, he runs it with his family. "They've let me know if they don't like something. If they like something, I know it's all right," Brad said.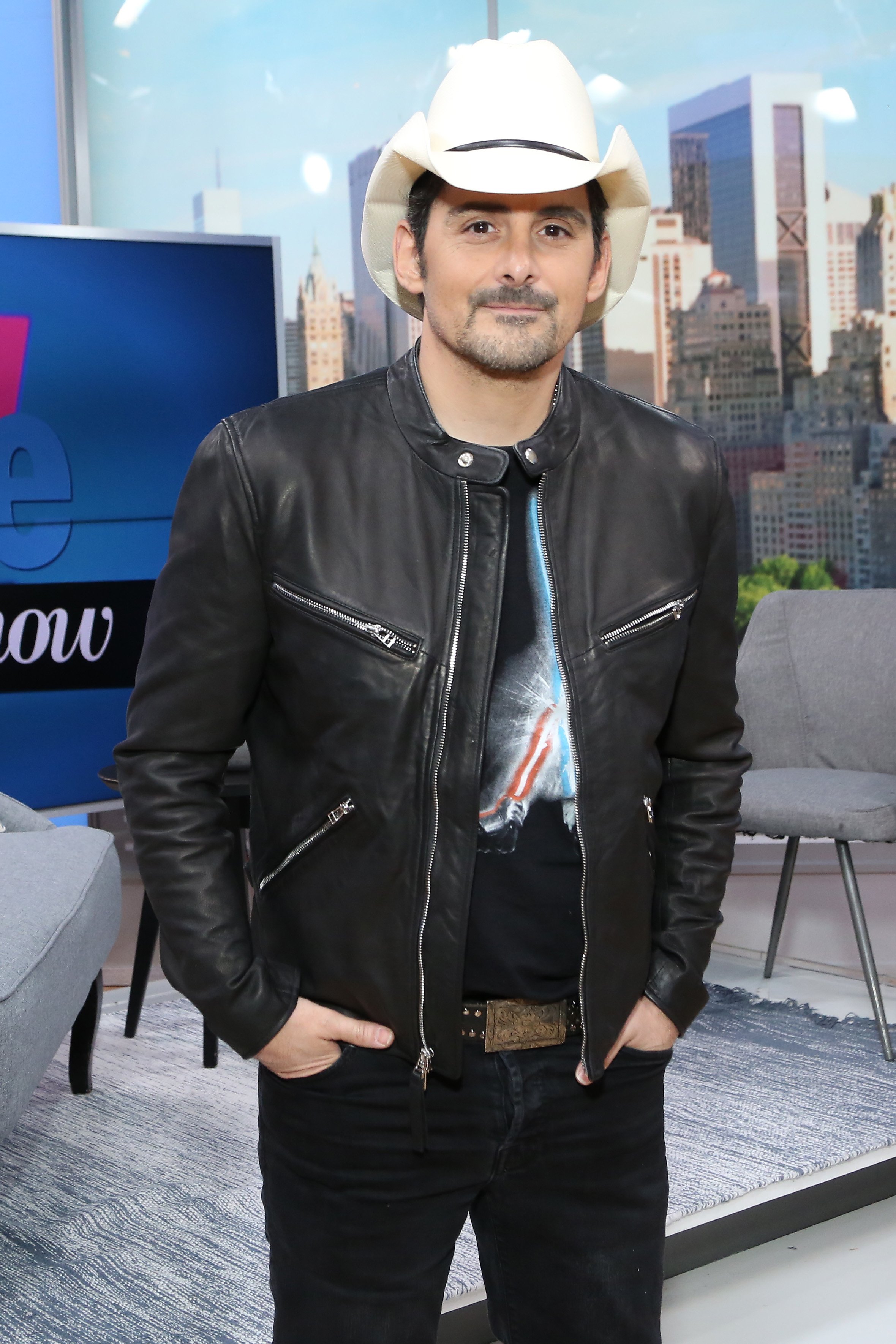 Brad Paisley visits People Now on November 18, 2019, in New York, United States. | Source: Getty Images
Unfortunately, he does not always let them watch performances. When Huck and Jasper were ten and eight, respectively, they were absent from the CMA Fest. He said, "I think you have to be careful with your kids. There would be nothing more abnormal than marching them down here."
BRAD'S NON-PROFIT ORGANIZATION
Hoping to foster kindness and humility in their kids, Brad and Kimberly discovered a new passion. In 2019, they founded a non-profit organization called "The Store" in Nashville. While explaining the concept, the couple related the project to the Unity Shoppe in Santa Barbara.
They revealed how discovering Unity Shoppe during their parenting journey gave them the idea to start the non-profit. Paisley recalled:
"It was one Thanksgiving when Kim said, 'These kids are spoiled. They need to understand there are hungry people out there. And where should we go?'"
On a friend's suggestion, they took the kids to Unity Shoppe and made them volunteer. After helping out a couple of times, the kids finally realized the importance of charity.
After several visits, Huck, then aged seven, said it felt great helping others. That inspired his parents' determination to continue the excellent work and create their avenue to render help.
Amidst the pandemic, Brad and Kim's family has gotten closer than ever. Admittedly, the year in lockdown allowed the couple to know each other even more and fall in love anew. "A lot of married couples would rather do anything but spend the evening together," Brad said. "That's not the case in our house."
Please fill in your e-mail so we can share with you our top stories!