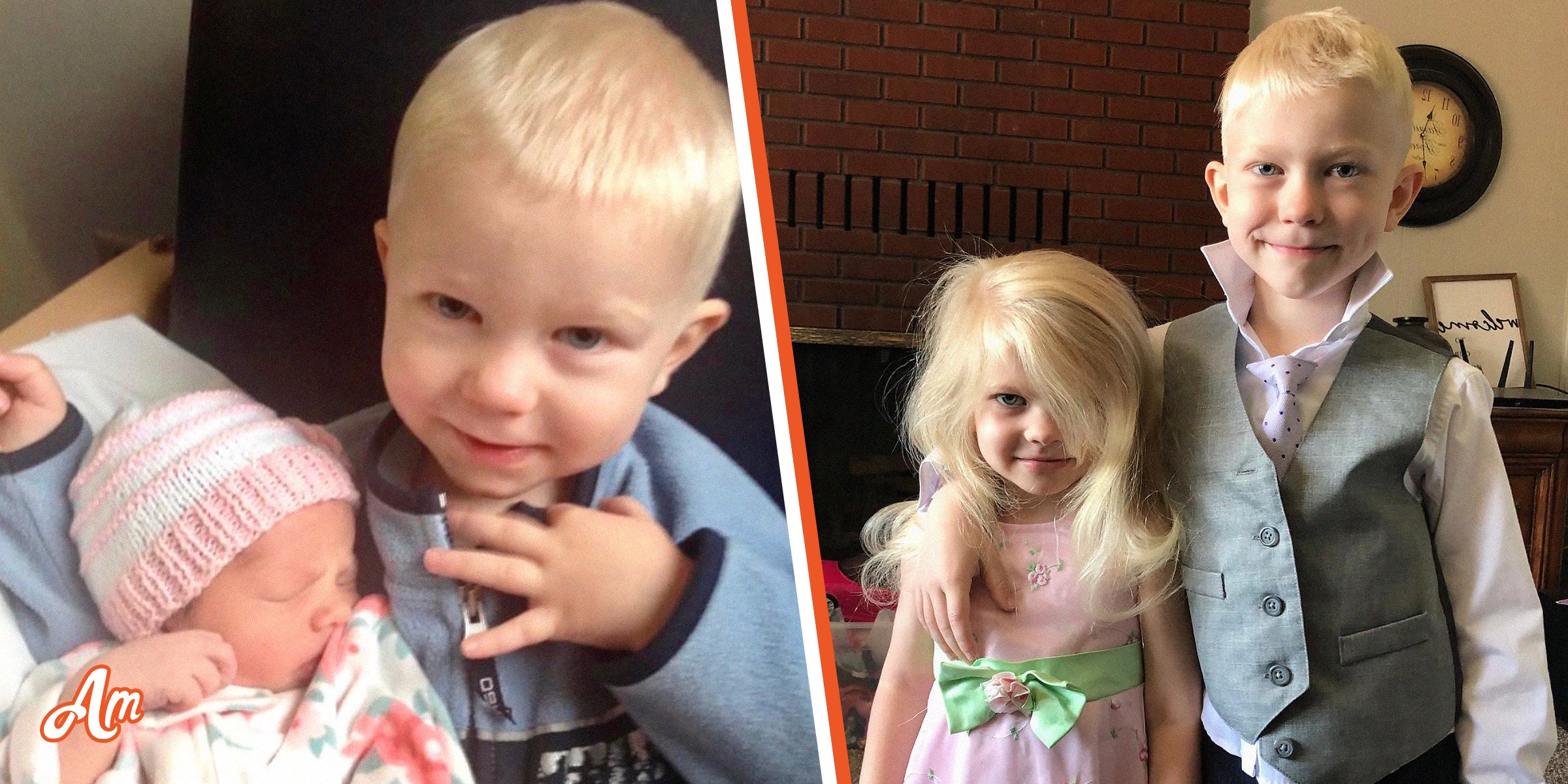 instagram.com/nicolenoelwalker/
6-Year-Old Boy Saw a Dog Charging toward His Little Sister, Selflessly Stood between Them
In an astonishing turn of events, a heroic boy set a beautiful example of unconditional love by putting his own life on the line for his little sister. He had the perfect and most heartwarming response when asked why he jeopardized his life for his sister's sake.
Love is a powerful emotion that binds people together and forms lasting connections. It's a universally understood feeling that needs no words or explanation but is simply felt and shared. Believe it or not, love multiplies and gets stronger over time, making it even more beautiful.
Parents often wish to inculcate the best values in their children and teach them the significance of love, kindness, and devotion from an early age. But sometimes, youngsters can leave their elders at a serious loss for words by embodying more than what is expected of them. The kid in today's story did something similar.
A SWEET BOY
Bridger was a sweet boy who lived with his family in Cheyenne, Wyoming. He was also a big brother and loved his baby sister wholeheartedly. Bridger knew he had to watch over his sister and take care of her like a responsible older brother despite his tender age.
Back in 2020, the little man's aunt, Nikki Walker, shared a social media post that introduced the world to his brave and heroic side. You might be wondering what Bridger really did that was worthy of being posted online?
It turned out that the then-six-year-old kid fearlessly risked his life to save someone who meant the world to him — his little sister. Walker said her nephew saved his baby sister's life from a charging dog on July 9, 2020.
THE BRAVE LITTLE WARRIOR
Bridger selflessly stood between his sister and the dog and was bitten several times on the head and face as he took on the animal. His aunt explained that he bravely grabbed his sister's hand and ran with her to keep her safe.
Later, when Walker and her family asked the sweet boy why he put his own life in danger for his sister, he responded:
"If someone had to die, I thought it should be me."
GOING VIRAL
Walker posted about her nephew's heroic act in a heart-touching post on July 12, 2020. The social media post became an instant viral sensation, amassing more than 1.5 million reactions and comments from far and wide.
The woman noted that the dog's owners were great people and had been extremely kind to Bridger and his family.
The woman included several updates to the main post and shared that Bridger received 90 stitches from a skilled plastic surgeon and was in recovery at home following the harrowing incident.
REEL-LIFE HEROES MEET THE REAL-LIFE HERO
Moreover, Walker also tagged several Hollywood actors who played reel-life superheroes to tell them about "this latest hero who joined their ranks." Many netizens and on-screen heroes replied to Walker's post and hailed Bridger's heroism. Mark Ruffalo (The Hulk) commented:
"People who put well beings of others in front of themselves are the most heroic and thoughtful people I know. I truly respect and admire your courage and your heart."
Chris Evans (Captain America) made a special video message for Bridger. "This is a message for Bridger. Hey Bridger, Captain America here. How you doing, buddy (sic)," said Evans in his video response.
Bridger's aunt posted Evans's response on her Instagram, alongside a video of Bridger's reaction. Evans further mentioned:
"I'm sure you've heard a lot of this over the last couple of days, but let me be the next one to tell you, pal, you're a hero. What you did was so brave, so selfless. Your sister is so lucky to have you as a big brother. Your parents must be so proud of you."
Other celebrities, including Anne Hathaway (Catwoman), Brie Larson (Captain Marvel), Jeremy Renner (Hawkeye), and many others, left encouraging comments for Bridger and hailed his bravery and heroism.
NOTHING BUT LOVE
In another update to her original post, Walker revealed that she visited Bridger at his home, and his wounds looked much better. She also added that he was in great spirits, and his amazing personality was intact. Walker further said:
"He can't smile too widely yet, but he was grinning as I read some of your comments to him."
The woman noted that the dog's owners were great people and had been extremely kind to Bridger and his family. She said that neither Bridger nor his parents felt any resentment toward them, and the incident only forged love between the families.
A SCIENCE AND GEOLOGY FAN
Walker also thanked everyone for their outpour of love and support for the little boy. Some people even asked if there was a GoFundMe page for Bridger. She said that his family wanted people to donate to military veteran groups like Wounded Warrior Project and Mission 22.
Bridger's aunt said the family had one small request for anyone who wished to send something to the youngster. Walker stated that her nephew was a huge fan of geology and science. She added:
"Bridger is also a huge fan of science, especially geology. So, I'm going to start a post where people can share with him pictures of cool rocks that they see."
Walker expressed that anyone inspired by Bridger should do something kind for someone else in his honor. Undoubtedly, Bridger's selfless act of bravery got him hailed as a real-life hero, and he has a big scar right across his cheek to prove it.
If you liked reading this story, please share it with your family and friends so more people are inspired by this real-life hero and his selflessness and love for his baby sister.
Please fill in your e-mail so we can share with you our top stories!
The information in this article is not intended or implied to be a substitute for professional medical advice, diagnosis or treatment. All content, including text, and images contained on news.AmoMama.com, or available through news.AmoMama.com is for general information purposes only. news.AmoMama.com does not take responsibility for any action taken as a result of reading this article. Before undertaking any course of treatment please consult with your healthcare provider.