Derrick Henry's Gorgeous Girlfriend Adrianna Rivas Gave Birth to His Daughter — Get to Know Her
Tennessee Titans' running back Derrick Henry has been in a relationship with Adrianna Yasmin Rivas since 2016. They share a daughter, Valentina, born in May 2020.
Born in January 1994, Henry attended and played football for the University of Alabama between 2013 and 2015.
Henry made headlines after releasing a heartfelt letter written to his late grandmother.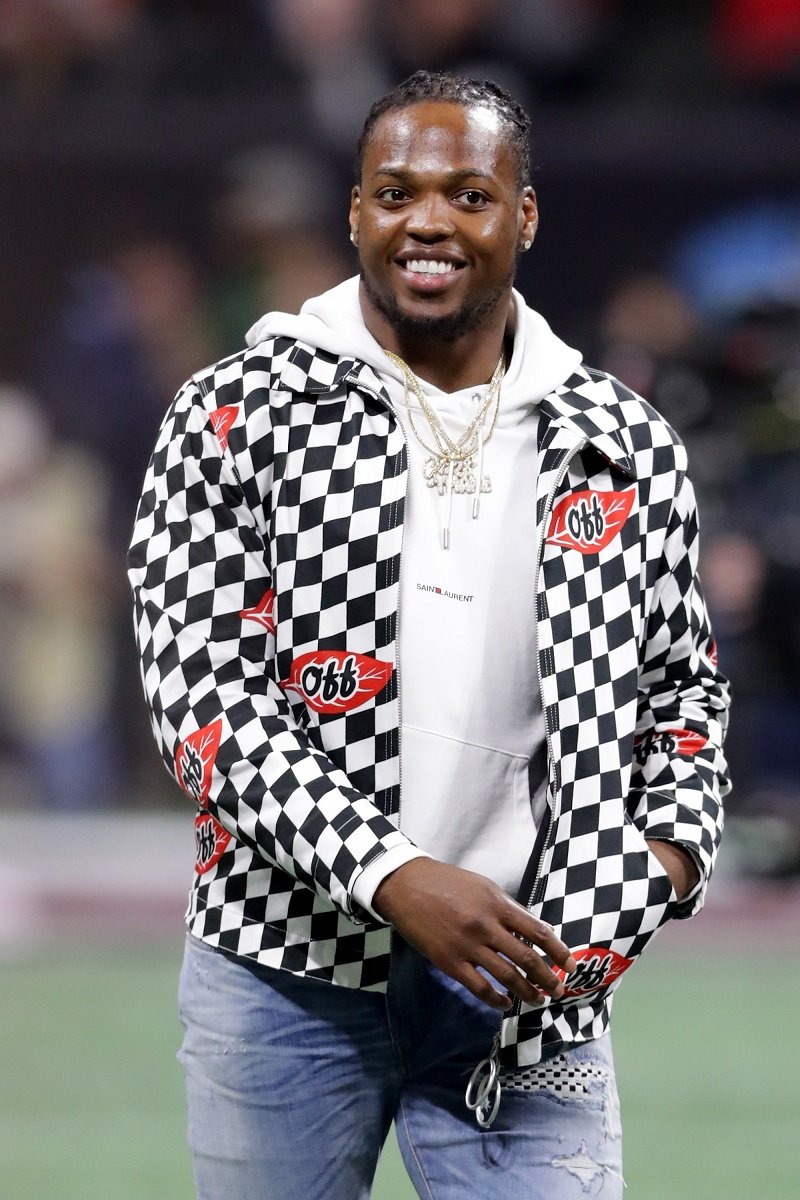 DERRICK HENRY'S CAREER
He was one of the most talented running backs in the 2016 NFL draft, only behind Ezekiel Elliott, who currently plays for the Dallas Cowboys.
The Tennessee Titans ended up drafting Henry in the second round of the draft, and from that point on, his career has never ceased to impress.
Although he showed potential in his first two seasons, it wasn't until the Titans' starting running back, DeMarco Murray, was released from the team in 2018, that Henry's workload increased, and he proved what he's capable of.
One of the most significant milestones in his growing career was leading the NFL in rushing yards in 2019. In the same year, Henry was selected to his first Pro Bowl.
ADRIANNA RIVAS, HENRY'S GIRLFRIEND
As per Henry's love life, he and Adrianna Rivas have been dating for about four years already. Rivas, born in May 1994, used to root for the Cowboys before she and the Titans running back began their relationship.
Derrick Henry's girlfriend got her bachelor of arts in public relations from the University of Texas in 2016. The same year, she and the NFL star got together.
Following Rivas' academic achievement, she got a job as a guest service representative for Marriott International, and later as an account executive at Technifax Office Solutions.
She eventually launched her own business, Attraction by Adrianna, which provides eyelash extension services.
Just like most proud girlfriends would do, Rivas usually supports her boyfriend from the stands. When she cannot make the trip, she still roots for him watching him play on TV.
In December 2018, following Derrick Henry's famous 99-yard run, she took to Instagram to share a video of her man's impressive accomplishment, proving just how proud she was.
RIVAS AND HENRY'S BABY DAUGHTER
The couple made headlines again on January 10, 2020, after Rivas shared online the photo of a sonogram and announced that she was expecting a baby. For the caption, she wrote:
"My body may have made her heart but she made my heart complete. She's my reason and my strength. Thank you, God, for our babygirl [sic]."
Adrianna Rivas and Derrick Henry's baby daughter, Valentina Allure Henry, was born on May 18. From that point on, the NFL star's routine changed.
Talking to Kevin Hart on his show "Cold As Balls: Cold Calls," Henry pointed out that when he was not holding his daughter or feeding her, he was chilling or working out. He also confessed that he was not sleeping as much as he used to.
DERRICK HENRY AND ADRIANNA RIVAS' DOGS
Even before Valentina's birth, Henry and Rivas were busy taking care of their two dogs, a Golden Doodle named Nala, and a Rottweiler mix named Nino. Both dogs usually appear on Rivas' Instagram account.
In late-January, for example, she celebrated Nino's second birthday and uploaded two images of the dog wearing a birthday hat while patiently waiting to eat his cake. Nino also made a brief cameo in the previously mentioned episode of "Cold As Balls."
Back in 2018, Henry made headlines after releasing a heartfelt letter written to his late grandmother. In it, he revealed that she used to emphasize the importance of education and promised her he would get a college degree.
Derrick Henry, who fulfilled his promise, added in the letter that he always wanted his grandmother to be proud of him as he admired her "so much" growing up. Way to go, Henry!