Getty Images
Watch Thomas Rhett Get His Nails Painted Pink by His 2-Year-Old Daughter Ada in This Adorable Video

American country singer Thomas Rhett enjoyed a father-daughter moment with his 2-year-old daughter, Ada James Akins, and he shared a video of her painting his toenails.
Thomas Rhett loves to spend time with his daughters and the singer showed that when he shared a video of his cute daughter, Ada James painting his toenails pink, captioning it: "This is invigorating."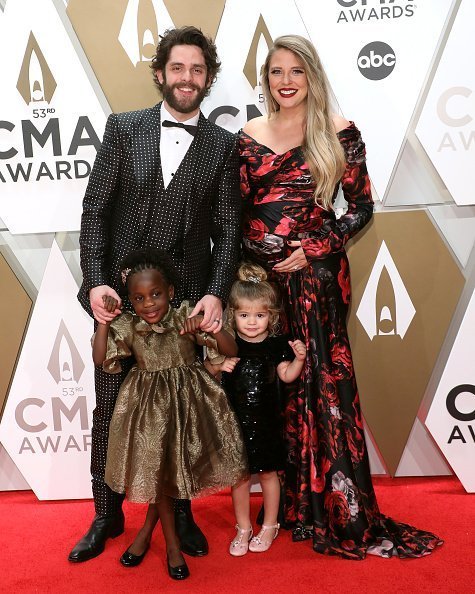 Thomas Rhett, Willa, Ada, and Lauren Akins at Bridgestone Arena on November 13, 2019. | Photo: Getty Images
In the video, Rhett, whose face was not shown, stretched his right leg, placing it on a low round wooden table. Ada was seated on the floor, holding a nail polish in her little hands.
The 2-year-old girl was engrossed with her work as she dutifully applied the nail polish brush on her father's big toenail, muttering some words as she did.
Since Rhett posted the video, it has gone on to have over a million views, with more than 2,500 persons commenting on it, most of them rating him as a top tier dad.
It is a song he co-wrote with his dad, Rhett Akins, with the lyrics shedding light on many aspects of fatherhood.
Some of Rhett's fans who commented on the cute video post were also impressed with his daughter's skills in pedicure, with one of them asking, "How much does she charge for house calls?"
Another impressed fan commented on the close bond between Rhett and Ada and noted that it was only the best dads that allowed their daughters to paint their toenails.
The country singer shares three daughters with his wife, Lauren Akins. The couple's three girls are Ada, her older sister, Willa, 4, and their baby sister, Lennon, five months.
Many of Rhett's fans would not be surprised by his latest Instagram video that showed his close bond with one of his daughters. Only last month, the singer shared an emotional video of himself singing a heartfelt song, "Things Dad Do."
It is a song he co-wrote with his dad, Rhett Akins, with the lyrics shedding light on many aspects of fatherhood, including when they have to watch their children have their own kids.
The country singer has also shown his affection for his daughters over time, as well as the fact that he is a family man — a side that has endeared him to his fans.
Thomas Rhett, known for his songs, "Marry Me," and "Die A Happy Man," was born in 1990. His country music career has been remarkable to date.
He won the award for Best Male Vocalist at the Country Music Awards in 2017, while his album, "Life Changes," also released that year, debuted at number 1 across all music genres.
Please fill in your e-mail so we can share with you our top stories!