Thomas Rhett and Wife Lauren Speak out about Racism for Their Adopted Black Daughter
Thomas Rhett and his wife Lauren Akins added their voices to the cause following the death of George Floyd. The couple also showed love for their black adopted daughter. 
Thomas Rhett and Lauren Akins are not just white people who are calling for justice for George Floyd. They're also parents to a black daughter, Willa Gray, whom they adopted in 2017. 
Both of them took to Instagram on Sunday to show solidarity and speak out regarding Floyd's death, which has sparked nationwide protests. Their posts are found below. 
THOMAS SPEAKS OUT REGARDING GEORGE FLOYD
Thomas and Lauren shared the same photograph of a white paper with a text from the Bible written on it in green marker. The verse is Romans 12:9 and appears to be a call for more love. 
Within Thomas's lengthy caption, he acknowledged that he would never be able to know how it feels to be treated negatively due to his skin color. However, Floyd's death left him heartbroken. 
The 46-year-old was killed when a police officer knelt on his neck for over eight minutes. Afterward, Floyd was left unconscious then later pronounced dead at a hospital.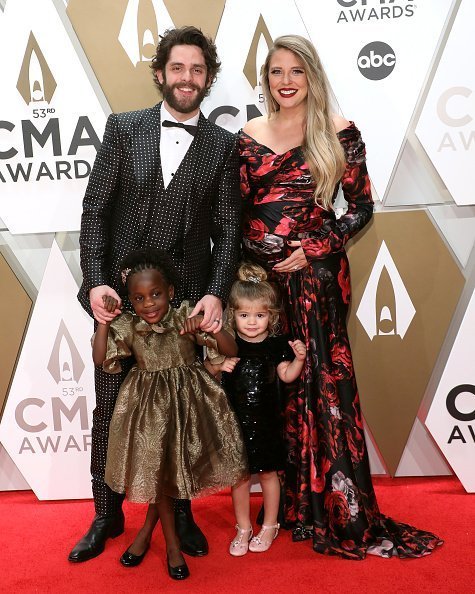 WITNESSING FEAR IN BLACKS FROM DISCRIMINATION
For his part, Floyd has also witnessed his bandmembers — who are black — feel unsafe because of their darker skin. All of it is hate, says Thomas. He then wrote numerous prayers for change and understanding. 
He finished by writing," I stand with you, I stand with George and his family and all those who have faced racism. I stand with my wife and my daughters. We will be fighting this fight for the rest of our lives."
LAUREN HIGHLIGHTS HER DAUGHTER WILLA
Lauren's caption noted how afraid she was to say anything at first because of the oft-received backlash she gets for being a mother to a black daughter. 
She then talked about the love she has for Willa and how she wants the little girl to "know what it means to have brown skin and to be proud of it." She closed off with a prayer to God to end injustice.
In addition to Willa, Thomas and Lauren share daughters Ada James, two, and Lennon Love, three months. Willa is the eldest and was adopted from Uganda. She's now three years old. 
THOMAS DEFENDS HIS WIFE AGAINST TROLLS
Thomas has never been one to stay silent on social media. Last June, he hit back at trolls who criticized his wife's outfit as the CMA Awards by saying she needs a better stylist. 
"All of you with these hateful comments should be ashamed. This world doesn't need any more of your negativity," Thomas reportedly stated. He later spoke out on why he came to his wife's defense. 
Speaking to ET, the "Marry Me" singer said he did it to encourage persons to be kind. He himself could never imagine going online and saying such things to others. 
KELLY CLARKSON TEARS UP OVER ADOPTION STORY
Thomas and Lauren's relationship is admirable, as is the story of how they adopted little Willa. In early May, talk show host Kelly Clarkson was so moved by it that she began crying. 
The couple visited the virtual version of Clarkson's show and revealed that they'd always talked about adoption. During Lauren's 2016 activist trip, she met Willa and immediately felt connected to the baby girl. 
After a concert her husband did, she talked to him about finding a home for Willa. He effortlessly said they should take her, and the pair made it happen. From adoption to awareness for blacks, the couple has come a long way.