Thomas Rhett and Wife Lauren Akins Have Two Beautiful Kids - Meet Both of Them
Here's everything to know about Thomas Rhett and Lauren Akins' adorable daughters — Willa Gray and Ada James.
Thomas and Lauren adopted Willa Gray in May 2017 and also welcomed a biological daughter named Ada James in August 2017.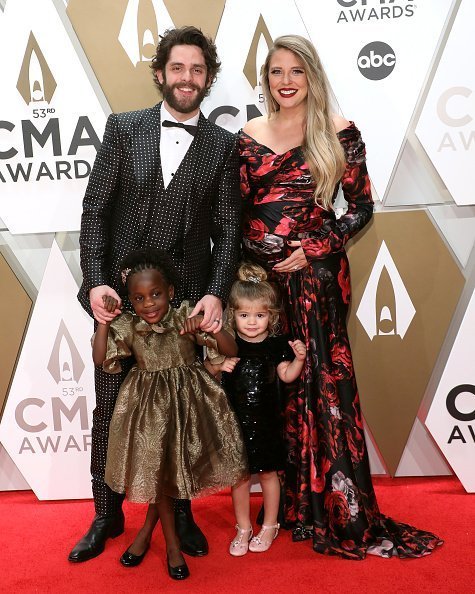 "I think that the Lord knew what he was doing when he did not let us get pregnant."
As reported by Closer Weekly, these two lovely kids have transformed Thomas' life in a big way. Willa and Ada have taught the musician a lot since he turned into a dad.
In an interview with Country 103.7, Thomas said, "I learned how to be more patient for sure."
He added, "My patience, not that it was thin before I had kids, but it can't be thin at all when you do have kids and so I feel like I've grown in many, many ways as a dad and continue to grow every day."
WILLA GRAY
Thomas' eldest daughter Willa was born in 2015. The award-winning singer once shared how things have been for Willa coming from Uganda to America. He told Country Fancast, "Willa has just adapted way better than we ever thought she would."
"Going from where she came from to being here, I thought that she would be overwhelmed and … really shy, but she's never met a stranger," he added.
Lauren, on the other hand, told People, "When I met Willa, her story was pretty intense."
"All orphans have heart-wrenching stories, but it felt like this specific baby was ours," she added, "I think that the Lord knew what he was doing when he did not let us get pregnant."
ADA JAMES
The couple's youngest child Ada is obviously bringing more love into the family. As reported by Country Living, Lauren discovered her unexpected pregnancy in December 2016.
Upon being born, Thomas posted a photo of Ada on Instagram. He captioned the sweet snap, "Ada James Akins was born and it was truly the most amazing thing I have ever experienced. I can't believe that we have two daughters!"
Willa was in awe as she saw her baby sister for the first time. Lauren posted a heartwarming video of the sweet encounter on her Instagram.
Wearing a T-shirt with "Big Sister" written on it, Willa gently touched the newborn baby's hand and kissed her on the cheek.
"I know every one is wondering about WG (Willa Gray) and AJ (Ada James) and how they're doing together," part of her caption reads.
In July 2019, Thomas announced that he and Lauren were expecting their third child, another girl.