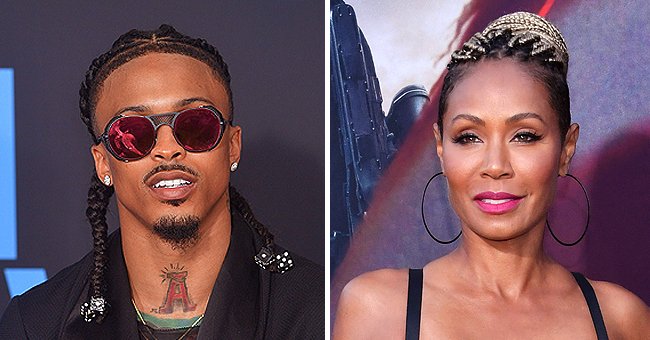 Getty Images
August Alsina Drops a New Song Titled 'Entanglements' after Jada Pinkett Smith Admitted Their Affair

The rapper's most recent single hit suspiciously close to the controversy surrounding his revelation of a romance with the famous married actress, which according to him, had the "blessing" of her husband.
On July 10, 48-year-old actress Jada Pinkett Smith released a much-expected episode of her web series "Red Table Talk" in which she sat with her 51-year-old husband, actor William Smith, to tell the truth about her relationship with 27-year-old rapper August Alsina.
In that conversation, apart from explaining that she became romantically involved with Alsina while been temporarily separated from Smith, Pinkett famously called her affair with Alsina an "entanglement."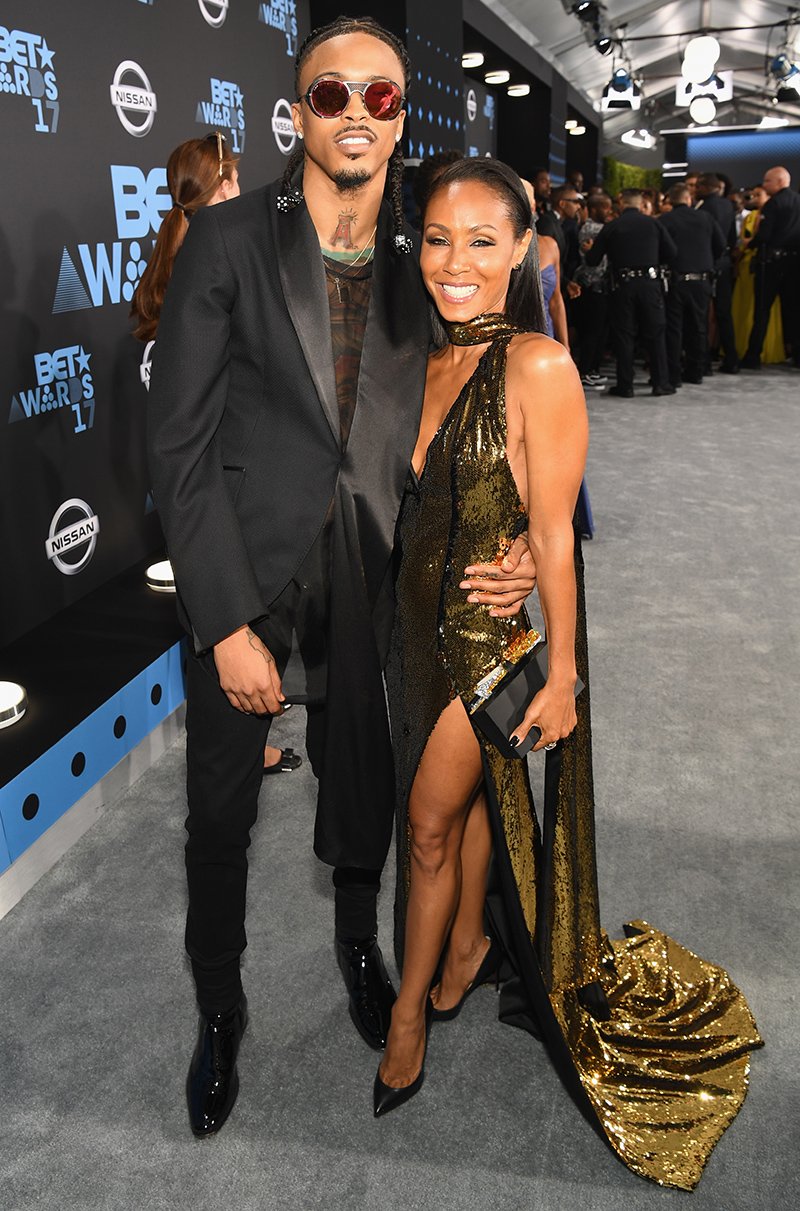 August Alsina and Jada Pinkett-Smith at the 2017 BET Awards at Staples Center on June 25, 2017 in Los Angeles, California. I Image: Getty Images.
Pinkett's choice of a word to describe what happened between her and Alsina has been discussed a lot since then and Alsina's first reaction to it, even when he admitted that he hadn't seen the aforementioned "Red Table Talk" episode, was to acknowledge that description as accurate, telling Vulture:
"I would agree [with Jada]. If you look up the definition of 'entanglement,' it is a complex and difficult relationship. It was exactly that."
Now, in Alsina's latest move, he has released a new song with the title, "Entanglements" and it is impossible for people not to think it is about his relationship with Pinkett.
"The definition of entanglement (No, oh-woah, oh, oh) / It's when you're tangled in the sheets (Yeah, yeah)," the lyrics of the song start before it gets way more graphic.
Even though during her conversation with Smith, Pinkett did admit that what happened between her and Alsina was indeed "a relationship," Alsina raps about a "girl" that refuses to acknowledge a relationship, calling it an "entanglement" instead.
The song also includes a collaboration with fellow rapper Rick Ross. Considering what the song seems to imply, it is important to recall that Pinkett has said that ever since she rekindled her relationship with Smith "several years ago" she hasn't had any communication with the rapper.
WHY NOW?
Alsina has been on the hip-hop scene for at least a decade, and while he has shared many things about himself in the past, he is not one known to publicly comment about his love life which makes people wonder why he chose to make his relationship with Pinkett a public matter.
The rapper was asked about this in a recent interview with Vulture magazine and he started to answer this by saying that it was never of any relevance to anybody outside of himself who he was dating. But in Pinkett's case, things were more complex because of the public figures involved and people started to talk.
"People looked at me as this problematic guy who was super reckless, like I'm pushing up on someone's wife. I didn't really like that. I didn't like the sound of that, especially when it wasn't the truth," Alsina explained.
He also added that the rumors about him having dated a married woman was started to damage his reputation to the point of affecting his "partnerships and business relationships and money," which prompted him to speak out.
VIRAL TALK
Pinkett's frank conversation with her husband about her past romance with Alsina was watched by more than 15 million people in the first 24 hours after its publication, setting a new record on Facebook Watch.
Pinkett used her own platform to address the controversy surrounding her in a very smart move that proves how much the media have changed in recent years.
Social media has given that opportunity to many celebrities and what better time to take to one's own platform to stay relevant and to monetize on one's own private life than this post-COVID-19 world in which all entertainment happens from home?
Please fill in your e-mail so we can share with you our top stories!