Getty Images
Steve Harvey's Wife Marjorie Shares Barefaced Selfie & Reveals She's Been in Quarantine since March
Steve Harvey's wife, Marjorie, has revealed that she has been quarantining since March with a fresh-faced selfie shared on her social media.
Steve Harvey's wife Marjorie, has been quarantining at home since March, and she just shared a stunning photo of herself to her Instagram.
She posted the picture of herself, fresh faces with no makeup, chicking in with her followers, reminding them to stay safe.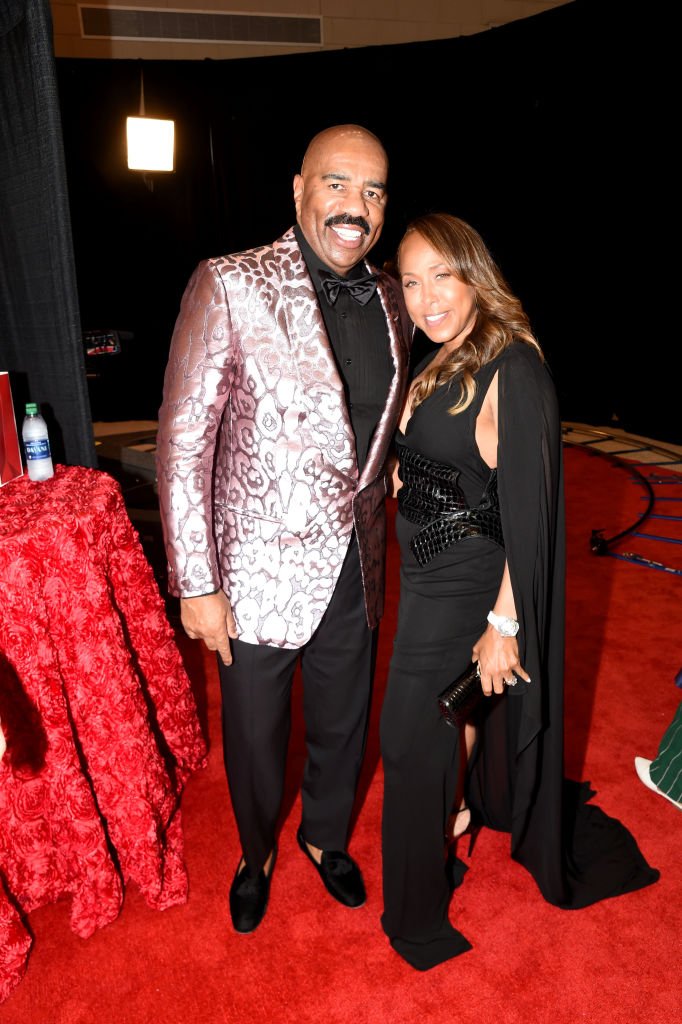 Steve Harvey and Marjorie Harvey attends the Trifecta Gala,2019| Photo: Getty Images
Marjorie, who has been married to the talk show host since 2007, first met in 1990 when she watched Harvey perform stand-up at a comedy club in Memphis.
During an interview on his canceled talk show, Harvey revealed that she had shown up late to the show when he stopped performing and stared at her. He then told the audience:
"I'm sorry, I don't know who this is, but I'm going to marry her."
At the time, he was still married, and the two reconnected in 2005, dating for two years before tying the know in front of their friends and family.
As the couple came together, they created a blended family, including Harveys, four children from his previous marriage, and Marjorie's three children.
His wife quickly dispelled the rumors, reassuring fans that they would not be feeding into the gossip.
Last year, there were rumors that the couple was having marital issues and seeking a divorce, with Harvey even selling his assets so that he could avoid a messy divorce scenario.
However, his wife quickly dispelled the rumors, reassuring fans that they would not be feeding into the gossip. She said:
""Oh, see, first off, understand this: When you're not doing anything, the devil don't have anything to do with you. But, when he does, when God is doing some amazing things in your life, that's when people get busy.But, we're above that. We're covered."
For now, it seems that Marjorie is more focused on her family, revealing that when they first got together, the kids were not entirely on board with the blended aspect of their relationship.
However, she reassured them, ensuring that they all felt included and that they all had access to their parents. Today things seem to have settled down with the couple five grandchildren joining their family.
Last year there was some legal drama for Lori Harvey, who was arrested for an alleged hit and run while driving around Beverly Hills, causing her car to flip.
The driver of the other car removed her from the accident, but she attempted to flee the scene. However, she was arrested after the police tracked her down.
Please fill in your e-mail so we can share with you our top stories!