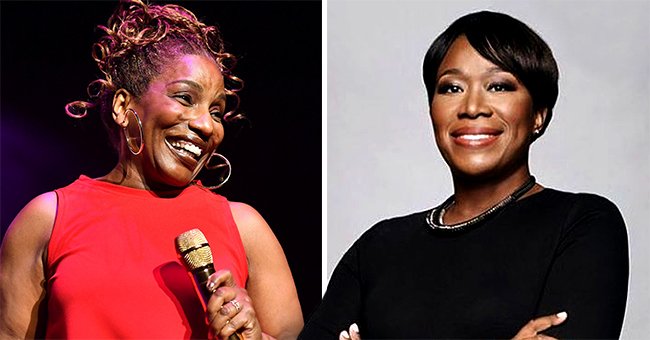 Instagram/iamstephaniemills// GettyImages
Stephanie Mills Proudly Shares Joy-Ann Reid Is Set to Have Her Own Prime Time Show
Stephenie Mills congratulated Joy-Ann Reid on her latest accomplishment after it was announced that the television host would be leading her won Primetime talk show on MSNBC.
Joy-Ann Reid recently made history when she landed her own Prime Time talk show on MSNBC. The show is called "The Reid Out."
The achievement makes Reid the first black woman to be a Primetime television anchor on cable television. In an interview with Essence, Reid said when she got the call, she felt excited and admitted that it was also a bit daunting when she realized what lay ahead of her.
Ultimately, Reid said she is excited and proud to bring diversity to Primetime television. Many of Reids fans and friends have been taking to social media to congratulate her on the groundbreaking achievement.
Legendary singer, Stephanie Mills, posted a poignant tribute to the television host, she said that she was proud of her "beautiful and talented sister."
Mills took the opportunity to recognize that not only was it a massive achievement for the black community, but also women of color. In a bold message, Mills wrote:
"This is really special. And you wonder why they are fearful of us, this is why! We are everything they want to be!"
Mills ended her tribute on a celebratory note and concluded, "Black Girls rock just like Black Lives Matter." Many of Mills' fans joined her in congratulating Reid. One fan commented, "Black Girls Rock! We Love Ms. Joy!"
"So proud of you, Joy. Much success on your show," wrote a fan. Another person gushed, "Black woman personified." Another praised her journalistic skills.

A fan commented on Stephnie Mills' photo of Joy-Ann Reid after she landed her own Primetime show | Source: Instagram.com/iamstephaniemills
According to Vogue, some Reid's first guests on "The Reid Out" include, Joe Biden and Hillary Clinton. While speaking candidly about how the future of her show, Reid
said:
"It's me owing it back to not just my network but to my community to do well. I feel a burden—I feel the burden to do it right."
Mills has also been playing part her part in supporting the black community. Recently, she spoke to The Philadephia Tribune about promoting the 2020 census.
She shared her hope that getting involved would help communities receive their equal share of federal resources.
Please fill in your e-mail so we can share with you our top stories!