Chris Brown's Daughter Royalty Poses with Mom Nia Guzman in Matching Dresses and Accessories
Chris Brown's daughter looks just like the singer after he posted a photo of her dressed in a beautiful pink dress. 
Chris Brown's daughter is living up to her name Royalty in the latest photo shared by the RnB singer, as she poses in a pretty dress.
The photo posted on her social media page, shows Royalty looking adorable with the picture captioned, "loving my mommy and me dresses."
Earlier this year, Royalty celebrated her 6th birthday and her parents both shared photos of the lavish party they had thrown for her special day. 
The party included an "R" shaped birthday cake with a source revealing that she had started celebrating her big day at midnight. They said:
"Royalty loves staying up late and Chris is a night owl too. So as a special treat, they let Royalty stay up super late to have cake and ice cream and presents way past her bedtime."
A few days before her birthday, the six-year-old graduated from her kindergarten class with her mother Nia Guzman sharing the ceremony on Royalty's Instagram. 
The photos showed her posing with her diploma with her teacher while wearing protective masks due to the coronavirus pandemic. 
Her mother who has another daughter Zillah Jade, also recently had another child, Sinatra.
Her mother, who is Brown's ex-girlfriend, regularly posts photos of the pair in matching outfits, with on showing them wearing matching swimsuits from Guzman's swimwear line. 
Her mother who has another daughter Zillah Jade, also recently had another child, Sinatra. For her birthday, the proud mother shared a beautiful photo of all her daughters saying:
"Happy birthday to me! I'm posting my babies because they are what means the world to me. They give me LIFE!"
In addition to Royalty, Brown also has a son Aeko, who he shared with model Ammika Harris, however, he has been separated from them due to the coronavirus pandemic. 
The proud father loves to spoil his children and when his daughter was three, bought her a capuchin monkey.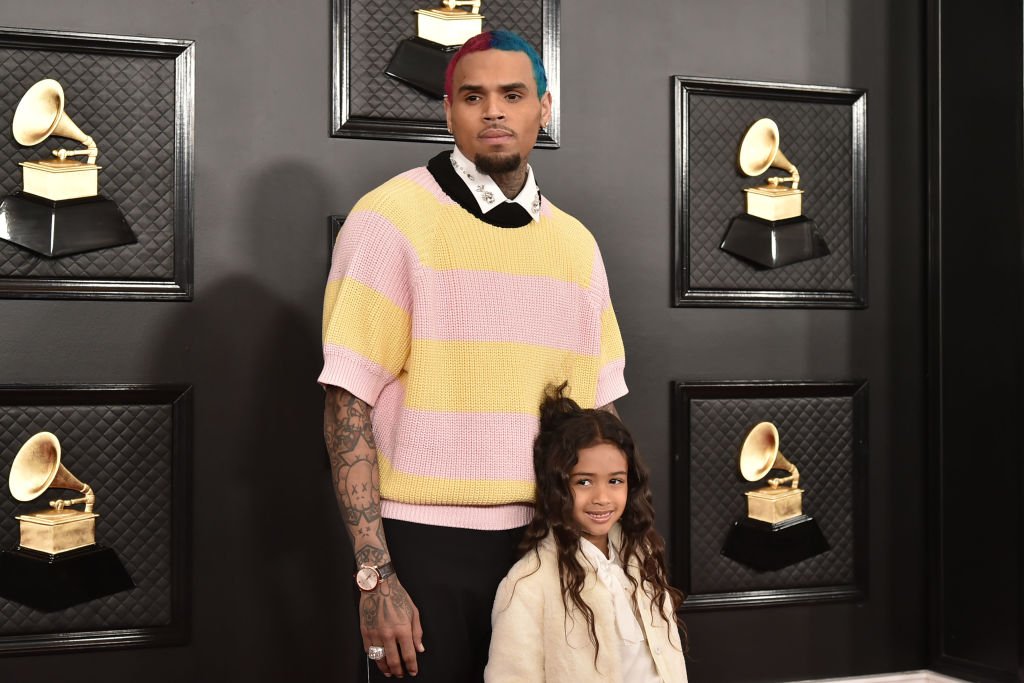 However, he ran into some legal trouble for the purchase as it is illegal to own the animals without a permit in the state of California. 
While he has had some trouble with his ex Guzman, the singer is committed to co-parenting amiably, and the pair now regularly get together for the sake of their daughter.