Mookie Betts Reportedly Met His Girlfriend Brianna Hammond at School — Get to Know Her
Mookie Betts will be moving permanently to L.A this summer, and his girlfriend, Brianna Hammond, and their 1-year-old daughter are coming along. Hammond is Bett's biggest cheerleader—only behind his mom—meet her.
Former Red Sox outfielder Mookie Betts has recently signed a 12-year contract with the L.A Dodgers, securing his family's future with a $365 million deal worthy of his title as one of the best baseball players in the world at the moment.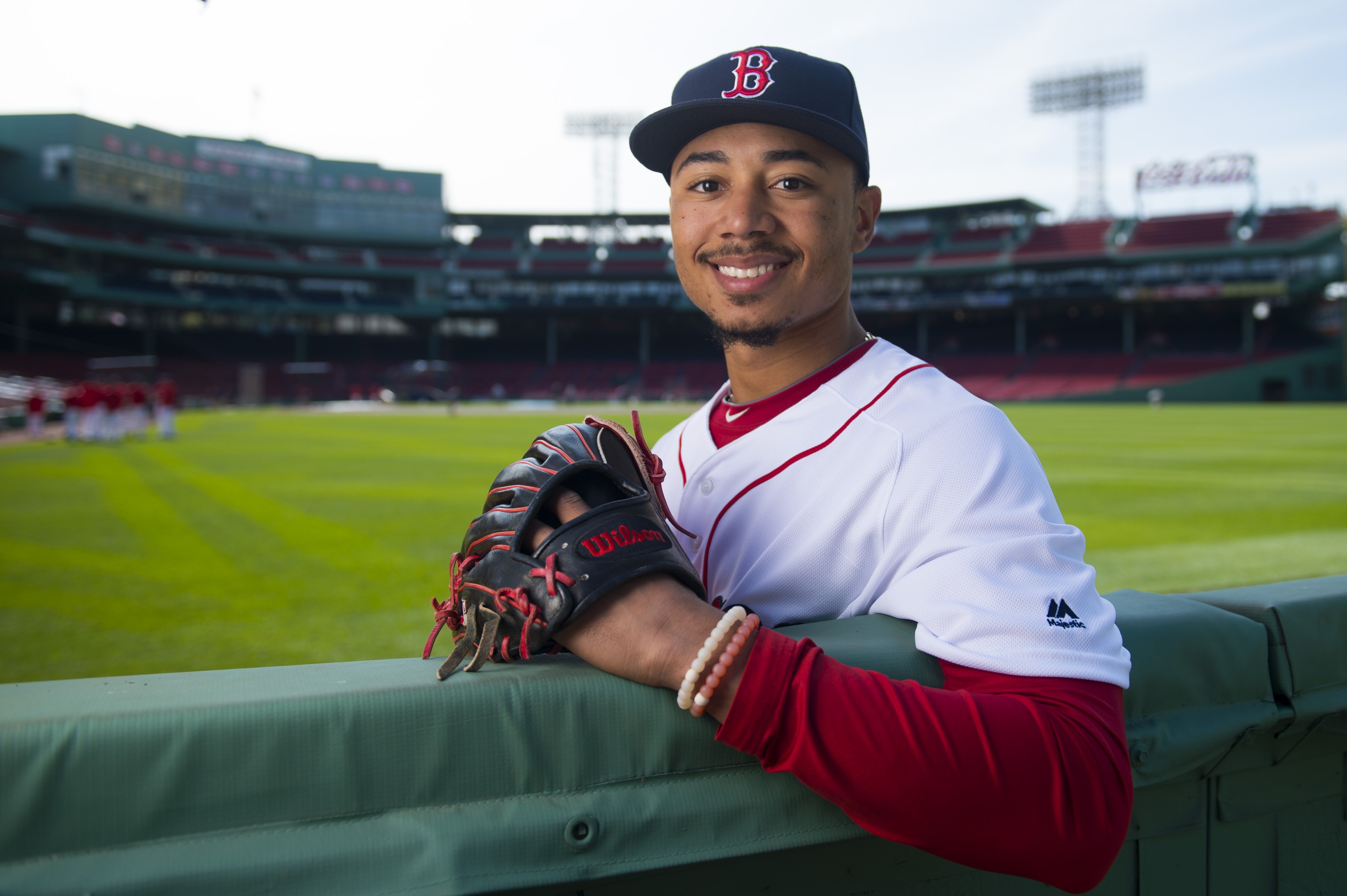 MOOKIE BETTS' CONTRACT
Betts, 27, was first drafted by the Red Sox in 2011 and debuted in the professional league in 2014. He played with the team until 2019, and during that time, he won four Gold Glove Awards, three Silver Sluggers, and was named the 2018 American League MVP.
On the field, he's an athlete, relentless and determined. But when he arrives home, Betts only thinks about taking care of his daughter.
Over the past five years, Betts has cemented his reputation as an all-rounder. He is regarded by many experts as the second most valuable player in the MLB, only behind Los Angeles Angels' center field Mike Trout.
Dodgers' president of baseball operations, Andrew Friedman, described Betts' deal as a great investment, one that the organization made with confidence in Bett's talent and potential.
Betts shared the news on Instagram posting pics of himself outside the Dodgers' stadium while signing some papers. In his caption, he thanked the organization, and most importantly, his family for their unwavering support.
Brianna Hammonds, Betts' girlfriend, couldn't be prouder of his feat, and she too took to her Instagram stories to show her excitement about this new chapter in their lives.
MEET MOOKIE BETTS'S GIRLFRIEND
Brianna Michelle Hammond is Bett's longtime girlfriend and the mother of his only child. The couple reportedly met in middle school In Tennessee and have been together since then.
The oldest picture in Hammond's Instagram is one of her smooching Betts, and in the caption, she celebrated their 7th anniversary. That means the pair has been together for at least 15 years.
Hammond graduated from Middle Tennessee State University in 2015. On the other hand, Betts had committed to the University of Tennessee but ended up withdrawing after signing his contract with the Red Sox organization.
In 2013, Hammond shared a collage of pics from a trip to Cancun, Mexico, and captioned it: "Cancun was amazing with my fiancé!!♡♥♡♥ @mookiebetts."
Although she can be seen rocking a diamond on her ring finger in some old pics, Betts has never confirmed a marriage, and Hammond is often referred to as his girlfriend or partner.
EXPANDING THE FAMILY
In August 2018, just a few days after Betts became a World Series Champion alongside the Red Sox, he took to Instagram to announce he and Hammond were expecting their first child.
The couple creatively shared the news, with a mock-up of a newspaper titled "Betts Chronicle" that read on the first page:
"Mookie and Bri are brewing a brand new baby & you Betts believe they are excited to share the news!"
A month later, the couple revealed the gender of their baby with identical Instagram videos, and they finally welcomed daughter Kynlee Ivory on November 6, 2018, at 3:05 pm.
Since then, Hammond offered updates of Kynlee's development month by month—she loves the pool, ice cream, and dogs—until her first birthday last year.
The proud mom also posted a lovely tribute to her partner on Father's day, sharing a series of pictures of Betts dotting on their little girl, always smiling.
MOOKIE BETTS ON FATHERHOOD
For the 27-year-old baseball star, becoming a dad helped him realize he can be two different people depending on the circumstances.
On the field, he's an athlete, relentless and determined. But when he arrives home, Betts only thinks about taking care of his daughter and spending as much time as possible with her.
When it comes to fatherhood, Betts told NBC Sports Boston's Evan Drellich that he just wants to be like his dad, Willie Betts.
"Watching him, talking with him, hopefully, I can just kind of pick up how he was and how he raised me and my brother and my sister," Betts said. "And I think if I can do something close to the way he did, I should have a good kid."
On Kynlee's first birthday, Mookie shared a special video with pictures and clips of the girl's life up to that point, and he revealed in his caption that his daughter came into the world to show him the true meaning of love.
The Betts are now ready to settle down in a new city, and if everything goes as planned, L.A will have them through 2032.