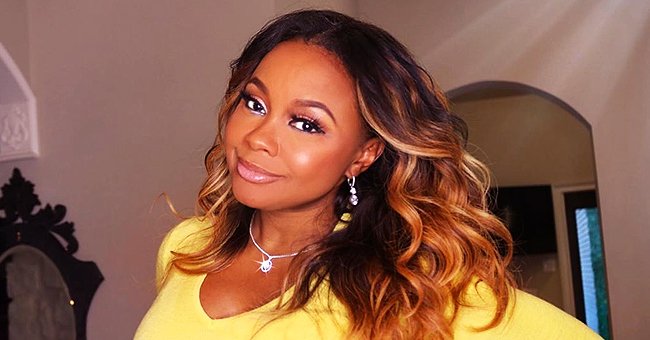 Instagram/phaedraparks
Check Out This Cute Photo of Phaedra Parks Posing with Sons Dylan and Ayden
The former TV personality can not be happier when she is with her children. The kids have grown up so fast, and since quarantine started, they have been sharing more moments together.
Former "Real Housewives of Atlanta" star, 46-year-old Phaedra Parks, took to Instagram to post a lovely picture in which she appears next to her two children. In it, she takes the time to invite her followers to join a mother-kids moment during a live virtual Troll Party.
Since quarantine began, Parks has had to spend more time at home with her kids so she has been trying to find new ways to have fun with them. While homeschooling is not her biggest strength, she has managed to do it while wishing other parents to find their strength to go through these difficult times.
Parks, who was an RHOA cast member until the end of season nine in 2017 and is now a star of We TV's "Marriage Bootcamp: Hip Hop Edition" shares both her children - 10-year-old Ayden and 7-year-old Dylan - with ex-husband, 41-year-old Apollo Nida.
The couple had been romantically involved since they were in high school and got married in 2009. Their relationship fell apart and they decided to split in 2014. Their divorce, which went through a long legal journey, finally ended in 2017.
In August 2019, Nida took to Instagram to post a beautiful photo of his children with a message saying he missed them since he had not been able to see them. The caption he wrote mentioned that Parks was keeping the kids away from him.
Phaedra Parks attends "A Conversation With Common & Atlanta Mayor Keisha Lance Bottoms" at The Gathering Spot on May 20, 2019 in Atlanta, Georgia. I Image: Getty Images.
Since 2014, the year the couple separated, Nida served time in prison due to an eight-year sentence after he pled guilty to bank fraud and identity theft. However, in March 2019 his period was somehow reduced and he was released in June that year to a halfway house.
A few days later, he was back into custody for unrevealed reasons so it was assumed that Parks kept Anya and Dylan from his father's visitations. Further information was not explained but it was clear they did not split under amicable terms.
Besides being an attractive TV personality, Parks is also an Atlanta lawyer, author, and activist. But anyone would be surprised to know she is also a licensed funeral director and mortician.
Unfortunately, she has openly said in interviews how concerned she feels about the number of services they have made in the mortuary since coronavirus pandemic started.
She said during an interview in a podcast: "We are working like it's our heaviest season, so I tell people when they say, 'It's a joke, it's not that big of a deal,' well, let me put it to you in real terms, I'm getting 17 calls a day for pickups and that's at one location."
Parks has witnessed deaths from the pandemic first row so she has been telling people to take safety measurements seriously. She has
by being away from her boyfriend, Medina Islam, with whom she costars in "Marriage Bootcamp."
Please fill in your e-mail so we can share with you our top stories!