Check Out Adam Levine's New Hairstyle Which He Debuted in Maroon 5's 'Nobody's Love' Music Video
The newly released video of Maroon 5's new hit song, "Nobody's Love" had everything in it, including Adam Levine's shaved head and full beard, and a message from the American Civil Liberties Union (ACLU). 
Maroon 5's lead act Adam Levine spotted a new look in the band's new music video for the song, "Nobody's Love." The singer looked unrecognizable with a shaved head and full beard and also smoked a joint in the video. 
In the clip, Levine was alone; he sat in a yard at night, rolling marijuana placed on a low table in front of him, and also had a glass of red wine beside him.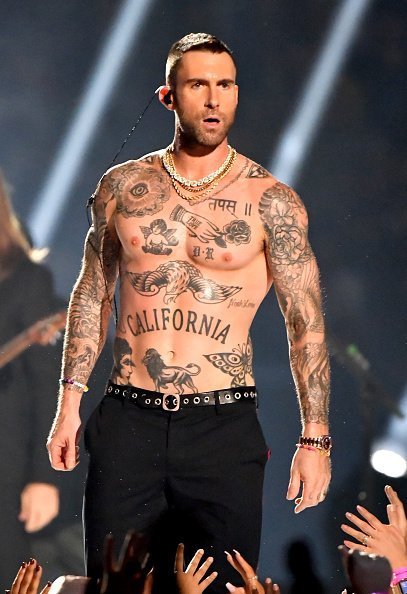 In the lyrics of the song, Levine sang about holding onto his love for his partner, telling her she is the key to his heart and that if he ever left her, he would go psychotic. 
The video also ended with a message by the ACLU, where the union called for an end to the war on marijuana, saying the war had become racially biased and was also a waste of money. Part of the message read,
"Despite being a priority for police departments nationwide, the War on Marijuana has failed to reduce marijuana use and availability." 
The message further opined that the funds used in fighting the war on marijuana could have been invested in communities, and was a waste of taxpayer's money. 
The video was shot by David Dobkin, who also directed Maroon 5's previous music videos for the hit songs, "Sugar" and "Girls Like You," which featured female rapper, Cardi B. 
In that video, the singer and Preston shared a kiss.
The music video is coming a month after Mickey Madden, a member of Maroon 5, announced that he was taking an indefinite Leave of Absence from the band. 
Madden's announcement was coming on the heels of an alleged incident of domestic violence, which led to his arrest. In a statement to People, Madden said,
"I have some things that I need to deal with and address right now, and so I have decided to take a leave of absence from Maroon 5 for the foreseeable future." 
He further said that he did not want to be a cause of distraction to his bandmates during this period and wished them well in their endeavors.
About two weeks ago, Adam Levine paid tribute to the late Kelly Preston, the actress who appeared in one of Maroon 5's earliest music videos, "She Will Be Loved" in 2004. 
In that video, the singer and Preston shared a kiss, and in his tribute to her Levine said that Preston would hold a special place in his heart. 
Levine was a former coach on "The Voice," where he spent eight years and 16 seasons before leaving the show in May 2019, to become a full-time father to his daughters, Gio Grace and Dusty Rose, who he shares with wife, Behati Prinsloo. 
During an appearance on Ellen DeGeneres's show, the stylish singer said that he wanted to spend time with his young family after constantly working for many years, joking that he was now like a "stay-at-home" dad.