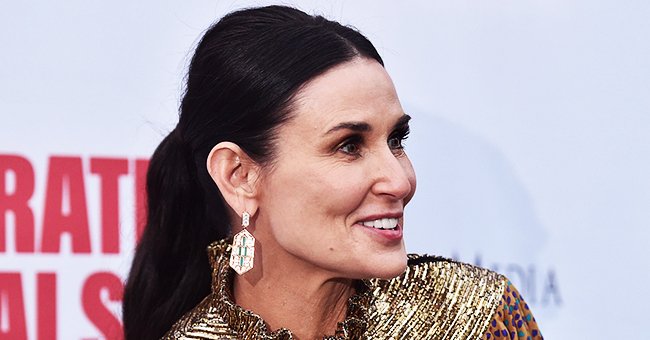 Getty Images
Check Out Demi Moore's Entry to the Black and White Photo Challenge Featuring Her Adorable Puppy
Demi Moore took part in a viral challenge on Instagram with a sweet photo of her holding her dog. The actress' youthful glow emanated from the shot even without color.
On Sunday, Demi Moore took to Instagram to participate in a women's empowerment challenge on social media. The movement involves women sharing black-and-white photos of themselves.
So far, celebrities such as Kerry Washington, Paris Hilton, and Vanessa Bryant have all taken part in the challenge, which is meant to show female solidarity for women who have been killed and are often pictured in grayscale.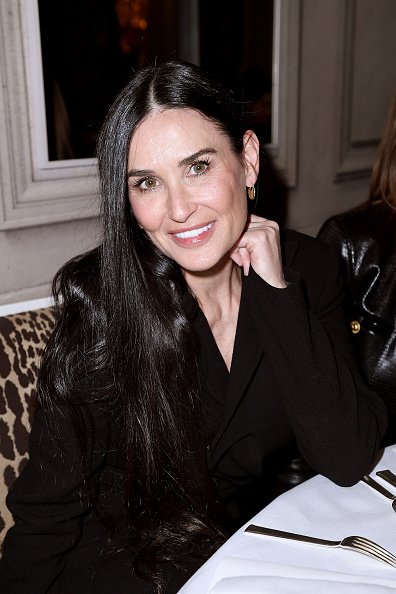 Demi Moore on February 29, 2020 in Paris, France. | Photo: Getty Images
MOORE JOINS THE CHALLENGE FOR SUPPORTING WOMEN
The challenge was also started to share positivity amid the coronavirus pandemic and everything else that has been going on. It includes the hashtags "challenge accepted" and "women supporting women."
For her part, Moore posed in a striped two-piece garment that featured long sleeves. She sat in a furry couch and wore a pair of glasses with her hair styled loose. In her arms was a small, adorable dog.
In the caption, Moore typed in both hashtags and revealed that celebrities and friends like Melanie Griffith, Lisa Rinna, Heather Parry, and a slew of others had nominated her for the challenge.
Other actresses who took part were Jennifer Garner, Jennifer Love Hewitt, and Kristen Bell. Bell included a motivational quote from psychologist Adam Grant in her bare-faced photo.
MOORE EXPLAINS HER VIRAL BATHROOM RUG
Earlier this month, Moore's bathroom went viral when the "Indecent Proposal" actress shared behind the scenes shots of her recording her podcast, "Dirty Diana."
Fans noticed that Moore's bathroom floor was completely covered with a brown furry rug and came complete with a couch. The unique look led many to inquire about the arrangement.
Moore explained it all during an interview with Seth Meyers. Apparently, it came about during her relationship with ex-husband Bruce Willis whom Moore credits with the carpet design.
She further noted that she does not mind it at all, especially since it is usually cold where she lives. Moore was disappointed when fans did not notice that her couch was a miniature one.
HER NEW PODCAST SHOW IS VERY INTIMATE
Moore said she records her new podcast in the bathroom thanks to the excellent acoustics there. The "Striptease" actress talked about her new show in another interview.
"Dirty Diana" sees Moore starring as a corporative executive and host of a website where women reveal their sexual fantasies. Within her own relationship, Moore's character struggles to have a sex life.
SHE CAN ALSO ROCK THE BLONDE LOOK
The actress' talent for change took a different turn recently for the new series, "Brave New World." Co-star Demi Lovato shared a photo of Moore rocking blonde hair for the Peacock streaming platform series.
Moore, 57, looked completely different in the picture as she sported shoulder-length blonde locks and wore a see-through throw over with a light brown nightgown.
Moore's character is named Linda. The new show is loosely adapted from the 1932 novel written by Aldous Huxley. In addition to Moore and Lovato, Jessica Brown Findlay, Harry Lloyd, and Alden Ehrenreich will also star in the show.
Please fill in your e-mail so we can share with you our top stories!