Tamron Hall Shares a Black and White Childhood Photo — Does She Look like Her Son Moses?
Tamron Hall put up an "old but gold" photo of her younger self on her social media timeline, giving followers a peek at the striking resemblance she shares with her baby son.
It was throwback time for TV anchor Tamron Hall who, in a recent Instagram upload, showed off a younger version of herself. Tamron's younger self and her little son, Moses could pass for twinnies and fans agreed that he got his cuteness from mommy!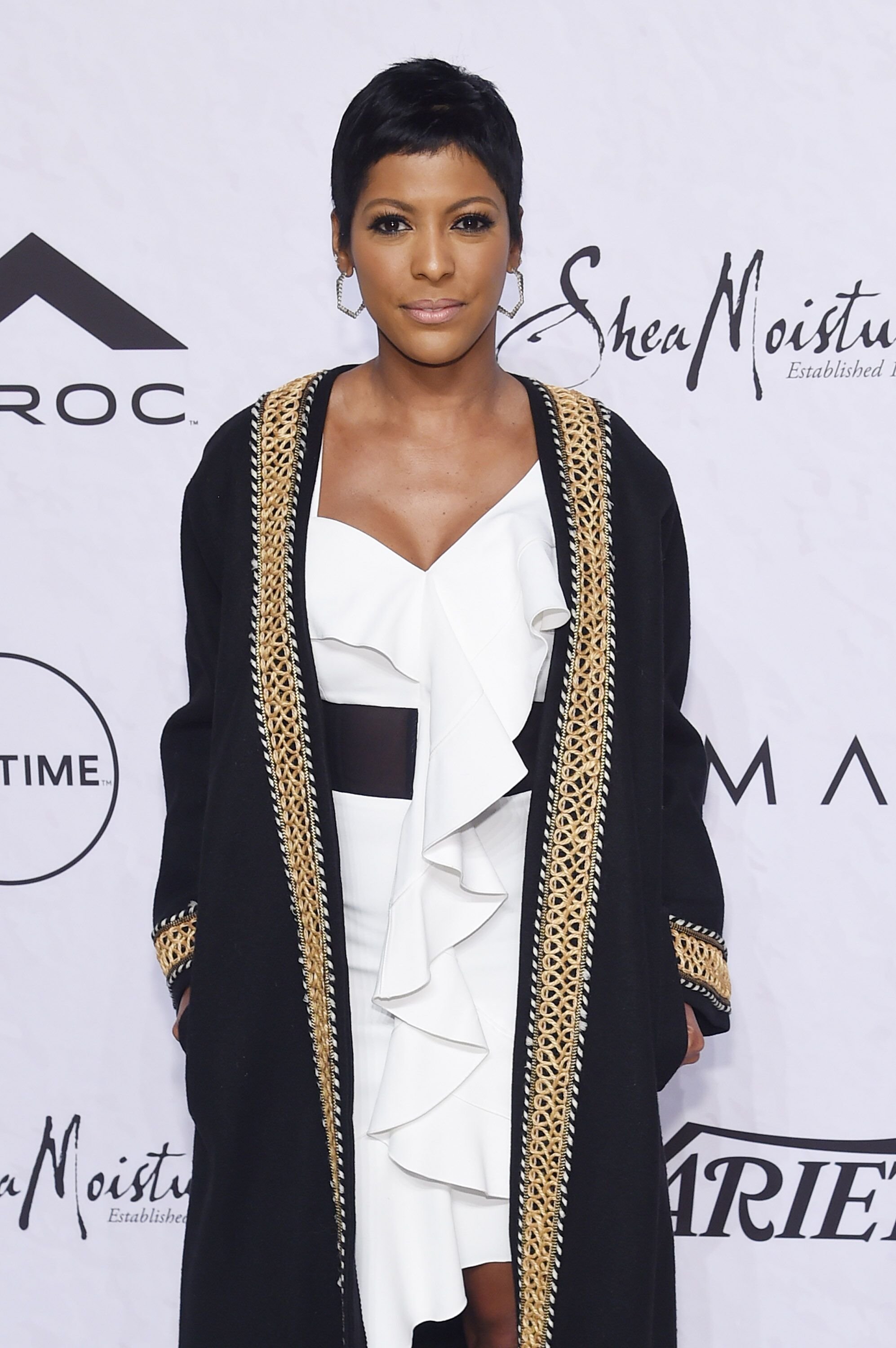 THROWBACK FROM TAMRON 
The black and white image showed a photo of Hall smiling in striped dungarees worn over a white long-sleeved t-shirt. Her little girl charms came complete with her hair styled in two buns. She captioned the snapshot,
"Same, Tamron. Just all "growed up." This little girl from Luling Texas needed the help of other women…"
Hall's caption was in line with the ongoing "women" challenge on Instagram. In the comments section, many fans were overwhelmed with the uncanny resemblance between her and her toddler son, Moses. Someone exclaimed, "I see Moses!!" Another agreed, "Your son is your twin."
HALL BAGS AN EMMY
Congratulations are in order for Hall, an acclaimed broadcaster, as she recently received news on her milestone achievement as the Best Informative Talk Show Host. Hall, who hosts her eponymous show, did not hold back on her feelings as she headed to her Instagram page.
The duo became first-time parents after welcoming their son, Moses.
Dressed in a white robe, Hall expressed her excitement as she informed her fans of her latest feat. Referring to her video as a virtual acceptance speech, she captioned, "I just got a call that I won an Emmy for my first year on a Daytime talk show…"
FIRST TIME MAMA
Last year, fans received a delightful surprise from Hall after she announced her pregnancy with a series of photos on Instagram. A month after her announcement, she welcomed her baby son, Moses, and debuted him on the same platform.
The photo shared on her Instagram page showed the new mom holding her bundle of joy while posing for a sun-kissed picture. Giving photo credit to her music executive spouse, Steven Greener, Hall shared that he would not stop crying "tears of joy!"
TAMRON'S LOVE TIMELINE 
From being a correspondent at NBC, co-hosting on "Today," and ultimately running her own show, "The Tamron Hall Show," it is safe to say that Hall is a seasoned broadcaster.
However, it took a while before she decided to explore romance as she once mentioned that her spouse was her first serious boyfriend after her exit from NBC.
Hall, who seems to keep her personal life away from paparazzi, made no exception with her relationship and even got hitched in a private ceremony at home.
Before veering into romance, Hall and Greener started as good friends and became closer with time. The duo became first-time parents after welcoming their son, Moses.