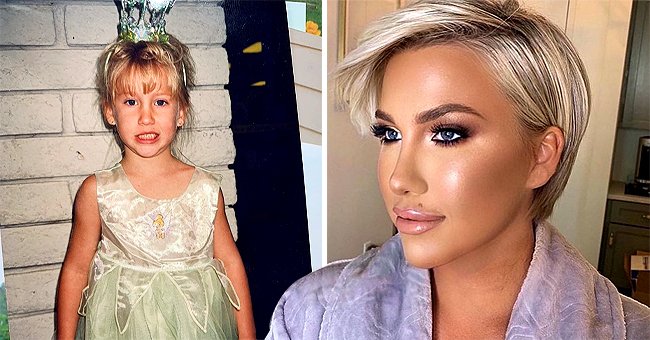 instagram.com/savannahchrisley
Here's How Savannah Chrisley Shared Her Thoughts about Her Upcoming Birthday on Instagram
On Wednesday, Savannah Chrisley shared a hilarious childhood photo of herself in relation to her upcoming birthday. The reality star will turn 22 next month.
Taking to Instagram, Savannah, 21, posted a throwback photo of herself when she was a child. In the image, the "Chrisley Knows Best" star appeared wearing a white princess dress and a fake crown.
She had a look on her face that showed her displeasure at that particular moment. Savannah shared her thoughts writing:
"When you realize your birthday is in the midst of a pandemic..."
Savannah Chrisley celebrates her engagement to Nic Kerdiles on March 27, 2019, in Santa Monica, California | Photo: Paul Archuleta/Getty Images
CELEBRATING HER BIRTHDAY
She added her birth date in a hashtag and in another one, she revealed that she had no plans for the day. The star included a laughing emoticon and a red heart.
She's living her life for herself and no one else.
One fan could truly relate to Savannah's thoughts and replied: "I feel your pain." Speaking about birthdays, on January 12, 2020, the reality star celebrated her mother, Julie Chrisley's birthday with a social media post.
JULIE'S BIRTHDAY
In the caption of her post, she called Julie the "greatest woman" she knew. She ended her post by wishing her mother a day filled with joy and love.
Before the season 8 premiere of "Chrisley Knows Best," the reality star opened up about what it was like to grow up as a television star.
FEELING PRESSURIZED
Speaking to "People" magazine, the television personality confessed that she had felt "a lot of pressure to be perfect." She shared how daunted she was knowing mothers were allowing their daughters to follow her on social media because they looked up to her.
LIVING FOR HERSELF
Savannah also admitted that she'd also put pressure on herself and tried to live a perfect line in order to avoid disappointing people. However, she had grown up enough to want to live for herself and stop focusing on people's opinions.

A fan comments on a post by Savannah Chrisley on July 29, 2020, about her upcoming birthday | Photo: Instagram/savannahchrisley
CALLING OFF HER WEDDING
An example of her living for herself could be seen in how she openly revealed she and her fiancé Nic Kerdiles had called off their wedding. The pair shared in April 2019 that they were engaged but changed their tune this year.
Savannah called off their engagement by revealing that they needed to step back a bit and were rushing things. Good for her!
Please fill in your e-mail so we can share with you our top stories!