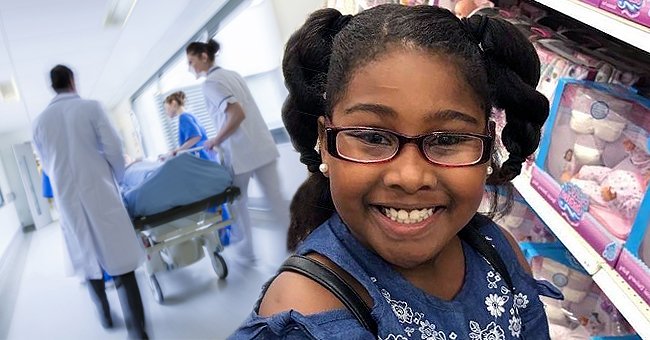 shutterstock twitter.com/ChristyANJax
People in Gainesville Mourns Nine-Year-Old Kimora 'Kimmie' Lynum Who Died of COVID-19

The girl went to the hospital only a week before she passed away because she had a fever and stomach pain. The test that confirmed she was positive for COVID-19 came after her death.
A 9-year-old girl, Kimora "Kimmie" Lynum, became the youngest coronavirus victim in the entire state of Florida. As the pandemic is still hitting thousands of families across the United States, the younger fatalities are always more painful.
The news shocked everyone in Putnam County, not only for bringing sadness into their community but also for confirming that the girl did not contract the virus from a travel-related source since she had not been away from home.
According to Lynum's mother, Mikasha Young-Holmes, she had been ill a week before and went to the hospital but was never tested for COVID-19 so complications from the virus came without knowing.
MOURNFUL FAMILY
Young-Holmes later said that the girl had been initially diagnosed with a urinary infection and was sent home a week later on July 17. She went to take a nap and never woke up. The girl was tested for COVID-19 only after she died.
In pain, Dejeon Cain, Lynum's cousin mentioned in an interview with a local news station that the girl used to be a happy young lady and that she was resilient and outgoing. "No one deserves this," he sadly said.
Neighbors and family members gathered in Gainesville a few days later after she passed away to honor Lynum in a candlelight vigil and a balloon release. The event also commemorated other young victims that have died in the state.
STATE PROBLEM
To date in Florida, 28,087 children have been reported as COVID-19 positive. Five of them have died due to complications from the virus. Before Lynum, the youngest children that passed away from coronavirus were a boy and girl, both 11, from Miami-Dade County and Broward County.
After Florida's Governor, Ron DeSantis announced that schools should fully reopen by August, lots of parents across the state are deciding not to send their kids to school yet. In an interview, Dr. Jason Littleton said that in such cases, every institution must provide safety measurements in order to minimize the risk among students.
Please fill in your e-mail so we can share with you our top stories!