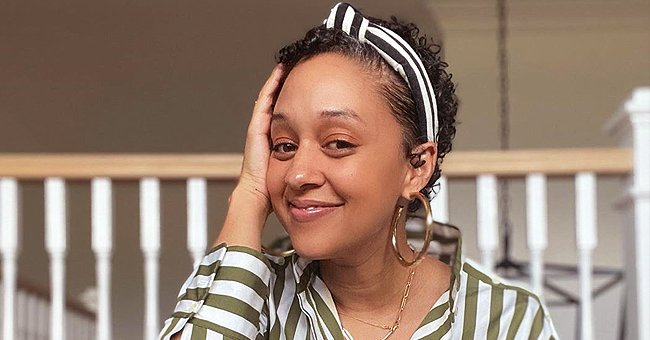 Instagram/tiamowry
Tia Mowry Shows Appreciation to Her Siblings through a Throwback Photo — See the Message That Came with It
"Sister, Sister" actress, Tia Mowry went down memory lane with her recent post on Instagram as she shared a throwback photo of herself and her siblings along with a heartwarming caption.
There was a lot of sibling love from Tia Mowry to her siblings in her recent post on Instagram. The actress shared a cute black and white photo of herself, her twin sister Tamera, and their younger brothers, Tahj and Tavior.
In the caption to the post, she expressed love for her siblings, saying she could clearly remember when the picture was taken. Tia also noted that she was always amazed at the speed with which life comes.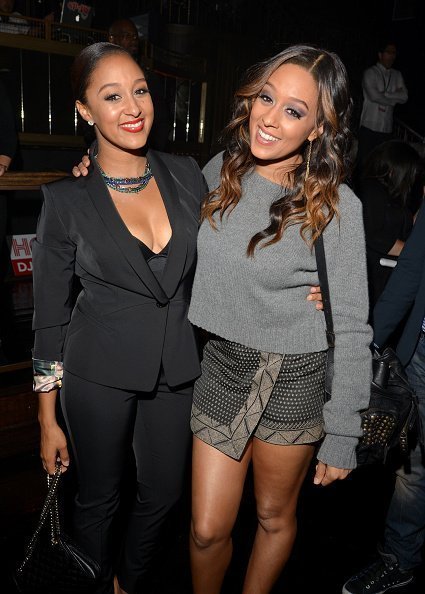 Tamera Mowry-Housley and Tia Mowry-Hardrict at Emerson Theatre on November 4, 2013. | Photo: Getty Images
Explaining the origin of the picture, Tia revealed that it was taken for People Magazine when "Sister, Sister" took off. Tavior was only a baby at that time and used to find it hard to pronounce "r."
The actress urged fans who doubted her regarding her revelation about Tavior to watch "Fullhouse" where he played the character, Teddy. She also wrote:
"#family means everything to me. We are all settled in our lives now, but we work hard to keep the unit together..."
Even though the siblings are all grown with Tia and Tamera married and having kids of their own, they remain close as ever and share an unbreakable bond.
Tia showed how deep that bond is when she got teary-eyed during an interview, revealing that the time spent in isolation had gotten to her and that the hardest part of quarantine was not being able to see her parents and siblings.
They found therapy beneficial as it helped them know how to communicate.
The bond shared by Tia and her twin sister Tamera is also very strong and is one that will never end. The twins showed the extent of that bond when they posted loving messages to each other on their birthdays.
In her post, Tamera described Tia as her ride or die since birth and said that she could not wait to wrap her arms around her when they are together. Tia, in her lengthy post, wrote:
"#happybirthday to my womb mate @tameramowrytwo Wow! Is all I can say. Being a #twin is a blessing. We have experienced so many #milestones together."
Tia narrated some of the experiences she has had with Tamera, including sharing grief together by sleeping in the same hospital bed when they lost their grandma.
Despite having a close bond, the twins also have their issues with each other and do not get along every time. Some of their arguments were seen when the reality show, "Tia and Tamera" aired on television with one episode showing them visiting a therapist.
In an episode of "The Real" last year, Tamera explained what she and her sister learned a lot in that episode of their reality show, adding that they found therapy beneficial as it helped them know how to communicate with one another and others.
The girls also grew up in a biracial home with their mom being Black and their dad, White. Tia opened up about growing up with her parents amid the Black Lives Matter protests.
She revealed that she was able to see the privilege that her father had as opposed to her mother due to their color. After narrating some of those experiences, Tia expressed hope that a long-lasting change would come at last.
Please fill in your e-mail so we can share with you our top stories!