'Deadliest Catch' Deckhand, Mahlon Reyes, Dies at 38 — What Happened?
"Deadliest Catch" deckhand Mahlon Reyes sadly passed at the age of 38, "surrounded by so much love," even though medical personnel worked hard to save him. 
Over the past eight years, the crab fisherman Mahlon Reyes became a firm favourite on the "Deadliest Catch," but sadly, he died after suffering a heart attack.
Deadliest Catch star Mahlon Reyes dies aged 38 leaving family in 'shock'https://t.co/PJx8M7E2p8 pic.twitter.com/6lm2WIQdll

— Daily Express (@Daily_Express) August 1, 2020
WHAT HAPPENED TO MAHLON?
The late reality star's wife, Heather Sullivan, explained that Reyes had a heart attack on Saturday. When paramedics arrived, Reyes had stopped breathing, and he had no pulse, so they went about resuscitating him. 
After he arrived at the North Valley Hospital, medical personnel worked for 45 minutes before they got Reyes's pulse back and transferred him to the ICU at KRMC. But then a difficult decision had to be made.
Family times. Laughing, crying and remembering our brother Mahlon Reyes of the Summer Bay. pic.twitter.com/TSSER8T6cJ

— Nick McGlashan (@NickMcglashan) July 31, 2020
A HEARTBEAT  ONLY
During the time Reyes had no pulse, his brain did not get enough oxygen, and it caused irreparable damage. Devastated, Heather elaborated:
"On Sunday night our family together made the hardest choice we've ever made and that was to remove him from life support."
HE WAS NOT ALONE
When Reyes died "shortly after midnight on July 27," his mom and brother were right by his side as he came to the end of "an amazing fight." 
Support in the form of Reyes's oldest children and some of their other family members and closest friends "were all with him as well" shortly before he passed.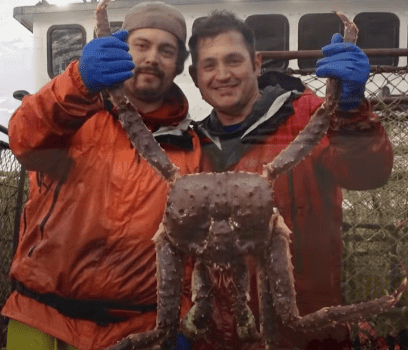 THE LEGACY HE LEAVES BEHIND
Shocked and saddened by the loss, "Deadliest Catch" deck boss Nick McGlashan also shared his feelings on social media after the news broke and wrote that "this place misses" him.
To make the reality of the tragedy softer, Heather told USA Today that she and her family had been recalling fond memories shared with Reyes and elaborated:
"We laugh and remember all the funny stories and have been surrounded by an amazing group of our best friends and family."
This place misses you. RIP Mahlon. pic.twitter.com/OQK68Pm0kx

— Nick McGlashan (@NickMcglashan) July 27, 2020
As for Reyes' final resting place, Heather added that his ashes would be spread between his two favourite places in the world - the Bering Sea and in the Swan Range mountains in Montana "where he and his brother would snowcat."
Coincidentally, it's just over two years ago that "Deadliest Catch" lost another cast member also aged 38, even though it happened under very different circumstances.
Followers of the show would remember the late star, Blake Painter, who was found dead in his Oregon home in May 2018.