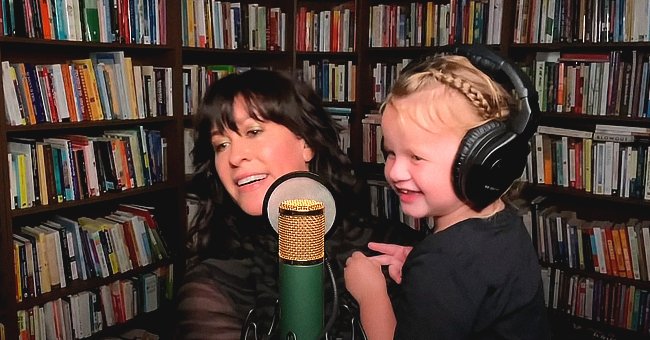 youtube.com/The Tonight Show Starring Jimmy Fallon
See How Alanis Morissette's Young Daughter Onyx Participated in the TV Debut of Her Song 'Ablaze'

American-Canadian singer-songwriter Alanis Morissette made the television debut of her single, "Ablaze," on "The Tonight Show," and her adorable 4-year-old daughter Onyx interrupted.
There was an adorable moment on "The Tonight Show" during the television debut of singer Alanis Morissette's song, "Ablaze," from her newly released album, "Such Pretty Forks in the Road."
While performing the song live from her home, Alanis' four-year-old daughter Onyx joined, turning what was supposed to be a solo into an adorable duet, full of laughs, chatter, and cute moments.
Photo of Alanis Morissette during an interview | Photo: Youtube / Alanis Morissette
While her mom performed, Onyx chimed in with her remarks and commentaries, laughter, and even had questions for Alanis. The 4-year-old also gave her mom special permission to finish her performance at the end of the song.
Fans loved the beautiful mother-daughter moment captured on television and commented about it on YouTube, with one fan writing:
"I love how this is Alanis, with her daughter as is[sic]. "
The fan added that despite the audio from the performance not being perfect, the experience was perfect and that there were no excuses needed. The fan further thanked Alanis for the song.
Another fan said that what Alanis did by keeping in tune with her performance while her daughter was on her hand and talking was not an easy task, adding that the singer nailed her performance.
Alanis's decision to relocate greatly influenced some of the songs on her album.
"Ablaze" is Alanis' vow to her three children, her singing in one of the lyrics that her mission is to keep the light in their eyes ablaze. Hence, it was only fitting that Onyx would join her mom during her performance.
Meanwhile, "Such Pretty Forks in the Road" is Alanis Morissette's first album in eight years and was released on July 31. In an interview with USA Today, the singer described the album as a giant haunting moment, with each song haunting her in a particular way.
The 46-year-old also spoke about her decision to leave America's entertainment hub, Hollywood, and move to Northern California, saying that she felt disenchanted.
Alanis' decision to relocate greatly influenced some of the songs on her album, with some portions of the album recorded in Los Angeles, while others were recorded while she was on the move.
During an appearance on "Today Show," Alanis opened up about her new album and how she was able to record it during quarantine while being a mother to her kids.
Alanis said that her ability to multitask got to a higher level while she was recording the album, as she was able to write her songs while also performing other home duties and being there for her kids.
Please fill in your e-mail so we can share with you our top stories!