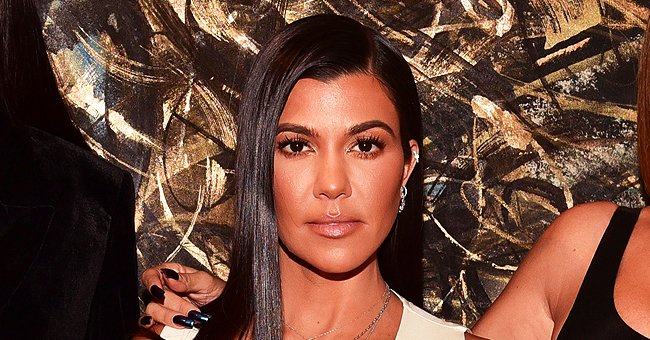 Getty Images
Kourtney Kardashian Hosted a Cool Outdoor Camping Activity for Her Family — Check It Out Here
"Keeping Up With the Kardashian"s star Kourtney Kardashian hosted her family for a fun-filled outdoor sleepover at her home and called the special event, 'Kamp Kourtney.'
Trying to keep the large yet tight-knit Kardashian-Jenner clan entertained can be a daunting task. However, Kourtney Kardashian recently came up with a great summer event for her family.
Calling it "Kamp Kourtney," she hosted an outdoor camping sleepover in her spacious backyard. She set up tents for the children to sleep in and had a fire pit going for the family to enjoy smores.
The makeshift camp was a hit with many of Kourtney's fans. One fan commented, "'that's the most luxurious camping I've ever seen." Shanina Shaik added, "Klamping with Kourt!"
A fan gushed over North West's outfit as she was pictured standing by a fire pit and eating a smore. The fan wrote, "it's the college dropout shirt for me." Kourtney shared a hilarious exchange with her friend Simon Huck about hosting another camp.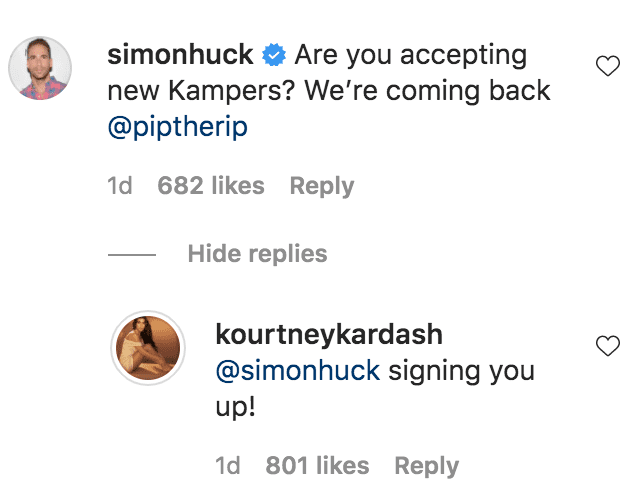 Simon Huck commented on Kourtney Kardashian's photos from her outdoor sleepover in her backyard | Source: Instagram.com/kourtneykardash
The fun wasn't just for the children. Kourtney also organized a movie night. She created an outdoor movie theatre which included a blow-up screen that towered over comfortable cushion day beds.
Kim Kardashian was in attendance and shared a photo of the elaborate setup. She revealed that the family enjoyed a movie under the stars as they watched "Parent Trap."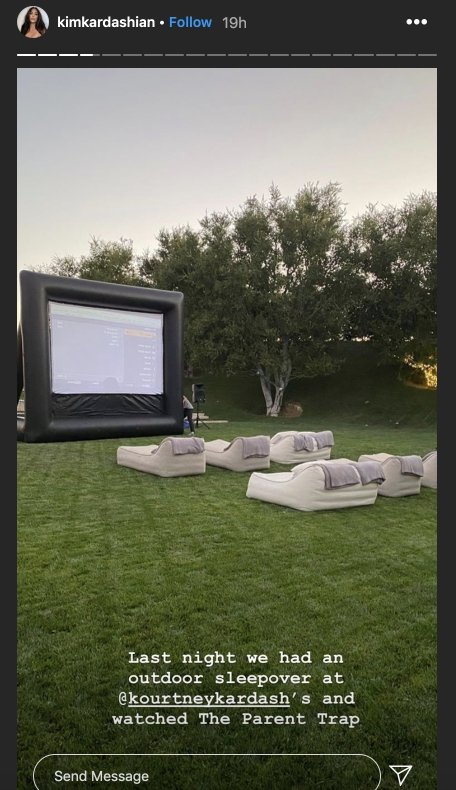 Kim Kardashian shared a photo of Kourtney Kardashian's outdoor movie theatre setup in her backyard | Source: Instagram.com/kourtneykardash
According to Us Weekly, Kim's family have been coming up with unique ways to shield the reality star's children with Kanye West from the media spectacle surrounding public comments made by Kanye and his family.
While speaking to Us Weekly, a source revealed that Kourtney has set aside her differences with Kim and stepped up to help her sister keep her young children distracted from the family drama.
Reportedly, the family has rallied around Kim to support her and keep her children protected as Kim and Kanye's marriage remains in the balance. The source said:
"To have Kourtney ensure her kids are protected during this situation means more to her than anything else. That's all she cares about."
According to Page Six, at the start of what was believed to be the start of one of Kanye's most recent bipolar episodes, Kourtney took Kim's children to Balboa Island in Newport Beach, California.
Along with photos from the trip, Kourtney admitted in a post shared after the trip that she hadn't been to Balboa Island since she was a child. The mother of three said the place hadn't changed in the years since her last visit.
Please fill in your e-mail so we can share with you our top stories!