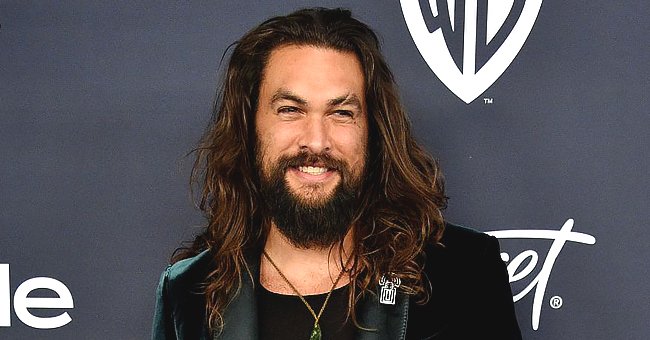 Getty Images
'Aquaman' Star Jason Momoa Flaunts His Muscular Physique in New Photos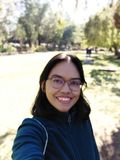 "Aquaman" star Jason Momoa flaunted his brawny physique in a latest post that surely made many jaws drop.
On Instagram, the 41-year-old actor shared a set of photos showing himself covered in mud and being washed down by a male companion on what looked like a desert. His July 31 post quickly amassed 930,314 reactions.
Many fans were stunned by how buff the actor is. As he was covered by mud, one fan said that Momoa blended well with the scenery.
In the photos he shared, Momoa appeared to have just enjoyed a carefree ride in the dune buggy. Along with the post, the "Game of Thrones" star teased his upcoming movie.
As reported by Entertainment Weekly, fans might see a full trailer of the movie, "Dune" next month. The much-anticipated movie stars other A-list celebrities, including Javier Bardem, Timothee Chalamet, and Zendaya.
Amidst his massive success, Momoa has managed to keep his family solid and strong.
Also joining Momoa, who stars as Duncan Idah, are Sharon Duncan-Brewster, Dave Bautista, Oscar Isaac, Rebecca Hall, and Josh Brolinm. The movie is expected to be released in November.
Meanwhile, fans could hardly get over Momoa's shirtless photos. They are impressed with how the actor has maintained his shape. Some fans wrote that his latest post has made their gloomy year better. One fan said:
"Thank you for being the only good part of my 2020."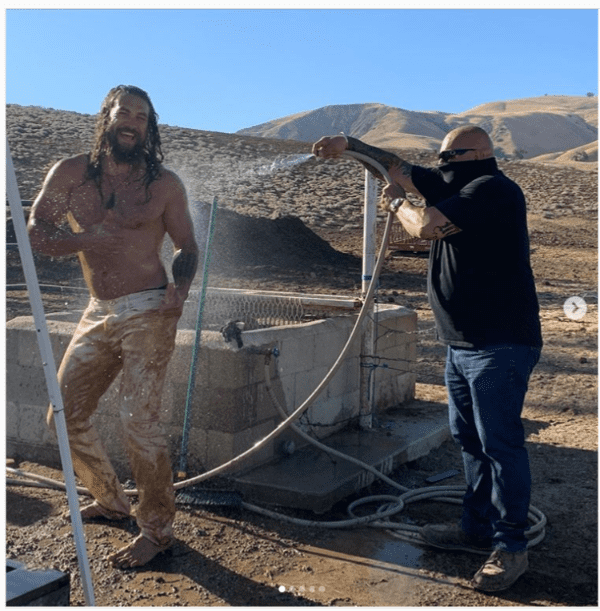 Actor Jason Momoa being hosed down by a hotel staff. | instagram.com/prideofgypsies
Amidst his massive success, Momoa has managed to keep his family solid and strong. Last August 1, the actor turned 41, and he received a birthday tribute from Lenny Kravitz, the ex-husband of Lisa Bonet, his current wife.
The legendary singer posted a black-and-white photo of himself and Momoa. His message was short but meaningful: "Happy Birthday @prideofgypsies. One family. One love."
In the photo, Kravitz is seen wearing a classic tuxedo as he rested his arm around Momoa. The latter, on the hand, is in his iconic relaxed outfit - white tank top and a pair of pants.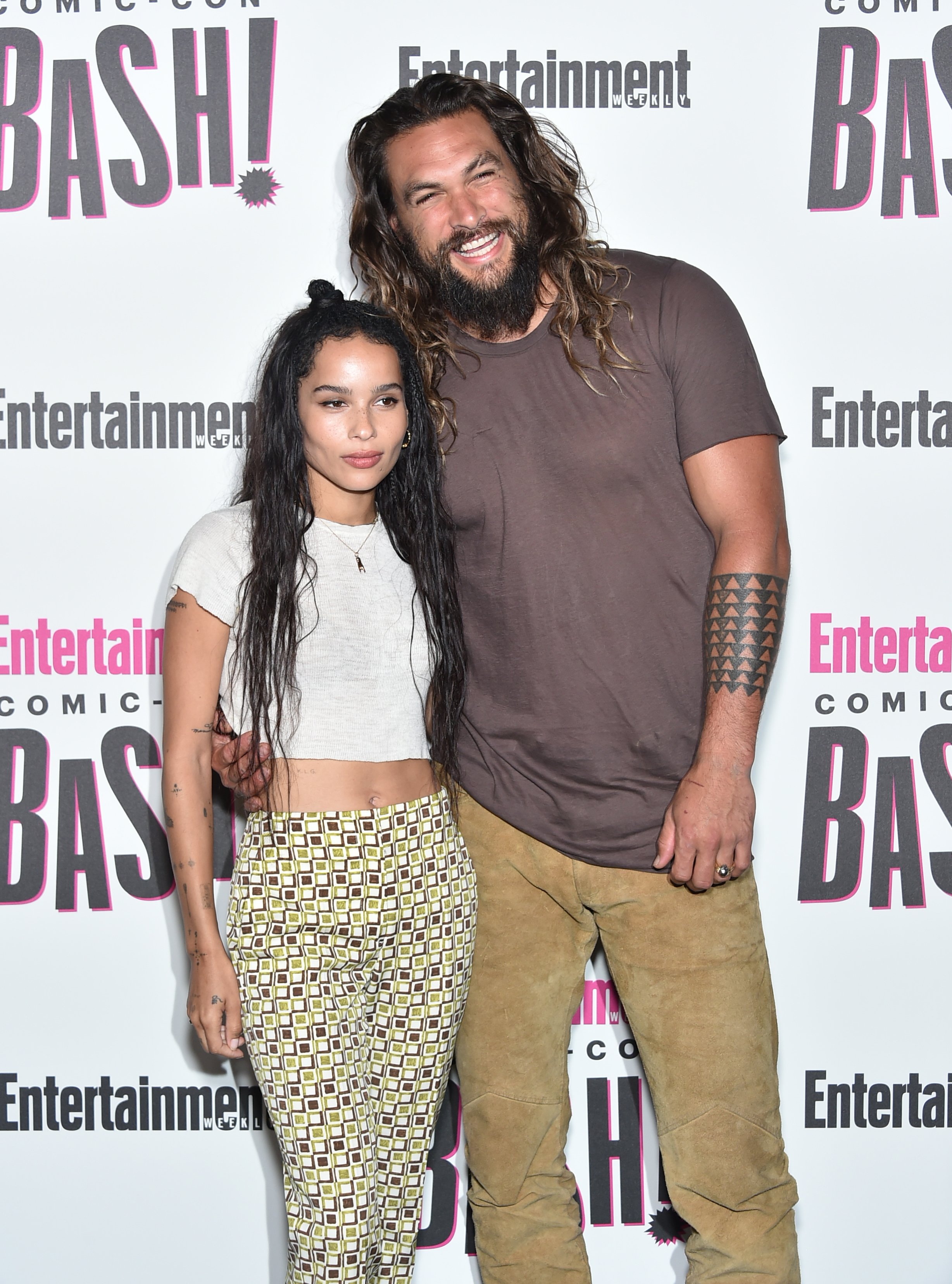 Zoe Kravitz and Jason Momoa attends Entertainment Weekly's Comic-Con Bash | Photo: Getty Images
Many fans said that Bonet is lucky to have "the sexiest men" in her life. Although she and Kravitz ended their relationship several years ago, they remain friends.
Kravitz and Bonet were married from 1987 until 1993. They share a daughter, 31-year-old actress Zoe Kravitz.
Meanwhile, 52-year-old Bonet shares two children with Momoa - Nakoa-Wolf, 11 and Lola, 13. The couple tied the knot in 2017.
During his birthday, Momoa not only received sweet tributes online. He also received a one-of-a-kind gift: a unique Fender bass guitar.
The musical instrument was given by Vincent van Trigt, the man who made the guitar. Momoa is seen in a photo smiling from ear-to-ear after receiving the gift, which he will add to his collection.
Please fill in your e-mail so we can share with you our top stories!