Tayshia Adams Becomes 'The Bachelorette' Season 16 Lead –– 5 Facts about the Show's 2nd Black Lead
Tayshia Adams is making her return to reality television after reports revealed that she had landed the lead role on "The Bachelorette"s 16th season. Here are five facts about her.
Tayshia Adams is making headlines as the front runner for the 16th season of "The Bachelorette." According to Us Weekly, sources have confirmed that she recently arrived at the location where the show is filming at the La Quinta Resort in Palm Springs, California.
Since the latest season had already started filming, it is believed that the show will switch things by replacing Clare Crawley with Adams and a new lineup of contestants.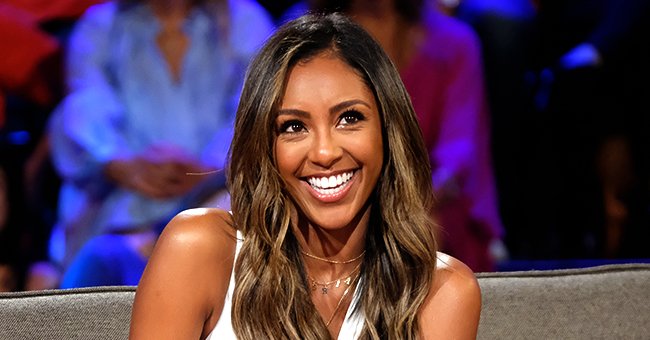 TAYSHIA STAYS CLOSE TO HOME BUT LOVES TO TRAVEL
Adams is a California native and grew up in Orange County. She didn't travel far for college and studied at Concordia University. After graduation and before she appeared on the "The Bachelor," she was living in Corona Del Mar.
Although she loves her California roots, Adams also likes to travel. It is reported she has been to places like France, Asia, the United Arab Emirates, and the Bahamas.
THE REALITY STAR WAS PREVIOUSLY A HOPEFUL TO LEAD 'THE BACHELORETTE'
The "Bachelor Nation" first met Adams when she appeared on the 23rd season of "The Bachelor." She made it to the top three with the hopes of winning over Colton Underwood's heart.
When Crawley was announced as the lead for "The Bachelorette's" 16th season in March, fans took to social media to express their frustration over the apparent snub. Adams' appearance will make her the second Black female to lead the show.
ADAMS WAS MARRIED TO HER FIRST LOVE
Adams hasn't had much luck in love. She was with a man named Joshua Bourelle for six years. He was believed to be her first love.
They married in 2017 and divorced a year later. It is reported, going through a divorce strengthened Adams' relationship with her parents and made her more open with them about her life and relationships.
SHE IS CLOSE WITH HER FAMILY
During her hometown date with Underwood on "The Bachelor," viewers got to see her close-knit family. Her parents are Desmond and Rosario and her three siblings are Desmond Jr., Dominique, and Bryce.
The family is religious and in 2019, Adams completed a mission trip to Africa. She has a close bond with her youngest brother Bryce whom she often refers to as her "main man." 
ADAMS STUDIED MEDICAL SCIENCE 
Before landing a career on the small screen, Adams graduated from Concordia University with a bachelor's degree in Biology Medical Science.
She worked as a phlebotomist which is the job for a medical professional that is trained to draw blood from people.
Behind the scenes, Adams had found love before she joined "The Bachelor." Us Weekly reported she had been dating her ex-boyfriend Chase Olswang up until the moment she left for the "Bachelor" in 2018.
In 2019, Olswang confirmed that the couple was exclusive before she left for the show and he was aware of her interest in being on the "Bachelor." Sources revealed that while they were in contact after the show ended, they did not rekindle their romance.