Metta World Peace Says He Would Not Kneel during the National Anthem If He Was Still in the NBA –– Here's Why
Although every player in the NBA has assumed this action as a way to peacefully protest against racial inequity, the former basketball player said he does not believe that taking a knee makes a difference.
40-year-old former NBA player, Metta World Peace said in a recent interview that he fully supports NBA Orlando Magic's forward, 22-year-old Jonathan Isaac who has been the only NBA player not to kneel during the National Anthem before a game.
MWP, who just changed his name for the second time last May as Metta Sandiford-Artest, not only said that he understood Isaac, but that he probably would do the same if he was still playing in the league.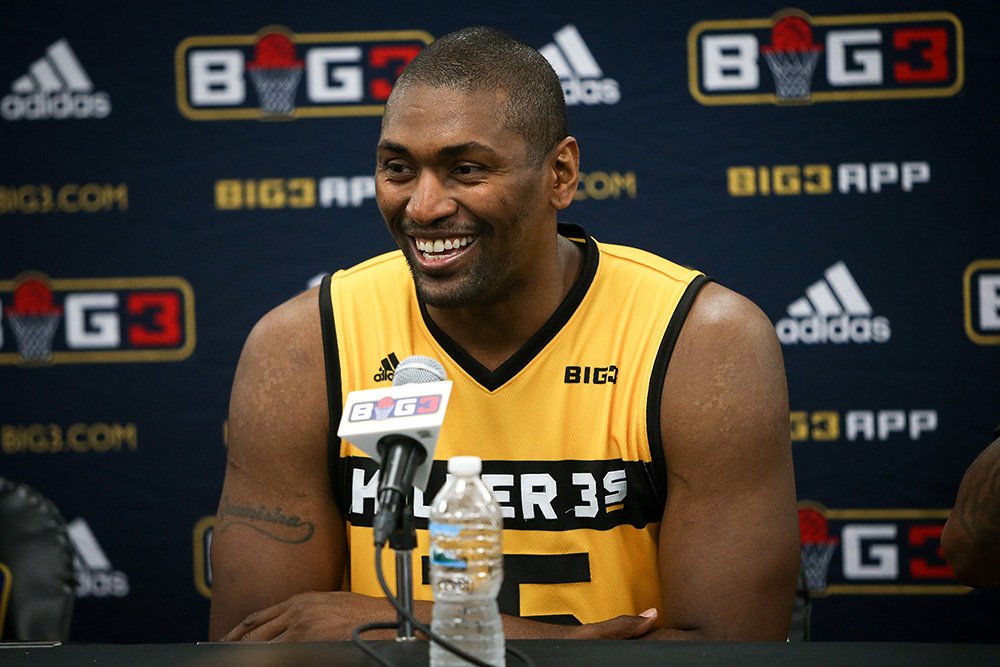 Though MWP has shown several times that he supports the Black Lives Matter movement by showing his presence and activism during protests through social media, he said he would never kneel for his enemy and that he does not believe in kneeling as a form of protest to any cause.
ONLY STANDING MAN
As the 2019-2020 season games resumed, all players, coaches, and staff members have appeared wearing Black Lives Matter shirts and with one knee on the floor during the National Anthem prior to their matches. However, Orlando Magic's forward, Jonathan Isaac decided not to do any of this last Friday.
Magic's Jonathan Isaac is lone player to stand for anthem https://t.co/W3hiHyHIOq

— Harrison Krank (@HarrisonKrank) August 2, 2020
So far, Isaac has been the only player who has chosen not to follow his colleagues. After the Magic and Brooklyn Nets match, the 22-year-old said that "kneeling or wearing a Black Lives Matter T-shirt don't go hand-in-hand with supporting Black lives."
It was reported that before the game, he had talked to his teammates about this decision and that he was not doing it because kneeling is against his Christian beliefs.  Though his action resulted in speculations, Marc J. Spears, Magic's head coach and guard, Evan Fournier, openly said they support Isaac's decision.
PLAYER SUPPORT
Since NFL 49ers quarterback, Colin Kaepernick knelt during the National Anthem for the first time before a preseason game in 2016 to peacefully protest against police brutality and racial injustice, many major sports league players have changed their minds on what they thought back then and what is happening today.
Los Angeles Lakers small forward, LeBron James, who was originally against Kaepernick's actions in 2016, as well as his fellow players, recently took a knee to protest against racial inequity. In an interview, James confessed he understands now the protests that Kaepernick engaged four years ago and nobody listened at the time.
LeBron James Kneels During The National Anthem https://t.co/9xtBr7TcIr

— Daily Caller (@DailyCaller) July 31, 2020
TAKE A KNEE
While the Take A Knee Movement started on NFL fields, many supporters and detractors - including President Donald Trump - spoke or acted in favor or against it, and cost Kaepernick his football career. However, as the Black Lives Matter movement evolved in 2020, kneeling has been an important form of peaceful protest among activists.
Matt Dumba: "Black lives matter, Breonna Taylor's life matters."

He becomes the first NHL player to take a knee as the anthems play with Malcolm Subban and Darnell Nurse supporting him.

Incredible leadership from the #MNWild defender: pic.twitter.com/3tLMXImQ8r

— Thomas Drance (@ThomasDrance) August 1, 2020
The gesture has been made not only by protesters and people from a wide range of backgrounds but also by some police officers who have shown their support to protesters.
The quarterback's idea, however, was inspired by a photograph of Martin Luther King Jr. keeling during a civil rights protest in 1965.
After all these years, Kaepernick has remained outside the NFL after being discharged from the league for protesting, but every once in a while we see him kneeling, sharing news on activism, and probably appreciating that protests are now being heard.