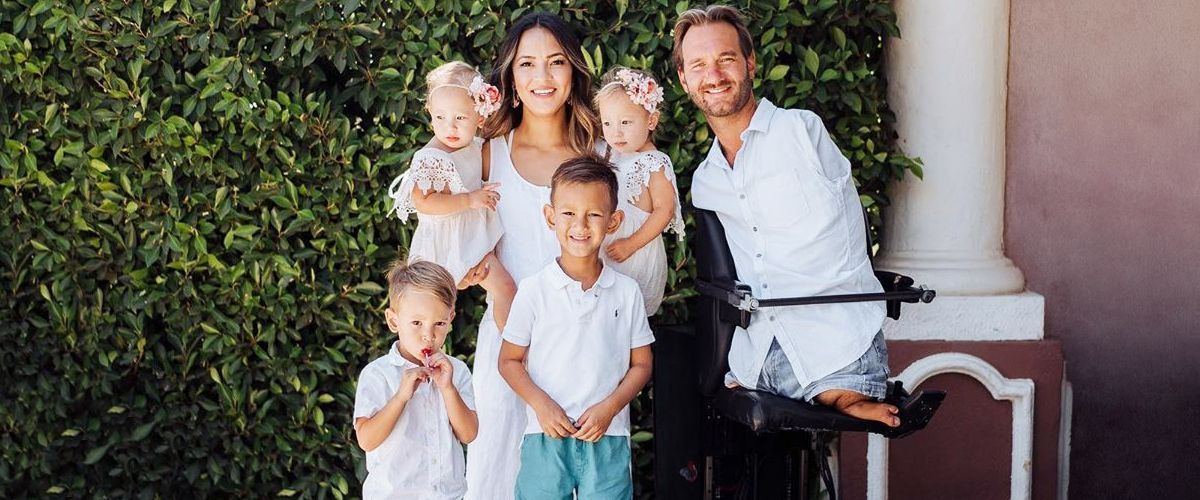 instagram.com/kanaevujicic
Nick Vujicic and His Wife Kanae Share 4 Kids — inside Their Beautiful Love Story
Nick Vujicic became known as the man born without arms or legs, but he rose above the challenge and became a great husband and father. Here's a look at his life.
Being born with a disability is nothing less of a struggle, which Nick Vujicic had to endure his entire life. Known as the man born without limbs, Vujicic used his condition to inspire millions around the world.
Today, Vujicic is a successful motivational speaker with four beautiful kids and a loving wife of eight years, Kanae Vujicic. Here's a look at their love story and life together.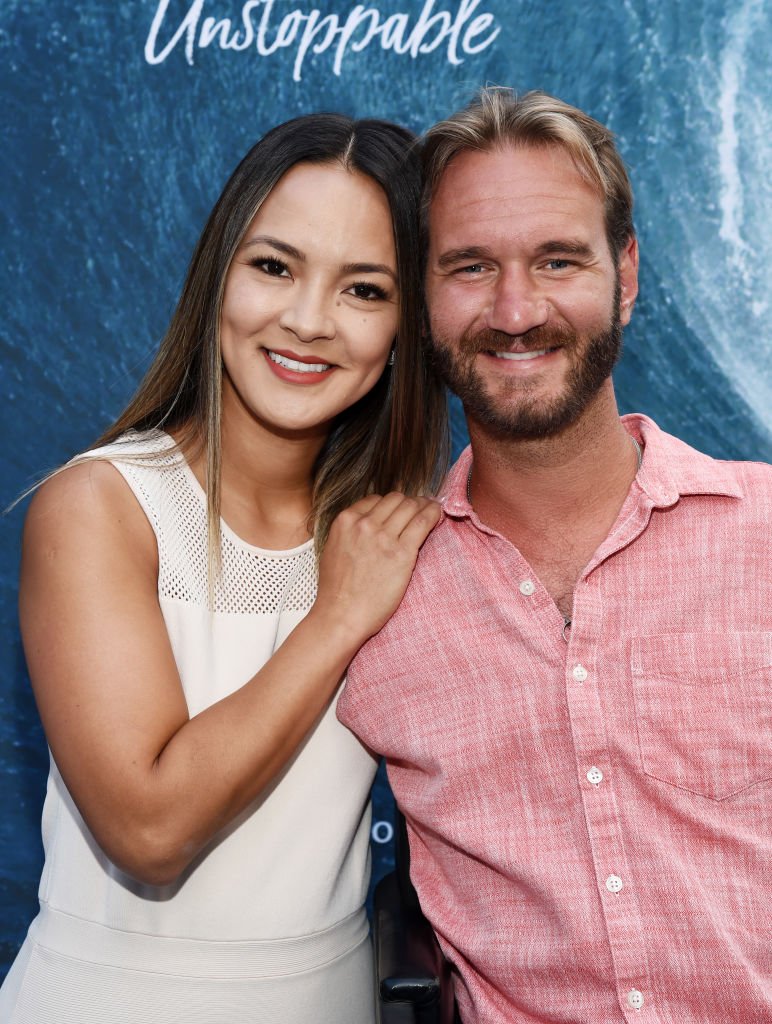 Nick Vujicic and Kanae Vujicic arrive at the Los Angeles Premiere of the Entertainment Studios documentary "Bethany Hamilton: Unstoppable" at the ArcLight Hollywood on July 09, 2019 in Hollywood, California. | Source: Getty Images
Vujicic was born with tetra-amelia syndrome, a rare disorder that gave him no limbs, hindering mobility and making an ordinary life seem impossible.
He was born in Melbourne, Australia, and suffered from depression at a young age as a result of the life-challenge presented to him.
However, Vujicic began to accept his disability and work through it as he grew older. By the time he was a teenager, Vujicic had mastered doing nearly everything a non-disabled person can do.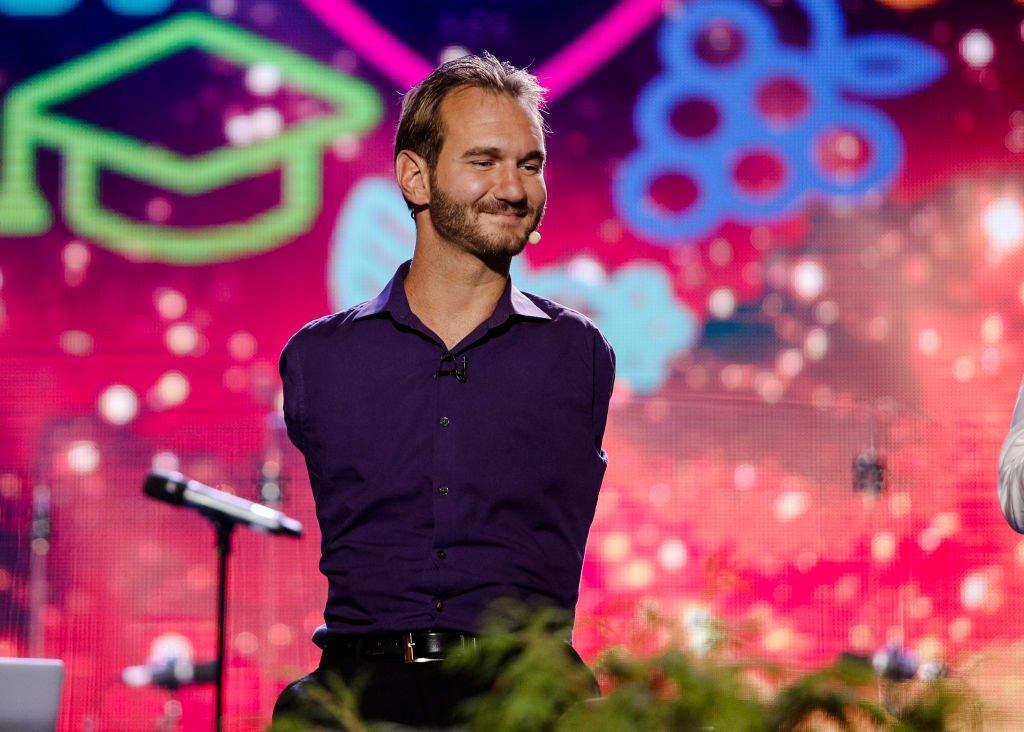 Nick Vujicic who was born without limbs performs in Ukraine in front of thousands of people on September 17, 2017. | Source: Getty Images
He uses his two toes on his lower torso to move and has a custom-made wheelchair to get to and from places.
What he lacks in body, he makes up for in heart, strength, and courage. Vujicic uses his experience to inspire others by speaking in church groups and non-profit organizations.
Vujicic spends most of his days either in their Los Angeles home or on the road to deliver speeches in schools, stressing the issues of bullying.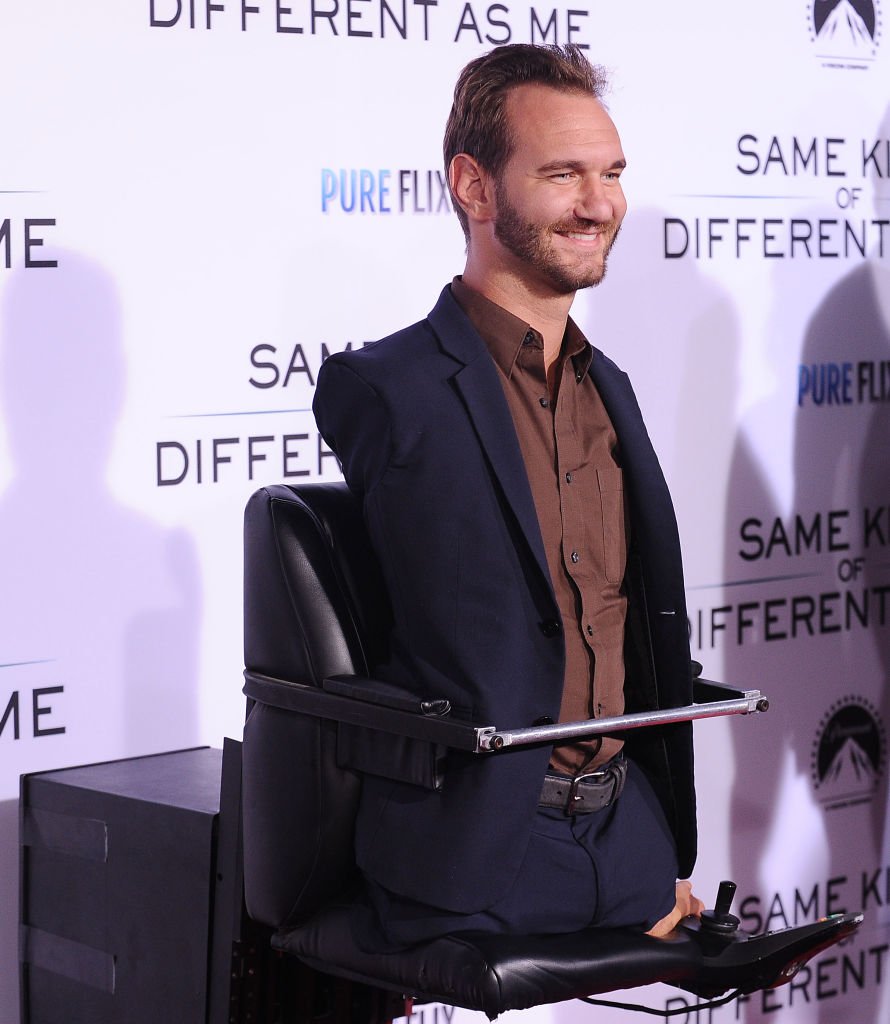 Nick Vujicic attends the premiere of "Same Kind of Different as Me" at Westwood Village Theatre on October 12, 2017 in Westwood, California. | Source: Getty Images
The motivational speaker earned a nomination for the 2005 "Young Australian of the Year" Award and penned a book, "Life Without Limbs."
Vujicic never thought that he would one day meet a woman who would fall in love with him because of his missing arms and legs.
However, after graduating from university and moving to America to launch his career as a motivational speaker and preacher, he met Kanae.
She was a nursing student when they crossed paths in Dallas, where he gave a motivational talk. According to Kanae, she did not pay much attention to his physical disability and was, instead, attracted to his personality.
In August 2011, the best-selling author proposed to Kanae and tied the knot the following year. In 2013, the couple welcomed their first son, Kiyoshi.
In 2015, their second son, Dejan, was born, followed by twin daughters, Ellie Laurel and Olivia Lei, two years after.
The dad-of-four admitted that fatherhood did not come easy at first. "When I see [them] crying, and I can't help [...] and I can't do a thing [...] it really brought me a level of stress I never imagined," he shared.
Despite facing difficulties, Vujicic remains at ease, knowing he and his wife are going through life as a team. Kanae equally praises her husband as they go through ups and downs together. She shared:
"Nick Vujicic the husband I couldn't have dreamed of because my wildest dreams would've fallen very short. We have experienced many adventures together, full of rollercoasters but a ride well worth riding."
Vujicic spends most of his days either in their Los Angeles home or on the road to deliver speeches in schools, stressing the issues of bullying. Although he has a caretaker with him, the speaker can do most things on his own.
A DOTING HUSBAND AND FATHER
Like Vujicic, Joseph Reed is a Wisconsin native, a loving husband, and father-of-four with the same disability.
Despite having no arms and legs, Reed works full-time as a sales representative at a Walmart store's electronic department and helps his wife with household chores without any issues.
Reed and his wife, Lore Allen, have been married for over 13 years after first meeting in secondary school. According to the couple, the father of four's disability never affected their relationship.
Among the things Reed helps his wife with are cleaning the house and preparing food for their children. Together, the pair can conquer anything as they go through life together.
Please fill in your e-mail so we can share with you our top stories!