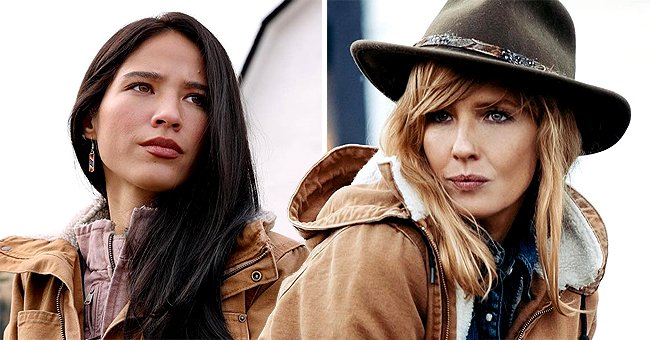 instagram.com/yellowstone
'Yellowstone' Creator Taylor Sheridan Bolsters Cast with Female Characters — Meet Them All

Screenwriter and actor Taylor Sheridan has brought a fresh and exciting new outlook on his neo-Western series. "Yellowstone," with new exciting, strong female characters.
In June 2018, the first episode of the television drama series, "Yellowstone," was released. It was drama-packed, suspense-inducing, and at the very best, neo-western to the core.
The series starred Kevin Costner, Wes Bentley, Kelly Reily, and Luke Grimes. The series quickly gained footing with viewers and became a favorite to many.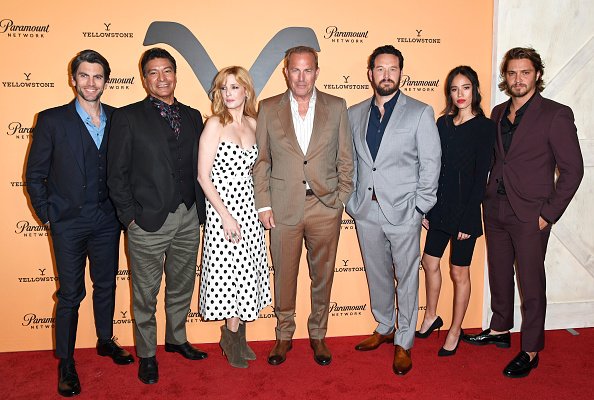 Wes Bentley, Gil Birmingham, Kelly Reilly, Kevin Costner, Cole Hauser, Kelsey Chow, and Luke Grimes at Lombardi House on May 30, 2019. | Photo: Getty Images
The show followed the conflicts the Dutton clan faced with sharing the borders of their large cattle ranch — the largest contiguous ranch in the United States — with an Indian reservation, the United States of America's first national park, and land developers.
Unsolved murders were on a high, politicians were falling into the alluring trap of oil money, and the best and the worst of the US were brought to screens. The viewers were glued to the sofas.
However, the show's creators, Taylor Sheridan and John Linson, soon realized that the cast of their precious "Yellowstone" was missing something — strong female leads.
As was seen with older western films, female characters were often found difficult to work on and build. They were always two-dimensional, reacting to the happenings around them rather than making things really happen.
Sheridan and Linson once again returned to the drawing board for season 3, but this time they were bringing female characters that brought their own firepower and oozed strength and confidence.
Here are the new female cast members that will be bringing the long-desired three-dimensional female characters in season 3.
JEN LANDON AS TEETER
Jen Landon is not a newbie to the acting scene. The actress who is best known for her role as Gwen Munson in CBS's "As the World Turns" was brought onto the show to portray Teeter, the newest addition to the ranch.
Teeter has already made quite a splash, appearing to be the show's latest troublemaker. With her far from kind rural drawl, Teeter would represent the type of cowgirl that the screens don't get to see often — definitely not the glammy rodeo girl that has no real depth to her.
Q'ORIANKA KILCHER AS ANGELA BLUE THUNDER
Judging by her character's name, actress Q'orianka Kilcher is a force to be reckoned with in "Yellowstone." Angela Blue thunder brought the exact amount of firepower Sheridan was hoping to create.
The character seizes the room right from her appearance early in the season with her thundering into the office of Gil Birmingham's character, Thomas Rainwater.
She looked straight at Rainwater and said, "There is no protection from me." There was no doubt that this character would be one tough nut to crack, a force of nature on her own.
EDEN BROLIN AS MIA
Actress Eden Brolin, best known for portraying Charlie Singer in the television series "Beyond," played the girlfriend of Jefferson White's character, Jimmy, and sets the entire fandom ablaze.
Mia took the lead just as Jimmy's hopes and rodeo dreams were smashed into smithereens, raising the stakes much higher.
HASSIE HARRISON AS LARAMIE
Actress Hassie Harrison is a stunner who is relatively new into the acting scene with some great roles to her name, including "The Iron Orchard" and "Tacoma FD."
Harrison's character, Laramie. is a smoking hot 20-something-year-old who started hanging around the bunkhouse quite often and formed a unique relationship with a senior ranch hand, Lloyd Pierce, played by Forrie J. Smith.
The character might have her deceiving looks on her side, but the barrel racer knows exactly what she is doing.
Jefferson White's character, Jimmy, even asked Lloyd if he was getting romantically entwined with the younger girl, and although Lloyd flat-out denied that, fans were interested to see where things would go and if his answer would change anytime soon.
With these actresses effortlessly establishing the new outlook on modern westerns and becoming characters to look out for, "Yellowstone" seemed like its third season was about to skyrocket in its ratings.
Please fill in your e-mail so we can share with you our top stories!